NETeller to become NEOVIA? CPC Giveaway at William Hill, GUKPT Thanet and more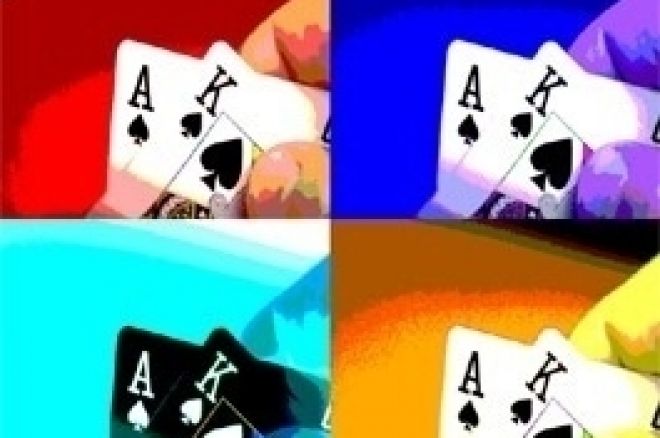 NETeller become NEOVIA?
Does anyone else remember Marathon bars (now known as Snickers)? Or when P-Diddy was just good old normal Puff Daddy? Well it looks like online payment processors are not immune to the fad of changing ones name for no particular reason, as popular poker eWallet NETeller look set to change theirs.
In a statement to the London Stock Exchange, NETeller proposed the name change 'NEOVIA Financial plc' from November 17th, subject to approval from shareholders. NEOVIA is apparently derived from the words 'new way' and according to NETeller ""The name change is expected to provide a broader umbrella for future growth, including diversification into financial services offerings, as well as enhancing the Group's credibility with both merchant and end user customers." 75% or more of the shareholders have to approve the new name in order for it to go through.
Spend the winter in the Caribbean with William Hill
I stumbled across this very juicy promo last night and if you want to know what I'll be doing next week it will be trying to win a trip to the Caribbean for peanuts, courtesy of William Hill Poker. Next week the top bookmaker and poker room will be adding ten Caribbean Poker Classic packages to a range of low buy-in MTTS. It starts with a £10 freezeout on Monday, a £1 rebuy on Tuesday, a £10 rebuy on Wednesday, a £10 freezeout on Thursday, a £20 rebuy on Friday and finally a £30 freezeout on Sunday.
This is all on top of the money you stand to win in these events anyway, but the real added value is that anyone who finishes in the top 50 of any of these events (all at 7:30 pm UK time) and you will be entered for a 4 package Freeroll on Tuesday 21st of October.
The GUKPT debuts in Thanet
Where?
That's what pretty much everyone in the poker community said at the start of the year when the GUKPT announced it was going to Thanet. Well the next leg of the tour begins there on Monday and we've been brought up to speed on the place. Thanet, in Kent, is apparently the 'Garden of England' and the brand new G Casino will host a number of side events between £100-£300 as well as the £1000 main event. Over 200 participants are expected and a first prize of over £60,000 is on the cards for one lucky player, as well as a seat in the GUKPT grand final and a seat in the Champion of Champions event.
The real value of this event is if you are lucky, all the pros will get lost on their way to this potential Bermuda Triangle of poker.
Pokerstars announce the second season of the LAPT
The second season of the Latin American Poker Tour has been unveiled by Pokerstars.net. After an overwhelming success in season 1, season 2 kicks off on November 3rd to 5th in San Jose, Costa Rica. The $3,700 event with a $1 million guarantee will be held at the Ramada Plaza, Herradura Conference Centre in San Jose.
The entry fees have all increased to $3,700 this season with a $5,200 buy-in for the LAPT Championship event. No doubt Costa Rican legend Humberto Brenes will be in attendance for all the events (Because he is heralded as a god over there, we presume) and will be joined by Pokerstars.net pros like Daniel Negreanu and Greg Raymer. The tour is expected to make stops in Mexico, Chile, Brazil, Uruguay, and Argentina too.
"PokerStars LAPT Season One was defined by ground-breaking debut success. Season Two will be defined by growth and expansion as we fully spread the tour across Latin America," states LAPT President Glenn Cademartori. "We were so overwhelmed with the success of LAPT Season 1, that we wanted to come back with Season 2 straight away, moving it into the high-season for Latin American tourism," he explains. "It will be the best time for Latin Americans, as well as North Americans, Europeans and players from across the globe to travel to these exotic destinations for live high-stakes championship poker. We are quickly doubling the size of the LAPT by adding Mexico, Chile and Argentina to the schedule. Players have a lot to look forward to in Season 2, which will run from November to April – six countries in six months," he enthusiastically adds.
Dont forget you can win your seat to all of these events exclusively and cheaply at Pokerstars.net.
Ladbrokes lose Norwegian Court Case
Since being refused a gambling license in 2004, Ladbrokes have been disputing with the Norwegian government in the court room. This week in Oslo they lost their case against the government, who hold a gambling monopoly in the country. Ladbrokes argued that being refused a license was a breach of the European Union Treaty of Rome and the European Fair Trade Agreement. The court, however, decided that the Norwegian government had acted in compliance with European Law when declining the license.
Ladbrokes effectively cannot operate in Norway and had to pay €130,000 in legal costs. A Ladbrokes spokesman commented they may consider an appeal and that ""We will continue to challenge state owned monopolies, which in our view are detrimental to both gamblers and society."