McSweeney wins Ladbrokes Irish Festival, Zigmund destroying Rail Heaven and more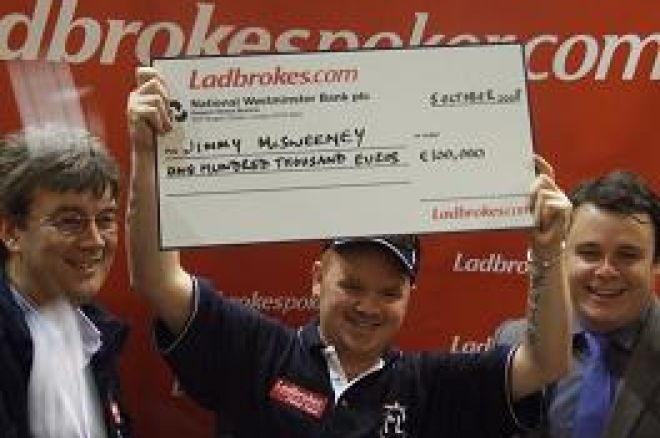 Jimmy McSweeney wins the Ladbrokes Irish Poker Festival
The much publicised Irish Winter Festival in Killarney boasted a capacity busting 832 entrants and a €416,000 prize pool, which saw Jimmy McSweeney walk away with a cool €100,000. McSweeney went into the final table as the chip leader and started where he left off when he eliminated 'Baz' Hand when his pocket tens held against the ace-king of Hand. McSweeney continued to crush the table and went into the heads up battle with Andrew Roberts, who he also quickly dispatched when his 6-6 held against the A-9 of Roberts.
Bryan Coleman, Irish Territory Manager at Ladbrokes.com said, "We're absolutely delighted with the turnout and would like to thank all the players who made this festival such a success. Our heartiest congratulations go to Jimmy who is a worthy champion and we're sure we'll be hearing more of him in the future."
Alan Sugar most feared celebrity poker player?
Circus Casino have put together a survey of who UK poker players would least like sit across the table from in celebrity circles. The overall most feared 'celebrity poker player' would be Apprentice boss Sir Alan Sugar – largely because of his shrewd business skills, fierce reputation and mean face. Right behind him is Dragons Den mogul Duncan Bannatyne, Stephen Hawkins and Gordon Ramsey.
Is it just me, or have the poker players surveyed got this completely wrong? The celebrities I would least like to sit with are Michael Greco, Steve Davis and Teddty Sherringham – ie. celebrities who actually can play poker. I'd love to sit with someone with pockets as deep as Alan Sugar who I presume has no idea how to play, I'd even try and put him on tilt by refusing to call him 'Sir' and instead referring to him as Alan Sweetener.
Irish Gambling Regulation could create 10,000 jobs
It has been widely reported recently that Ireland could soon be the latest online gambling hub, regulating and taxing land and online gambling. The Irish Gaming and Leisure Association has stated that the move could create around 3000 jobs and generate €50 million of tax revenue, with the prospect of up to 10,000 jobs being created if the government establishes Ireland as a centre of International online gambling.
Credit Crunch could hit online poker hard
In a report issued prior to today's news of the huge government banking bailout, Reuters stated that online poker would be more vulnerable to a recession than other forms of gambling. This is because online poker attracts fewer habitual gamblers than things like horse racing and greyhounds do. Although this still could be bad news for the online poker industry as a whole, it is good to hear a report that confirms that poker attracts much less habitual (and therefore potentially problem) gamblers than other forms of gambling.
Zigmund is destroying the games on Full Tilt
Ilari "Ziigmund" Sahamies of Finland is one of the most aggressive high stakes players around, and so far this month he is absolutely dominating the nosebleed games at Full Tilt Poker. He is already up $1.64 million this month in just under 4000 hands and this week was sat at 'Rail Heaven' with just over $1 million one day and just under a million yesterday. Gus Hansen is also a big winner this month so far with over $640,000 of profit, but Patrik Antonius is down over $750,000 this month, mostly at the hands of 'Zigmund'.
Hopefully that won't stop you watching the excellent strategy videos from Antonius at our exclusive strategy site here at Pokernews.