Arlot wins GCBPT Teeside, ElKy wins WPT Festa al Lago, biggest ever online cash game and more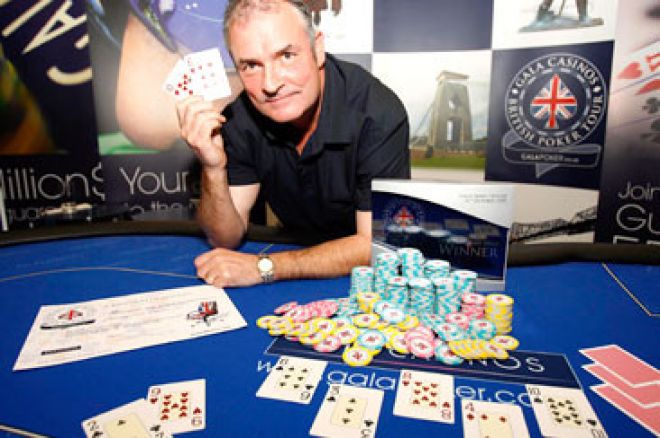 Anthony Arlot wins GCBPT Teeside
Fears of a Recession in the UK did not stop 212 players embark on the Gala Casino in Stockton on Tees for the latest leg of the Gala Coral British Poker Tour last weekend. I was fortunate enough to have been invited along for the latest leg by Gala Coral and donated all my chips evenly amongst the locals, where they found their way eventually to champion Anthony Arlot.
Considering the GCBPT is dubbed the peoples poker tour, it was a very tough pro filled final table indeed. Chip leader and online pro Richard Trigg was joined by CT Law (who made this final last year), last Brit standing in the WSOP Main event Keith Hawkins and up and coming young player Billy Ngo.
The chip lead moved around the table many times, but eventually Arlot found himself heads up with James O'Connell, who eventually pushed all in on the river as a bluff with 9 high and got looked up by the paired ten of Arlot. Anthony Arlot took down the £30,000 first prize, a seat in the grand final and the honour of being the 3rd Leicester resident to win a GCBPT title this year.
All eyes are on the £1,500 grand final from December 1st which takes place in Bristol. Last year Joe Beevers won it prior to his Poker Million victory and this year will signal the end of yet another successful year for the peoples poker tour, we already can't wait for season 3 next year.
ElKy wins WPT Festa al Lago
Pokerstars.net professional Bertrand "ElkY" Grospellier added to his trophy cabinet yesterday by taking down the WPT Festa al Lago main event. ElKy is now the 3rd person to capture both a WPT and EPT title (As he won the PCA earlier this year) alongside Roland De Wolfe and Gavin Griffin, and all eyes will be on him at next year's WSOP when he tries to take down the 'trifecta' of titles.
Grospellier defeated WPT final table regular Nam Le heads up, as well as having to best players like Adam 'Roothlus' Levy and Nenad Medic also at the final. ElKy took down $1.41 million for his first place win and by all accounts is in for a nice bonus from Pokerstars.net for his victory.
Mauro Stivoli is World Heads-Up Champion
Italian Mauro Stivoli overcame Cheng Gupsen ( China ), Juse Luis Navarro ( Spain ), James Atkin (UK), Vidal "14" ( Spain ) and Nicolas Dervaux ( France ) on his way to the final of the World Heads Up Poker Championships in Barcelona, where he had to face Jonas 'nebuchad' Danielsson. Stivoli chipped away at the online giant in a series of small pots and eventually held a commanding lead when Danielsson pushed all in with K2 and was looked up by the KJ of Stivoli, which held. Stivoli took down €65,000 and one of the most prestigious titles in Europe.
Biggest ever online cash game in history
Recession? Bah, you certainly wouldn't think so if you were watching the nosebleed tables at Full Tilt Poker this weekend. 'Rail Heaven' and 'Gus Heaven', the two biggest $500/$1000 no limit hold'em tables on the site have seen some of the craziest action ever over the last few days, with records being broken all over the place.
John Juanda, Durrrr, Phil Ivey, Gus Hansen, Brian Hastings and Di "Urindanger" Dang were all amongst the action as the biggest online pot ever was broken four times. Durrrr was the first to break the record when his two pair was bluffed into by 'trex313' for a $618k pot that broke the previous $610k record. John Juanda continued his good form when he sucked out on durrrr in an aces vs kings pot, where Juanda hit a king on the river for a $678k pot.
Literally seconds later, Phil Ivey got in the mix when his set of tens went up against the king high flush draw of Juanda and all the chips went in the middle. The set held and Juanda lost both the hand and his record, as a $687k pot shipped its way to Ivey. Finally, early yesterday morning, Di 'Urindanger' Dang broke the record when his aces held against the kings of durrrr, for a whopping $723k pot, which is the new world record.
This was the biggest day ever for online high stakes poker, which saw durrrr become the second player to sit with over $1 million at Rail Heaven. It looks like No Limit Hold'em is once again the biggest game online as the PLO tables seem very low key at the moment by comparison. We are predicting the first $1million pot isn't far away, and expect to see it in 2009.