Dave 'Compo' Compton Interview!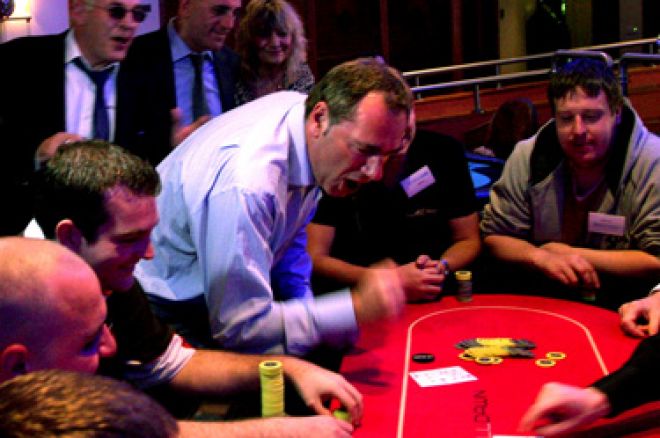 This week was a bit of a first for me, as I got to interview someone who has actually interviewed me before. Dave 'Compo' Compton is well known in the UK to poker players and horse racing fans alike. The Horse Racing pundit is also serious poker player and regular Sky Poker presenter. He is also known for his crazy, any two will do, playing style known as 'the compo'
Pokernews:To those that don't know, what is your background and history in Horse Racing?
Dave Compton: I was always into gambling in some form or other having had a Grampa who would plonk me in front of a sixpenny fruit machine every summer in Bournemouth, where we used to go for 2 months every year. Bliss. I first got into racing in 1977 having worked previously in the city. It seemed a natural progression at the time!
PN:So when did poker come in and how did the Sky Poker gig come about?
DC: My family were always into cards and my parents were part of a strong card school that played twice a week, taking it in turns to host. Women played kalooki and the men solo whist. I think I saw as much as 3 pounds change hands one night. Once I started work Saturdays for me were always Walthamstow dogs (bring back the Stow!) followed by an all night session of Brag. This progressed to Klabiosh, the aristocracy of card games and 5/7 card draw poker. My interest in Texas Hold 'em was ignited by Late Night Poker. I was asked to present Poker 425 by the producer, who was friend of mine. See, hard work does pay-off eventually. We had a ball. It was a terrific Poker magazine programme that hit just the right note for both serious and recreational players. It was where I also met the legend that is Tony Kendall. Suffice to say it as a privilege to have him as a friend. With a change of sponsor Poker 425 morphed into Poker Week which was shown on the fledgling Sky Poker channel. Thankfully when Poker Week ended they asked me to appear on Sky Poker. Best Bluff I ever got through.
PN: It must be great to be part of one of the fastest growing poker companies in the UK?
DC: I thoroughly enjoyed the recent live Sky Poker event at DTD and was truly amazed at the standard of play. I expect next year could see an extension of live events. There is no doubt regular Sky Poker players have improved beyond recognition and for every nights' Open to be a sell-out tells you we are doing something right. 3 hours of fast and furious poker may not be to everyone's taste but it hits the spot with so many people. It works on so many levels: from the beginner looking to enjoy a fun introduction to the more serious player who fancies a smash and grab chance to win a decent prize.
PN: Compare the two, poker and horse racing betting, similarities and differences?
DC: If done right both are sociable gambling activities. If done wrong they can make you the most miserable person on earth. The main difference in the two is that racing has many more factors involved when trying to show a profit. Therefore the risk/reward ratio is greater, or should be if you're doing it right. Odds in poker are a very easy to ascertain. In horse racing you have to approach the problem from a different angle. When evaluating a race you must determine whether the odds being offered are better than you judge them to be. In poker the calculation is a lot simpler. Any book can you tell the odds to hit a flush or straight but no book can tell you if the price offered on the favourite in the 2.30 is right. There is no right or wrong. You have to use your judgment to determine if the price represents "value." Although value never paid my mortgage.
PN: Chess players bring certain skills to poker, backgammon players do to and so do loads of other professions, What does being a horse racing expert bring to poker?
DC: Obviously an innate understanding of odds and gambling. It also gives my opponents something to ask me at the table that has nothing to do with poker.
PN: How big is poker in your life? Do you consider yourself recreational, professional or semi professional?
DC: Poker is big part of my life both professionally and socially. It now accounts for 75% of my gambling turnover which, if you had told me that would be the case 5 years ago, I would have had have you committed. Poker work and play accounts for over 50% of my income so I will stretch a point and say semi-professional.
PN: Where does the well known crazy Compo style come from?
DC: Action junkie.
PN: Do you have any big ambitions as a poker player?
DC: I would love to spend a year on the circuit (who wouldn't?). I have had a handful of offers to do so but still waiting for the right one. (Please print this in bold!) I have also started a separate bankroll in order to play the WSOP HORSE. It stands at $43 so a little way to go yet.
Thank you Dave for your time and goodluck in all future endeavours!