PokerStars.net EPT Cage a Huge White Bird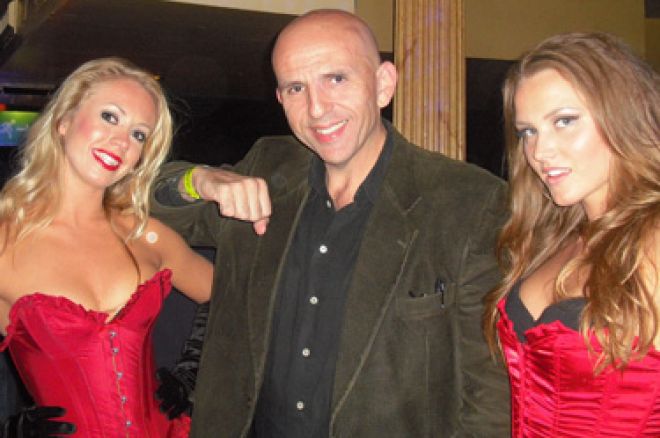 I have hardly missed a pin drop at The WSOP E. Obviously something is sickly wrong with me, but 'the point is,'
I needed a break from being a Poker Groupie and the TV boy's at the last few tables of the main event were beginning to get in the way of my tableside 'Railbirding.'
As a journalist of sort, I receive updates and press releases on everything happening in and around the poker world, most of which I ignore, as there don't seem to be any prizes offered. One of the most efficient press machines belongs to PokerStars and their associated Pr representatives. So when I get an
invite from Emma Howard at a gmail address, inviting me to the 'Launch Party for the PokerStars European Poker Tour,' I thought to myself who the feck is 'Emily?' Of course there was no phone number so I emailed Emily and several others to ensure that I had access areas. Philip my good friend and editor of a ridiculously popular poker magazine, never get this bit right, if you are going, make sure you have the best seats.
I gave the Catgirl, my Star Poker Rookie a shout on the dog (dog and bone – phone) and asked her if she was up for some 'Poker Pimping with me,' Catgirl kindly replied as long as I was the 'Biatch.' Apart from being a poker writer (who is illiterate) on the side, I am naturally only attending Poker Events for some 'Pimp Like' reason. That is what an agent is: a 'Pimp.' This is a very respected term in the world of Buster Rhymes and Jo Buddden. If you are not following me so far, then bugger right off.
Mel Lofthouse, my Gorg editor for PokerNews Magazine, had asked me to interview numerous PokerStar players. So I thought that attending this event might be a good place to nab a few chats. Above all I wanted to make a couple of big contacts, one of them a big dog, by the name of Tom. Can't tell you anymore than that, because it took me an age to find out Tom was the man that might assist me developing the Catgirl's sponsorship programme. Even with great inside knowledge of my game, making contacts with the man you need to know is never easy in the clandestine world of 'poker business.' It's not like they are all hiding, but playing the game with them is tougher than Gus Hansen's new $2,000 - $4,000 game on the FT index (FullTilt).
After sending out a few emails in preparation for the big night out, I decided it was time to shoot off to the gym and pump a few beers down me in the pub upstairs. On the way there, I got a call from the Catgirl to remind me that we needed to be at the party at 9:30pm, not the next night as I had thought. A rush back to the office and with two email invites in hand and a promise from Emma that my name was on the door looked good. On arriving at the door of the legendary night-club 'The Café De Paris,' I went straight to the man holding the shiny wristbands, that I knew meant VIP, after all I had a purple one on my left hand from Betfair, so sure I was Mr Billy BigBananas. 'Hi, my name is Catman, I am on the VIP list, Emma sent me an email,' I very confidently bleated to a PokerStars suit. "Sorry, but I don't know any Emma, I have no idea who she is," replied the polite young man. I have spent most of my life recognised at nightclubs and let in at the front of the queue, so I immediately countered with, 'May I ask your name?' With a smile he replied "I am James, I organised this event for PokerStars," and with a smile gave me a couple of wristbands. It's not that I wanted the free drinks, I just wanted to make sure I could find Tom and of course write some blarney at the same time. Jame's had style and class, may I gratefully add.
So was this a party or was this a party, well that's a simple one to answer as I went to get Catgirl and a Large Malibu and Pineapple, clutching a £50 note and getting it right back in my palm. Yes the drinks were free, there were extremely sexy skimpily dressed girls grinding all over the place, covered with PokerStar logos. I picked up a logo and stuck it on my lapel, I was ready for a game or a taste of what it was like to be a made pro. A melee of finger food from Fish and Chips to Lamb Fingers, along with Prawn Tempura (which Barry Greeenstein's stories brilliant prevented me from eating). I had asked Barry how crap was Roland De Wolfe at Chinese Poker after I spotted them playing together the previous night: I will just say that Roland is a very sought after opponent, who knows it. Might be because of his scintillating personality or his sense of humour, but I think it is best that we just convince Roland we like spending time with him.
A flash of our yellow bracelets and we made it up to the VIP and started our search for Catgirl's new boss. We stood like Puff Diddy Do and Mariah Carey, overlooking the throng of partygoers and blaggers below. Then things changed, we spotted her... the 'Bird' in the cage, she was covered in feathers, just sitting perched on a swing, just like a canary. We were joined by a chap who also wished to stare at this spectacle, I enquired as to his name and it was ooops WPT winner Victor Ramdin, as the music played and the girl in the cage started to writhe with the music, I explained to Victor that this was a classical piece of artistic 'Bird in the Cage,' Operetta. Blonde and pouting, wearing a Tutu and holding a couple of Swan type wings, this Diva slowly stripped down to her tasselled naked breasts and swung from her perch.
Oh yes, this was a party alright, everywhere you looked there was a celeb poker player. I grabbed a bemused logo chap and said are you Tom, a shout from another journalist let me know that this was PokerStars new South American signing. Even I could recognise Joe Hachem, Moneymaker and err whoever all the other bods were. But then along comes a giant of a man. Rainman Khan as he likes to be called took time out for a quick chat. He spurted at a thousand words a minute, yes he used to regularly play 28 tables on a bad day, and no he could never replicate that dance at the WSOP main table. But what a fantastic personality this man has to grace his 6 foot 5" frame.
The night drew on, Tom was as rare a Vicar in a Strip Club, and the place stunk of the aroma of cash as many of PokerStars 30 Pro player's lit up the room with their smiles, they were happy bunnies indeed.
Then bang!
In walks the Devilfish. I forgot to ask but he told me he had just busted out 38th from WSOPE only 2 from the money, he looked good and he is the dog's bollox of European Poker, a showman and a star, challenge me if you dare.
PokerStars knew they had to throw a shindig and the last time I played an EPT was probably the first and cheapest in Barcelona. If I did not tell you about 'Club Riviera,' ask me the next time I see you.
This event has inspired me to pay a little more attention to an event that has spread the word poker around Europe and indeed given many a life changing opportunity. Albeit expensive to enter, who gives a dental floss, it is glamorous and like this launch party, done to perfection.
I asked the Catgirl her thoughts as we moved on. "The best pro players, the best characters, great video presentation and a lot of sexy female behinds on the stage, even I could not take my eyes off them." Yeah Baby as Scotty wisely said as he walked in and gave me a big cuddle, after bribing the doorman to let him in the VIP, I kid you not, a Vegas man knows money talks. Enough said, I am now a fan of the PokerStars.net EPT and Tom can expect a few calls from the Pimp.
We bombed back over to the Empire. I wanted to tell Nolan Dalla, head of media, about my teasing with reference to the word 'Yank,' which is indeed acceptable in the U.S.A. We propped the bar up with one of the nicest men in Poker, bwins Kristian S, a man who never stops smiling and is without doubt the best player and media host in poker full stop.
Catgirl had noticed my dear friend Stephan Samson, head of marketing for Betfair so we rushed up for a quick cuppa and a chat. Along came a charming American called Bob. "Catman this is Bob head of player acquisitions," said Stephan as I rested my head on this titan of a man chest "Bob, this is Catgirl, have I told you about her yet?" After a further 15 minutes of my non-stop verbal, a certain Frenchman also relayed a hideous story about The Millenium Hotel in Gloucester Place, where some rude chap had cost him a day or two with no luggage over what was obviously a disgruntled worker taking the piss, big time. On behalf of those guys, I would like to re-iterate that we English love everyone, and it was not a French ting.
Now I will run, got to get back to the action.
Peace and Money
Catman Europe's Leading Poker Agent.