PokerStars.net EPT Budapest Guide!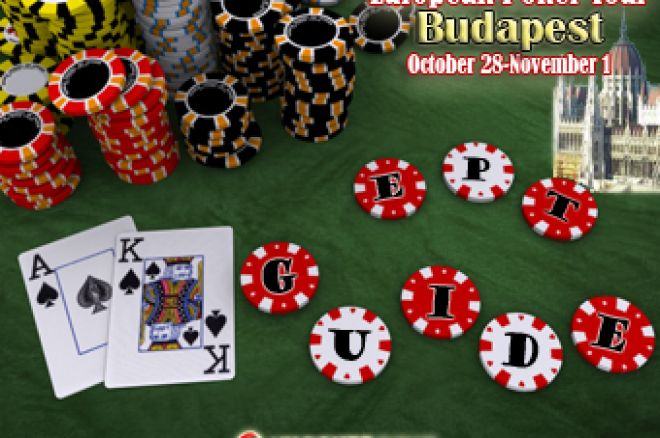 The PokerStars.net European Poker Tour (EPT) is rolling into Budapest for the first time ever. This will be the first ever major tournament in the country of Hungary taking place form October 28th-November 1st.
This tournament dubbed the 'Hungarian Open' will carry a buy-in of €4,350, and is looking to attract a pretty big field. Hungary is actually home to several successful players on the EPT with players having made a big impact on the circuit, so expect to see some fierce competition. This 4 day event will take place in the Sofitel Hotel at the Las Vegas Casino, and will carry a cap of 500 entrants.
A question I'm sure many of you are asking is what is there to do in Hungary?
Well the PokerStars.net EPT didn't decide to come to Budapest for no good reason; it is a dynamic city with fantastic offerings to it's visitors. Historically it has been involved in many fiery conflicts and cultural transformations. It is host to several world heritage sites including the Danube River, the Buda Castle Quarter, Andrassy Avenue and the Millennium Underground Railroad. The impassioned history of this place is exceptional.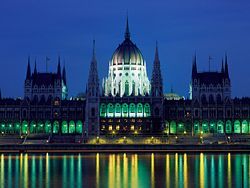 Budapest is widely considered one of the most beautiful cities in Europe so it is highly recommended that all poker players and entourage take a break from the felt and go and see some of the sights and learn some of this storied city's past. Budapest is the old world and is rich with culture, history, architecture and a vibrant pulse.
There will be several events running in addition to the main event. On the 30th there will be a €500 + €50 with 1 rebuy, on the 31st will be a NLHE €2,000 + €100 and on the 1st there will be a NLHE €1,000 + €70 tournament. There will also be lots of cash game action, so do not dismay if you get busted early or can't afford the main event.
The clubs in Budapest are known for one thing, and that is that they are a meat market. If you go into a club like Bahnhof and show your stuff you will have no problem meeting some party people. Bahnhof has two rooms, one with mainstream dance music and the other with some crazy house music. If you are a guy that wants to meet some girls you should go here, the address is VI. Váci utca 1, Tel: 302 4751. There are some other good clubs, like the A38 Ship, which is a big boat that is permanently anchored. It has a website at huge boat club! This club attracts some major DJs from around Europe and everyone in the know claims it is a great spot. The huge monster club in town is called 'E-Klub.' This is the local version of huge commercial club with a famous Hungarian DJ at the helm. E-Klub has a website, so check it out for more details. One important thing to remember in Hungary is to try to not clink your glasses (cheers!), especially beer. It will piss off the locals.
There are lots of great restaurants in Budapest, of all international kinds. I know poker players love sushi, so I will start with some of the Japanese restaurants. I will recommend two of them. The first is an amazing little joint with a Japanese chef. It is called 'Papaya Sushi' and is at Address: Képíró utca, V. District. This place is great! Another Sushi place is 'Kyoto.' This one is more mainstream and has an amazing view of the Buda Castle. This one is expensive, but the food is great. 'Kyoto' is at Roosevelt tér 7-8., V. District and the phone number is (+36 1) 801 9862.
If you want to try some authentic Hungarian food, then you should really head down to the 'Fortuna Restaurant.' This place has an amazing list of champagne (they have a champagne cellar!) and serves classic Hungarian as good as it gets. This place has won lot's of awards and is located at Hess András tér 4. across from the Budapest Hilton. If you want to try out an authentic restaurant that got some Michelin Guide acclaim, then try the 'Náncsi Néni Vendéglője' (Aunt Náncsi's), This is home-style comfort cooking in a quaint setting located at Ördögárok u. 80, Budapest, II. District (it is recommended to take a taxi) The last place I am going to recommend is 'Cafe Kor' at Sas utca 17 near the basilica.
Budapest is an amazing city. The culture, history and people make it a fantastic stop on the PokerStars.net EPT. I hope these historic spots, night clubs and restaurants listed will provide the enjoyment to you as I have had with them. We at uk.pokernews.com also wish anyone that is going to Hungary success and good fortunes at the tables! Tune in next month for our Warsaw tips for travellers.
Ed Note. Check out [URL="https://uk.pokernews.com/pokerstars/"]PokerStars[/URL] today for EPT Satellites. They have infinite running round the clock from every buy-in imaginable for every tournament! If you don't have a 'Stars account signing up through us gets you a sweet bonus!
Budapest Coat of Arms, pretty cool one!