Annette Obrestad leads the pack in Budapest, WSOP TV Ratings are up and much more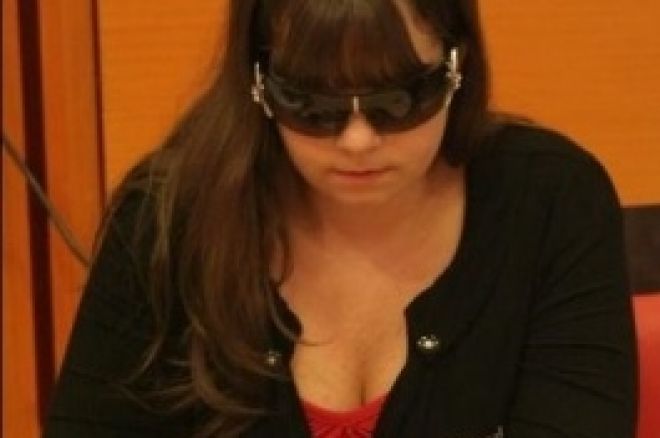 Annette in charge at the EPT
Betfair Poker pros and online superstars Annette Obrestad and Sorel Mizzi are 1st and 3rd in chips at the first ever EPT Budapest. 262 players played in day 1a of the Pokerstars.net debut event in Hungary, and they were whittled down to 88 at the end of play with the King and Queen of online poker both in the hotseats.
Lots of big names are expected for day 1b, including Noah Boeken, Vicky Coren, Johnny Lodden and the man in form, Pokerstars.net Pro ElkY. Stay tuned to our exclusive live updates for all the carnage from start to finish.
Day 1a Chip Leaders
Annette Obrestad Norway - 101,300
Arnaud Mattern France - 90,600
Sorel Mizzi Canada - 74,950
Paul Testud France - 66,500
Ionel Anton Rumania - 64,800
Jari Pekka Juhola Finland - 61,700
Robert Andersson Sweden - 52,600
Brooke Hoerr UK - 51,600
William Fry UK - 50,900
Dutch deem poker game of luck
Despite lots of detraction from a number of corners, Dutch Minister Hirsch Ballin has stated that poker will never be regulated and licensed in Holland, even if it were recognised as a game of skill. The Dutch court were given expert analysis from an expert in probability and statistics that poker was close in skill to games like chess, but this was dismissed by Ballin.
Ballin concluded that poker had a high risk of addiction, noting that it was still considered a game of chance in 33 European countries. He warned that restrictions on online poker will become more severe, in line with UIGEA in the States, and that talks are in process with financial institutions to block Dutch residents from illegal gaming servers.
WSOP Ratings are up
There has been a lot of discussion over whether the delay of the WSOP final table is going to be a success or not, but this week there has been evidence to suggest that it already has. The ratings for the ESPN broadcast of this year's main event (Which is also online and on channel 442 'ESPN Classics' here in the UK) are the highest poker ratings in over two years.
The latest episodes, which have shown the final 70 or so players on their way to the final table, have accrued more viewers than both the final tables of the last two main events, which would suggest the final table broadcast on November 11th could be huge. It is worth noting that these were also the episodes that saw an infamous Phil Hellmuth blow up against Adam 'Roothlus' Levy which saw him get a warning, which is always a ratings puller.
This is the remaining broadcast schedule for the November 9, which will be available online and on channel 442 soon after:
Tuesday, November 4 at 10:00 PM ET –Final table preview show
Tuesday, November 11 at 8:00 PM ET –Final table preview show
Tuesday, November 11 at 9:00 PM ET –Final table
Tuesday, November 11 at 10:00 PM ET –Champion Crowned
Gus dominating the biggest games online
The biggest benefactor in the craziness that has been the last few weeks at the nosebleed tables at Full Tilt Poker is surely Gus Hansen. Despite the fact that he wasn't involved in any of the record breaking pots seen in recent days, the Great Dane is over $3 million up for the month of October, across all games including HORSE and Omaha Hi/Lo as well as Hold'em. Thomas 'durrrr' Dwan is also up about 2 million despite being on the losing end of a lot of the world record pots.
So why are the games, particularly the new hold'em games, suddenly getting so big? Well the first thing that needs to be said is obviously that the $500/$1000 no limit tables have only just appeared, so it's only natural that they would see some action. John Juanda is becoming more of a regular fixture in these games and maybe his big score in London is enticing more players to his table (even though he is a world class player).
Not only all that but billionaire Guy Laliberte is rumoured to be the man behind several unknown accounts and perhaps that, more than anything, is what is attracting the players to the nosebleed tables. It certainly makes that $500,000 game on High Stakes Poker seem less exciting and one thing seems certain, it's going to get sicker.