Andrew Teng wins GUKPT Thanet, UK Pubs breaching Poker laws and more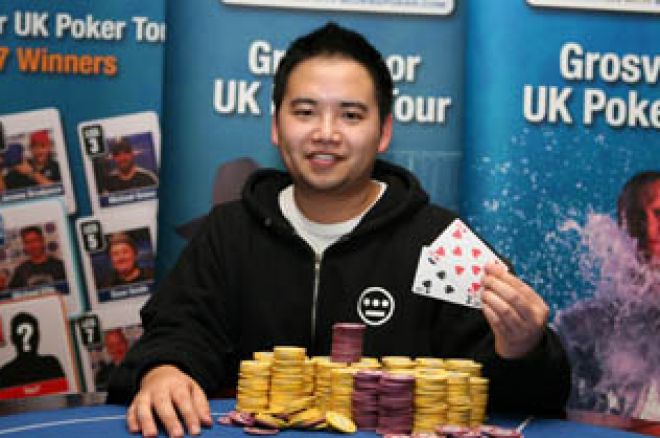 Andrew Teng wins GUKPT Thanet
226 players descended on the Isle of Thanet in Kent for the 8th leg of the Grosvenor UK Poker Tour, and it was 23 year old Andrew Teng who emerged victorious. It was a very tough final table for the debut main event at the brand new G Casino, which included Simon Trumper, Karl Mahrenholz and in form Dave Penly. They would all have to play second fiddle to online professionals Andrew Teng and Jamie Brown, who duked it out in a two hour heads up match, which eventually saw Teng get all the money in with pocket eights, which held against the pocket fours of Moore.
The win saw Teng book a £68,000 pay day as well as a seat in the Grand Final and the Champion of Champions event at the end of the year. A big well done has to go to both Dave Penly who will climb the European Player of the Year rankings even more with this result and also to Jamie Moore, who impressed everyone with his dominant performance throughout the event.
1st Andrew Teng £68,380
2nd Jamie Brown £39,550
3rd Mike Moore £28,250
4th Paul Rigg £19,210
5th Dave Penly £14,600
6th William Martin £11,300
7th Paul McIntyre £9,040
8th Karl Mahrenholz £6,780
9th Simon Trumper £5,650
Jeff Kimber and Tony Phillips were amongst the players to win side events which also booked them a seat in the Champion of Champions final. Leg 9 will be held in Blackpool from the 8th of November.
Image courtesy of the Grosvenor UK Poker Tour
Ruairi Coy wins the International Poker Open
The biggest field ever assembled in Europe played down to a finish last night, as Ruairi Coy of Galway won the International Poker Open in Dublin. 1200 players assembled for this event with a modest €150 buy-in but a staggering €29,900 went to winner Coy. Maxence Decorn was the runner up when he got all his money in short stacked with K8 offsuit against the A7 of diamonds of Coy, which didn't need to improve to win at showdown, giving Coy the title.
Belgium Poker Championships aims for 1000 players
Not to be outdone by the International Poker Open, the Belgium Poker Championships were announced today and are estimating 1000 players and a €1.5million prize pool. At the Casino de Naumr from November 13th, the NINE DAY televised €1,500 + €150 main event will take place over a whopping 4 day ones and will include a PLO and Ladies side event.
The juicy side event schedule looks like this:
Nov. 15: €200+20 (satellite for main event day 1B)
Nov. 16: €100+20 rebuy (satellite for main event day 1C)
Nov. 17: €300+20 (satellite for main event day 1D)
Nov. 19: €200+10 pot-limit Omaha freezeout
Nov. 20: €100+10 rebuy (satellite for 1050+80€ event on Saturday Nov. 22)
Nov. 21: €300+10
Nov. 22: €1050+80 (two-day tournament)
Nov. 22: €100+10 ladies only freezeout (start at 7 p.m.)
Nov. 23: €500+10
UK Pubs are gambling with poker legislation
Pubs that host poker nights are risking their licenses by not fully understanding or ignoring the 2005 Gambling Act, according to North East Lincolnshire Council. The 2005 Act, which brought poker into UK pubs for the first time last year, clearly states that there is a £5 stake limit per person and £100 per pub a day, so the biggest event possible could be 20 players at £5 each a day. These rules are apparently being broken, and the council have said ""People who breach the law are risking their livelihoods. It's not a gamble worth taking."
There is also a rule being flouted of not allowing 'linked games' between venues, which might be bad news for the 'poker leagues' that run up and down the country. Councilor Steve Beasant, portfolio holder for communities and neighborhoods, said: "Landlords and licensees should be aware of their responsibilities when it comes to the law of the land. Hosting a poker night might pull in the punters but it's important to stick to the law".
Pub Poker is one of the best things to happen to UK poker in a long time, even though most of the people that read websites like this might not be in the demographic that play down their local, let's hope that the Pub Poker guidelines can be adhered to and constantly reviewed, because it is bringing so many more new players into the game.