$444k Bad Beat at Rail Heaven, Kentucky Case delayed and Masters Classic Satellites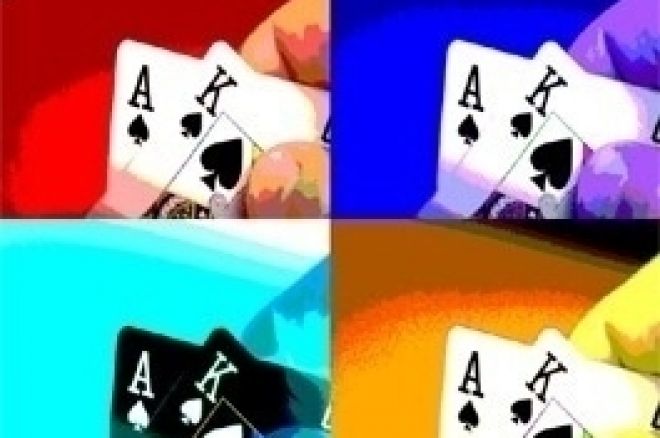 $444k Bad Beat at Rail Heaven
The Rail Heaven table at Full Tilt Poker has seen some real action over the last two months, and it may just have seen the biggest bad beat in online history. 'Ozzy87' and 'Elmariachimacho' both saw a flop of 3-5-9 with two diamonds and Ozzy87 bet out, Elmariachimacho reraised, Ozzy87 shipped it all in and was quickly called by Elmariachimacho, in what was a $444k pot.
Elmariachimacho flipped over pocketfives for a set of fives and saw he was dominating Ozzy87 who held pocket threes for a set of threes. The turn brought an astonishing three of spades and the river an irrelevant six of diamonds, giving Ozzy87 quad threes against the fives full of Elmariachimacho.
Of course there have been bigger bad beats in online poker, I dare say there is at least one more statistically unlikely hand dealt every day in fact, but considering this pot was just under half a million dollars, this probably has to go down as the biggest bad beat ever seen at the nosebleed stakes.
Kentucky Verdict Delayed
The verdict in the Kentucky Internet Gambling court case has been delayed due to a computer error and will be announced later today. In the meantime, the Poker Players Alliance has sent more than 2000 letters of protest to Governor Steve Beshear's office. The preformatted letter can be sent electronically via the PPA website and it states:
"Poker is a proud American tradition. Presidents such as FDR and Harry Truman, Chief Justices such as William Rehnquist and William Howard Taft, members of Congress, generals, and average Kentuckians have enjoyed poker for more than 150 years. It is an honorable game."
Rumours that the court case has been delayed because of computer errors caused when Judge Thomas Wingate was up all night trying out the new Matrix SNGs on Full Tilt Poker, have yet to be confirmed.
Masters Classic on Paradise Poker
One of the most popular stops on the European tour is undoubtedly the Master Classic in Amsterdam which takes place between November 11th to 14th. Now you can win your seat to this long standing event at Paradise Poker in weekly and daily satellites, culminating in a grand final on October 19th. The last satellite is €375+€25 and one in 20 players will win a prize package worth €7,500 which includes your entry to the €6,000 + €200 main event as well as €1,300 travel and accommodation money.
And the great thing about this tournament over lots of others is we hear that if you bust out there are one or two ways to distract yourself in the centre of Amsterdam, not that we'd know about that kind of thing.
Google to relax its global ban on Gambling Adverts
Number one search engine Google is set to relax its global ban on advertising gambling, by allowing businesses to target web users in England, Scotland and Wales. The UK will be the first in the world to see gambling adverts on Google since they were banned in 2004 and we will see adverts from UK companies registered with the Gambling Commission and the 30 countries that make up the European Economic Area (EEA). The adverts will not appear on any search where the user has applied a 'safe search' filter and the adverts will be classed as 'non-family safe'.
"Over the last few months we've been reviewing our gambling advertising policy in Great Britain to ensure it is as consistent as possible with local business practices. Following the review we've decided to amend our policy to allow text ads to appear against search queries related to gambling in Great Britain," said James Cashmore of Google UK.
GUKPT Main Event is underway
Leg 8 of the Grosvenor UK Poker Tour at the previously unheard of venue in Thanet has just begun the £1000 main event. Blue Square have released the odds for the main event and Praz Bansi, James Akenhead, Julian Thew and Nik Persaud are all joint favourites at 50/1. Jeff Kimber and Karl Mahrenholz are right behind them at 66/1 and this writer has had a cheeky punt on Ian Frazer at 100/1.
Of course these odds are all based on everybody finding their way to the new G Casino in Thanet, and assuming they all do that, check back here next week for the main event results and all the gossip from the best poker tour in the UK.