Sherkhan Farnood wins HORSE Bracelet, Annette vs Doyle and much more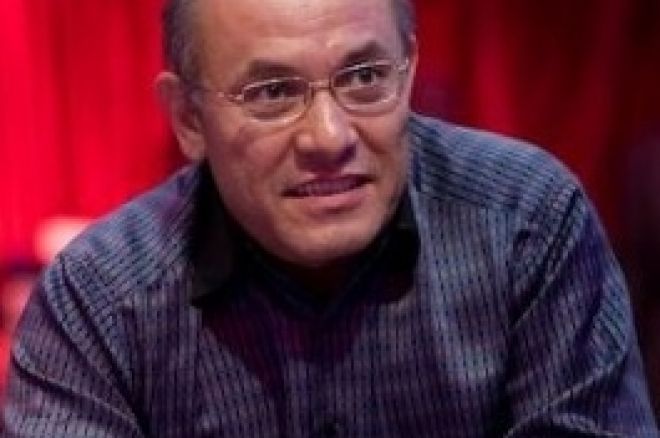 Sherkhan Farnood wins WSOPE HORSE Event
The second bracelet of the WSOPE was awarded to Sherkhan Farnood last night, after he managed to overcome a final table that included Phil Ivey, Jeff Lisandro and chipleader Howard Lederer. Phil Ivey is running out of time for his much publicised bracelet bet, as the poker legend went out in 6th place.
Just like the HORSE final at the WSOPE last year, when play got short handed the chip lead bounced around between all the remaining players; Jeff Duvall, Lederer, Farnood and Ivo Donev. Duvall and Lederer finally went out in 4th and 3rd place respectively, leaving Donev and Farnood to duke it out, with Donev in pole position (Just like the event before it, ironically the two shortest stacks at the start of the day got heads up). But after going on a real heater during the Razz period, Farnood was able to take the lead and bust Donev in stud with queens up vs a busted flush draw. The amateur player and businessman took the bracelet, £76,999 and became only the second Afghanistani to win WSOP gold.
Elsewhere the PLO is down to 45 players and will play to a finish tonight. There are some massive names left in the field, with Roy Brindley and Neil Channing amongst the chip leaders. Dave Penly, Mick McCool, Joe Beevers and the Devilfish are also still in, flying the flag for the UK and Ireland.
Annette vs Doyle – It's On!
It's not every day you get to see a small girl take on a large senior citizen in a Cowboy hat, but if you get down to London tomorrow you might just get to see Annette Obrestad vs Doyle Brunson. At 1:00pm on Friday, Doyle will be taking on Annette in a 'best 2 out of 3' heads up match at the Empire Casino.
It is about as classic and iconic a match up you could hope for, a young female European internet player versus an old, male legend of the game. We have no idea what sort of money is being staked here and we think this is probably as much a fun media event as it is a battle to see who the greatest is. Our money is on Texas Dolly to come out on top of this historic event.
Coming Up on the Club this week
The next seven days on Sky Poker's 'The Club' are as action packed as ever. World record breaker Dave Cain will be back in the studio on Friday and Matt and Dan will be talking about playing poker suspended from a crane in London. Next Monday WSOP PLO champion Marty Smyth will be the studio talking about the upcoming International Poker Open, and Adam Noone will be talking about his win at the Million Pound Challenge.
On Wednesday popular player Alastair 'Ironside' Fowler will be talking to Matt and Dan, as will the first British WCOOP champion Shane Hellyer. They will also be talking to Ty Stewart, Jon Young, John McGrane and many others throughout the week.
Pokerstars Announce the 2009 PCA
We have to say our favourite place in Europe has to be the Caribbean. Ok, so it isn't in Europe but it is part of the EPT and today Pokerstars.net have announced details of the 2009 Pokerstars Caribbean Adventure (PCA). The first major event on the poker calendar begins on January the 4th at the Atlantis Hotel and Casino on Paradise Island in The Bahamas, and runs through to January 10th.
The $10k main event will be backed up with a busy side event schedule, with $1k, $2k and $5k events as well as a $25k high roller event, which are slowly becoming the norm at these festivals. Last year 'ElkY' won the PCA which had 1,100 players most of whom qualified on Pokerstars.net. Online satellites are running on PokerStars starting September 24. Online players can win a PCA 2009 prize package by playing in one of our qualifying satellites, including free Frequent Player Point and Tournament Leader Board packages. Qualifiers will receive the $9,700+$300 event buy in, hotel accommodations, food credit and $1,000 in travel and spending money.
APAT News
The Virgin Poker Festival have been in talks with APAT this week and agreed to remove the registration fee from their events, just as APAT do. The first registration free Virgin Poker Festival, the fourth overall, will be held at Loose Cannon in London on 27-28th September.
Richard Prew, APAT Media Director said "APAT, now nearing the end of its second live season, has led the way on hosting Championship tournaments that are registration fee and we are delighted that Virgin has also agreed to lead the way towards better value for players in its events"
Also, next weekend sees the first APAT Masters pro-am at the G Casino in Luton on October the 4th. This is the first APAT event open to professional players as well as amateurs and has a £300 entry fee with the added value in the shape of an all expenses paid entry to the Grosvenor UK Poker Tour Grand Final worth around $8,000.