Betfair Gearing up for the WSOP-Europe and Catman Crushing Facebook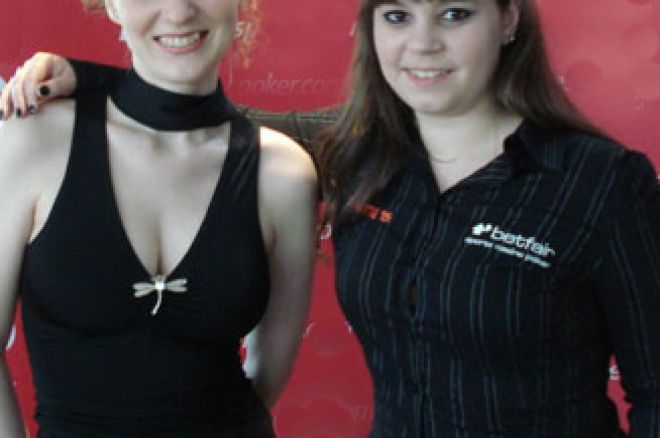 It's been a while since I last wrote on PokerNews, but it has come to that time of the year when something has stirred a little passion into my poker soul. Almost one year ago today, a fairytale came true, nothing was sweeter than watching an 18yr old girl old Annette Obrestad trash the big boy's at the inaugural WSOP Europe presented by Betfair. Annette_15 won a million quid and became the biggest property in poker. At that time Annette was already a massive winner and had just been sponsored by Betfair prior to the event , so the extra million was no big deal, but to be titled 'Queen of Poker,' and spend the rest of your time jetting around on Betfair's private jet playing poker for free. Some people wonder if the WSOP Europe Bracelet has the equivalent value to one won in Vegas, well of course it does! This is why virtually 95% of the best players in the World came to London last year to pay homage.
The WSOP Europe presented by Betfair 2008 promises to be a little more atmospheric, with everything under the roof of the empire. That is if the roof fits with all those egos in place! It might not be the Amazon Room, but this is England, and until one has walked into a room with 90% of the best players in the world present, one has not tasted poker. Last year the event was fairly embryonic. Imagine Jamie Gold available for cash and no full table. It was a quintessentially English version of the razz matazz you will find in Vegas, but if you love poker where else would you want to be? Other than that it was the 'Dogs Bollox,' showgirls, superstars and loads and loads of money.
Poker is a game of Egos, and last year every ego was in town, but nothing was better than the arrival of Doyle Brunson. Phil Hellmuth was in a hired London bus emblazoned with his own image, his escorts were a posse of sexy model 'police women.' Whilst in classic contrast his Highness Lord Doyle Brunson came into the event on his crutches and smiled. I have only been around poker for 10 years or so, have sat with many of the best, but seeing, meeting and shaking hands with Doyle Brunson in London, was a little reminiscent of going to meet Santa Klaus in person, at Selfrdiges.
I played the HORSE, and during one of the breaks I wandered aimlessly and noticed Doyle was sleeping in the luxury of Betfair's players lounge. I went and sat by him, hoping that some magical spirit would waft across and bestow me with good fortune. Doyle grunted and came to life. "Hey Catman, remember, control yourself", then went back to sleep before I got a chance to tell him I only have 600 chips left. Shortly after that precious moment the geezer that reminds me of John Boy in the Walton's knocked me out of the HORSE, oh that's it 'Alan Cunningham' K9 beat my AK. Getting Tony G posing with the Showgirls, grabbing lessons from everyone I could and generally inhaling the vibe, what more do you want. Best of all was being hypnotised by Patrick Antonius with an open necked white shirt and sitting there like a rock adonis, if I didn't know how hard and cool he was, I would have sworn I was turning gay.
Watching TV poker generally sucks, but rail birding the WSOPE is a valuable experience. The whole WSOP E event was a little like standing in the main room at the Ministry of Sound, you have no idea why you are there, but your senses are blasted into a very special and unique world of euphoria.
So this year is on us, Betfair have promised to give us something bigger and better than last year. I just got off the phone to Betfair's Pr Supremo Richard Bloch: "Catman I hope you are turning up to the media poker game on Thursday," said Richard. the man is almost as eccentric as myself, do I want to be playing the world's highest poker game in some sort of open crane by Tower Bridge, not unless I can toss each bust player of the table into the Thames, now that would be fun. "We have learnt from all our mistakes last year, this year will see better sales and one venue." Richard is part of a powerful team of poker nuts, including Amy Trodd, Stephan Samson, Bruce Stubbs and Ben Fried all of which I will happily vouch for, even though they haven't given me a seat in the HORSE, no matter how hard I tried, LOL. The point is Betfair, have a made hand, and however they play their hand this event can only improve each and every year.
The event kicks off this Friday with the new £1500 NL WSOP E Bracelet Hold Em event. If the £1500 doesn't sell out, I will be a duck with no legs, because a bracelet on your hand equals bucks and sponsorship, simple eh.
If like several others, you have not managed to qualify, it is probably the one European event worthy of visiting, just to pay homage. Of course there will certainly be no shortage of cash games with Jamie or Patrick, if you get a little tired of the showgirls. This event is a show for us to enjoy, even if we are not playing. I spent half my life arranging amazing parties for the rich and famous, and to be accepted you need to pull many rabbits from one hat and, Betfair has a very large rabbit here, so please remember me this year when you enter the Empire Leicester Square, to enjoy the finest Poker Show on Earth or at least that London will ever see, period.
Who do I want to win? Devilfish of course, because I have seen what is behind the man with $5.3mill, Tony G because I want to see the bad side come back and Annette 15 because I want women to send as many men on tilt as possible just for the fun of it. In fact I want Annette to give Phil the biggest bad beat of his life just to boost TV rating and bring more Fish to the game. Remember this: the more new players that come to our learned game, the more chance you have to win, simplicity is a virtue.
Meanwhile I have attracted one or two female stalkers on my Facebook account, however thanks to Betfair, I will crush them as I will be at the WSOPE. Facebook the world wide phenomenom that has blasted the www has recently been discovered by poker players worldwide. Over the last three months, everyone who is no one, including myself has set up there very own page on www.facebook.com. It's a story I will come back to you with, I am not that popular only having around 280 friends, of which only 1% have ever bought me a cup of tea. Join one of your poker buddies and you will acquire at least 200 friends. Facebook – New User Warning – You will have lots of friends from the day you sign up, which is very nice, because Doyle and Devil Fish are both there. However, if any sonnofagun invites you to a 8,500 Euro poker game with any flaming suggestion that you pay, personally crucify em, firstly you are not a fish and secondly they are meant to be your friends. In our lives we have all experienced the roller coaster of inflation, skintinicity and good fortune, but sorry if I invite you for dinner then it is my god given duty to pay for the meal.
Don't be a stranger, your friend and Europe's leading Poker Agent Catman