Sunday Wrap-Up - Hi-Roller WCOOP and More!
This weekend has been a colossal one for online poker. With the 25k PLO heads up championship on Full Tilt, the WCOOP high-roller NLHE event on PokerStars and many other big games there were millions of dollars won by many fantastic players. Choron, GBmantis, Orel Herschiser, Chris Moneymaker, and Patrik Antonius are just a few names that featured themselves today.
WCOOP Event 5 High-roller NL Hold'em
Too many pro players to mention made up much of the field of 321 players who paid $10,000 to buy into Event 5 of the WCOOP. The game eventually lasted over 14 hours with first place going to dorinvandy who took $617,925 for his effort!
The tournament went through the night with the final table eventually starting early this morning here in the UK. One of the biggest final table moments was Jcardshark's exit in 7th place. Before his last hand started he was in a comfortable position 2nd in chips with 1,923,764, the next biggest being #1PEN's 711,760. With the blinds at 10k/20k dorinvandy raised UTG to 50k. The action was folded round to Jcardshark who decided to defend his big blind and call the small raise. The flop came



prompting Jcardshark to lead out with a bet of 72,000 which was quickly raised by dorinvandy to 240,000. Jcardshark thought for a moment then called. The turn produced the

which, after some thought, made Jcardshark check the action back to dorinvandy who continued to pressure Jcardshark with a bet of 420,000. A long pause proceeded another call by Jcardshark putting the pot total at 1,444,000. The river card completed a board of





which was again checked to dorinvandy who quite quickly pushed all-in putting Jcardshark to a decision for his tournament life. Jcardshark called time and looked as if he would fold but eventually called showing


, one pair of 5's! This didn't beat dorinvandy's


two pair leaving the already chip leader with a commanding position with 5,183,259 chips, almost 65% of all the chips at the table!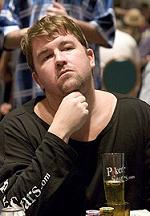 The next player out was Chris (Money800) Moneymaker winner of the 2003 WSOP, and man who started the poker boom. It appeared Chris has lined up another gig doing baseball commentary through this final table. That will be riveting.
Chris eventually busted out in 6th when he didn't figure the small blind for


and he pushed with his


. No help came from the board and he was sent packing with a $139,635 sweetener!
DuckU struggled with a short stack for much of the final table action but managed to take most of the chips from the 3rd and 4th place finishers leaving him with 2,503,543 to dorinvandy's 5,521,457 at the start of the final phase. Heads up lasted just over 20 minutes with DuckU staying aggressive as an attempt to stop dorinvandy from using his stack advantage too much. The final hand saw DuckU check-raise all in on a flop of



holding


, a flush draw, open ended straight draw and gutshot straight flush draw. This was called immediately by dorinvandy who'd flopped a set of Tens with


. Neither the turn or river produced an out for DuckU and the win went to dorinvandy.
The complete final table results:
1: dorinvandy (Medina), $617,925.00 (19.25%)
2: DuckU (Portland), $459,030.00 (14.30%)
3: #1PEN (Los Angeles), $337,050.00 (10.50%)
4: Choron (Waterloo), $256,800.00 (8%)
5: gbmantis (Waukesha), $179,760.00 (5.60%)
6: Money800 (Lakeland), $139,635.00 (4.35%)
7: Jcardshark (Las Vegas), $107,535.00 (3.35%)
8: purplEUROS (Castle Grayskull), $75,435.00 (2.35%)
9: O. Hershiser (Las Vegas), $54,570.00 (1.70%)
Overall this table was an amazing mix of some of the best players in the world.
25k Heads-Up PLO Championship
Over on Full Tilt the 25k heads up PLO championship was well underway it had started with 64 entrants, each paying $25,000 making the prize pool a huge $1,600,000. The tournament started on Sep 06 at 15:05 ET and finished Sep 07 at 18:03. The player to outlast the field was Slaktarn who continued his Omaha form to take first place! With 8 places paid the players finishing in the money were:
1 slaktarn - $560,000
2 Patrik Antonius - $320,000
3 Urindanger - $168,000
4 Ugadabugada - $168,000
5 trex313 - $96,000
6 David Benefield - $96,000
7 SteveSung - $96,000
8 Eric Kollmann - $96,000
The tournament went on a break with only 4 players left, to be resumed the next day at 16:00et on Sunday 7th. The beginning of day two saw Patrik Antonius facing Urindanger and slaktarn up against Ugadabugada with both games deciding who would play in the grand final for the first place prize of $560,000! The match between slaktarn and Ugadabugada lasted just one hand. Slaktarn made pot bets every step of the way from early position eventually winning the hand with the nuts flush which he'd flopped with his hole cards




and the board





. The final all in bet of 3,570 by slaktarn saw Ugadabugada request time before he made his choice to call. When slaktarn showed his hand, all Ugadabugada could do was muck and start thinking how to spend the $168,000 they'd won from coming 3rd/4th.
The other semi-final couldn't have been more of a contrast taking over an hour for Patrik Antonius to seal his place in the final even though Urindanger held a slight lead in chips for most of the match.
The final between slaktarn and Patrik took just over 30 minutes to play out. Again Patrik was the slight underdog in chips for the majority of the game but could not turn the situation to his favour this time. The final hand started with blinds at 25/50 and with slaktarn holding 9,655 chips to Patrik Antonius's 2,270. Patrik raised the small blind making the pot 300 on a flop of



. A bet of 250 started a raising battle which eventually had Patrik all in. slaktarn turned over




trip jacks, while Patrik needed help with




, one pair of aces. The turn card

and river

were no good for Patrik however and slaktarn took yet another large Omaha win! Congratulations.
Titan $2,500,000 Guaranteed
Another exciting game this weekend was on Titan Poker where they held their biggest ever guaranteed tournament to date. The $2,500,000 guaranteed NLHE event brought in 1596 players all with aspirations of victory and a chance to pocket a first place prize of half a million dollars. The tournament went on through the night lasting slightly over 13.5 hours with the glory finally going to axp15 who played a solid game.
The final table results were
1 axp15 - $500,000
2 JohnnyU - $260,000
3 cont454m - $185,000
4 madonnalover - $150,000
5 kingjackson1986 - $125,000
6 DrJes - $100,000
7 drrungood - $75,000
8 iamtehseer - $50,000
9 Futjul - $32,000