Sunday Wrap Up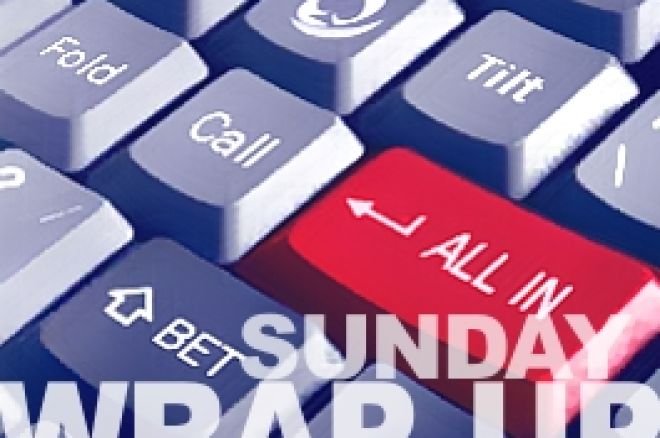 Why was Sunday 14 Sept 2008 exciting? With the WCOOP kicking off its final week of action we saw the largest buy in event with a $25,000 + $500 buy-in! Also on PokerStars was the WCOOP Sunday Warm-Up AND Full Tilt ran their weekly guaranteed tournaments. Here's what happened!
WCOOP event 19 NLHE HU
Last week Full tilt had a $25k buy in HU PLO championship. This week PokerStars held the WCOOP $25k HU NLHE. Amazing that online poker has gotten so big that there is a $25K event every week!
Event 19 was set to be bigger than massive with over 80 players registered off the bat. PokerStars decided that this field was too big for a heads-up tournament, so 'Stars ended up splitting the field into two tournaments. 64 players participated in the main game and the others had the chance to play in an 'overflow' tournament.
Players in the overflow tournament did not have the chance to win a bracelet and with fewer participants the prize pool was obviously much lower, which resulted in some players unregistering. By the time the overflow tournament had started there were only 8 players left in it.
The 64 player event saw plenty of big names including the UK's very own Vicky Coren and John Duthie. Daniel Negreanu, Chris Moneymaker, Vannessa Rousso, Victor Ramdin, Tom McEvoy, Noah Boeken, Alex Kravchenko and so many more amazing players took to the tables and provided quite a spectacle of high stakes online poker!
Vicky Coren won her first shootout round against -BBJ- taking the final pot of 2560 with her two pair Aces and sixes against -BBJ-'s pair of sixes. Vicky gracefully took the win, typing "looks like my luck was in... ul, gg" to -BBJ-. Helpful observer 'nutsinho' typed next with "UR SO HAWT" doing what any sensible girl would do she ignored him, saying she was off to have some supper before the next round.
The next round found Vicky playing Scott 'gunning4you' Seiver. She ended up busting the tournament in 27th place with her ace high losing to gunning's pair of jacks.
The main game lasted just under 11 hours seeing some amazing heads-up play. PokerStars pros, Bertrand Grospellier, Gavin Griffin, Vannessa Rousso and Victor Ramdin made up four of the final eight players.
The final was renowned Starcraft player Elky up against Steven Jacobs. Ironically these players had played each other countless times in 'Stars $5K heads-ups over the years, so this wasn't exactly a dream match-up.
The final hand started with the blinds at 3,200 and 6,400 and stevesbets raised from the button to 19,200. This was quickly followed by a re-raise of almost 240,000 by ElkY, leaving himself with just 5,120 chips behind him. stevesbets went all in to commit ElkY to these last chips and showed Pocket


leaving ElkY to reveal


. No help from the board secured the win for stevesbets!
Steven 'stevesbets' Jacobs the eventual winner took first prize of $560,000.00 and the sought after bracelet for this event. Heads –up being one of his favoured games, Jacobs has an impressive MTT history with plenty of both live and online big money finishes.
Results:
ITM finishers for WCOOP Event #19
1: stevesbets $560000.00
2: ElkY $320000.00
3: zivziv $160000.00
4: GavinGriffin $160000.00
5: LadyMaverick $100000.00
6: VictorRamdin $100000.00
7: PAW717 $100000.00
8: brianm15 $100000.00
ITM finishers for 'overflow tournament'
1: RaiNKhAN $125000.00
2: Bebop86 $75000.00
WCOOP Sunday Warm-up
"To be a poker champion, you must have a strong bladder." The astute words of Jack McClellend must've rung true for RoadV who lasted 9hrs to eventually win $74584.80.
Labelled as a 'special $215 No Limit Hold'em tournament' to warm up for the big WCOOP Event #20,' this $200 buy in tournament brought in 2302 players making a $460,400.00 prize pool.
Congratulations to all those who final tabled this tournament!
Final table results :
1: RoadV $74584.80
2: A-laursen $54097.00
3: Squirrely1 $38213.20
4: faith8 $25782.40
5: bazarw $21178.40
6: PeepOnTheSly $16574.40
7: babbelz $11970.40
8: alzor $8287.20
9: 100262 $5018.36

$750k Guaranteed Full Tilt
The $750k guaranteed NLHE tournament on Full Tilt poker started with 3,643 entrants, and the tournament lasted about 9 hours.
The pivotal point of the final table was when at three-handed, Absolute6 ended up all in preflop with KJ against acatlover who turned over AA. With three nines on the board Abbolute6 finished the tournament in 3rd place, giving acatlover his ticket to the Heads-up stage.
The turning point of heads-up was the moment acatlover managed to get all in with


vs nounet's


. The board of





sent the pot of almost 9,000,000 sliding into the stack of acatlover. This proved to be an insurmountable chip lead..
The tournament ended just a few hands later when nounet found himself all in with


dominating acatlover's


. A double up at this point could of given nounet the chips he needed to make a comeback but a





board briked out making acatlover this week's champion.
Results
1) acatlover $132,787.50
2) nounet $80,250
3) absolute6 $52,500
4) RonJovi7 $41,400
5) bighorn1973 $31,050
6) gingabreadman $23,025
7) Nicolak $17,250
8) mirasol $13,500
9) gcnmoo $7,200