The Sunday Online Tourney Wrap Up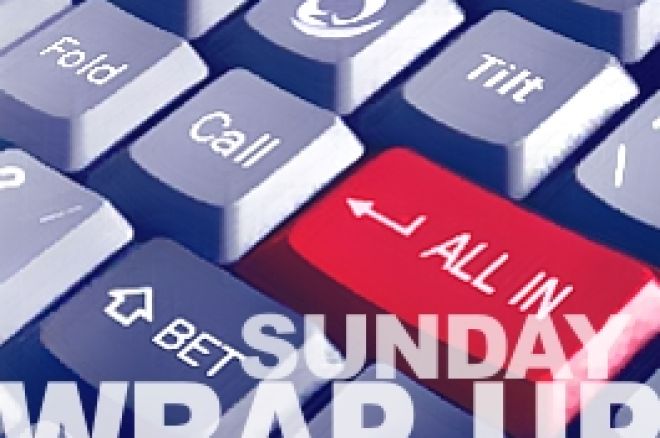 For most people Sunday is a day of rest but for poker players Sunday is the biggest day of the week with heavyweight games from the biggest sites. This Sunday was no different with games like the Sunday million and Sunday warm up on PokerStars. Also the $750k guaranteed on Full Tilt that drew in thousands of players from all over the world.
Sunday warm up PokerStars
PokerStars kicked off the action with the 'Sunday Warm Up', with 3627 entrants and a prize pool topped up by PokerStars.com with $10,200.00 to make up the guaranteed $1,000,000.00. The game, lasting almost ten hours, proved profitable for well known UK online player Steve 'allinstevie' Devlin (of Omagh, Ireland) who finished 7th taking $21,000.00 after a fantastic game. This is not the only time Steve's finished big in the Sunday Warm up previously taking a prize of $70k in this tournament. The next player out was Annette 'Annette_15' Obrestad who finished 6th winning $31,000.
Final table results :
1: AWice (Toronto), $135,000.00 (13.50%)
2: lrdvoldemort (Djursholm), $95,000.00 (9.50%)
3: Rivvie (Amsterdam), $65,000.00 (6.50%)
4: Bookie1978 (Voorschoten ), $51,500.00 (5.15%)
5: halt81 (Oxford), $41,000.00 (4.10%)
6: Annette_15 (Sandnes), $31,000.00 (3.10%)
7: allinstevie (Omagh, Ireland), $21,000.00 (2.10%)
8: mppowerm (wolfsburg), $13,000.00 (1.30%)
9: MrTile (Woodinville), $9,000.00 (0.90%)
Sunday Million PokerStars
The biggest Pokerstars tournament of the week started with 7212 players paying $215 for a shot at one of the 1080 places paid.
Congratulations go to diegoaiz who took 11 hours and 59 minutes to out play the field and take the win. The final 3 players agreed to chip chop leaving the eventual first place prize at a cool $148,849.49! 2nd place went to TheRodGuy who scooped $127,912.72 leaving FlopeDeNuts in 3rd place adding $116,687.79 to his bankroll!
The tournament was steady throughout with a notable finish in 22nd place by well known online pro Tmay420 who battled through 17 prize brackets to eventually take $3,000. Thirteen knockouts later the final table lineup was as follows; With blinds starting out at 125,000/250,000 ante 25,000.
diegoaiz - $14,567,593
TheRodGuy - $14,440,256
IamUnlucky - $10,497,102
FlopeDeNuts - $7,680,933
CodeRedRulez - $6,431,828
UnbrokeN - $5,711,064
krs528 - $5,438,648
Bury2k4 - $3,787,382
c j mcon - $3,565,194
Diegoaiz held their nerve and chips to eventually find themselves in a dominating position heads-up. With the blinds at $1,000,000/$2,000,000 play went back and fourth with diegoaiz's chipstack hovering between 2-to-1 and 4-to-1 relative to TheRodGuy's. A mistake left TheRodGuy with less than one sixth of the chips so he made his move all in on the button for $9,598,336 with


, which was quickly called by diegoaiz who held the live cards


. The resulting board of





gave TheRodGuy a much needed double-up but he failed to put it to use when the hand immediately after left him with just over $11,000,000. This made him move in again from the small blind with


which was called even quicker by diegoaiz with


. The board was no help for the TheRodGuy until the river fell

doubling him yet again.
Play went back and fourth until the blinds were raised to $1,250,000/$2,500,000 with a $250,000 ante. The first hand in this new blind level would prove to be the tournament finale. Diegoaiz min-raised on the button and TheRodGuy called taking it to a flop of



. TheRodGuy check-raised all in his remaining 21.5 million over diegoaiz half pot bet of $5,000,000. The chipleader thought for a moment and then called. The cards were shown, TheRodGuy held


, one pair of fours and diegoaiz had top pair with


. The turn

and river

secured the win for diegoaiz.
Final table results:
1: diegoaiz (Buenos Aires), $184500.00 (12.30%)
2: TheRodGuy (Frederiksberg), $124950.00 (8.33%)
3: FlopeDeNuts (Holiday), $84000.00 (5.60%)
4: IamUnlucky (Lakeville), $69000.00 (4.60%)
5: krs528 (West Chester), $54000.00 (3.60%)
6: UnbrokeN (Humble), $39000.00 (2.60%)
7: Bury2k4 (Shelby Twp.), $26250.00 (1.75%)
8: c j mcon (edinburgh), $17250.00 (1.15%)
9: CodeRedRulez (Alexandria), $10500.00 (0.70%)
$750,000 guarantee Full Tilt
Just 3,225 players logged into Full Tilt and played the $750,000 GTD this weekend leaving the site a $105,000 bill to match the guaranteed amount. Congratulations go to Steveee111 who battled the field for just under 9 hours to take the first place prize of $132,787.50.
1 Steveee111 - $132,787.50
2 oldschool043 - $80,250
3 Flip This Cup - $52,500
4 grabaskia - $41,400
5 dubbeemin - $31,050
6 Mabbe - $23,025
7 prostarins - $17,250
8 StevoL_7 - $13,500
9 VamosRafael - $10,050