UK Pokernews Exclusive: The Sky Poker UK Poker Tour Review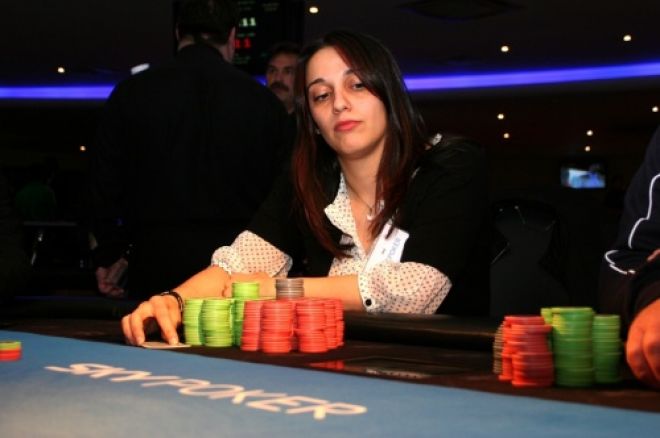 As anyone who has gone out just before the money of a tournament after making a stupid 'bubble play' will know, it's impossible to turn back time. Yesterday, however, I did get a chance to experience something how it should have been the first time for me, at the Sky Poker UK Poker Tour at Dusk Till Dawn in Nottingham.
You see, the first time I played live poker was a horrific experience which I wish had gone better. I was making string bets, trying to raise without announcing it and generally making a buffoon of myself. What's more the atmosphere was seedy and the table talk was very offensive, all the players were smoking and some of them were plain obnoxious. It was an extremely fruitless and intimidating experience.
But Sky Poker's debut leg of their live UK tour was surely the remedy to that and they have created one of the friendliest and most nurturing environments for new players to cut their teeth live. I'd say at least half the field in attendance were playing their first live game and what a way to start. Before the tournament Norman Pace and co were holding instructional lessons on proper live etiquette and throughout the event the Sky Poker and Dusk Till Dawn staff were on hand to dish out advice to the new poker stars in the making.
I was invited along by Sky Poker as a special guest for being a 'well known poker player' (their words, not mine) and there was plenty of big names from the UK circuit making up the numbers. Maria Demetriou, Neil Blatchley and Nick Hicks amongst the live qualifiers as well as Sky Poker Presenters Michelle Orpe, Norman Pace, Dave Compton and Tony 'Tikay' Kendall.
What made the tournament such a special experience was the good nature and humour at all the tables. Every bust out was reported in jest on the microphone by host Tony Kendall and every big hand applauded. Everyone was talkative at the table and the more experienced players amongst us were being very supportive and giving advice when needed (Obviously not on hands in play) to the newer players. Not a bad word was spoken all day.
It was also one of the most female filled tournaments any of us had ever seen, averaging two women per table and short of the Women's World Open, I doubt you could find many events across the country that can boast that.
Obviously the standard of player was not exactly the best you'll ever see, Sky Poker is of course aimed at recreational players and the channel is a learning tool as much as anything else, but I think all the old hands were impressed with what they saw. There were a few crazy early bustouts with people getting all their money in with pocket fours against ace-eight, but I did also witness players showing an ability to lay down big hands at my table (which worked out well for me, who got way too much respect from my new poker buddies). As the tour develops so will the players and check back here in a year's time and you will see a very tough field developing.
A really nice touch from Sky Poker's regarded the payout structure. First of all, anyone who made the final table won a £200 seat in next year's grand final, which has a £25,000 guarantee. Secondly nearly 20% of the field got paid in this 100+ event rather than what would normally be just the final table. Just like the PCA, this is with the audience mind and Sky Poker know just what a huge confidence boost it will be for some of these players to cash in their first live event.
The eventual winner was local pro and Late Night Poker finalist Maria Demetriou. But to use a phrase from my book of clichés, the real winner yesterday as poker and I'm sure everyone at Sky Poker and all the player's in attendance agree with me.
I've played up and down the country and across the World in the last 12 months, but I can honestly say that yesterday's event was probably the most fun I've had at the tables this year. If you are new to live poker or just want to have a fun weekend away at the tables, the Sky Poker's UK Poker Tour is the place to start. The qualifiers are both cheap and easy online, often with one in five players winning a seat, and I can hand on heart say I truly believe this tour (or at least whatever live tour Sky Poker are championing in the future) will be a genuine contender for the GUKPT in a few years time.
Stay tuned to UK Pokernews this week for Barry's interview with Sky Poker's Michelle Orpe