Party Poker gets a Makeover, Chillipoker launches UkashOut card and more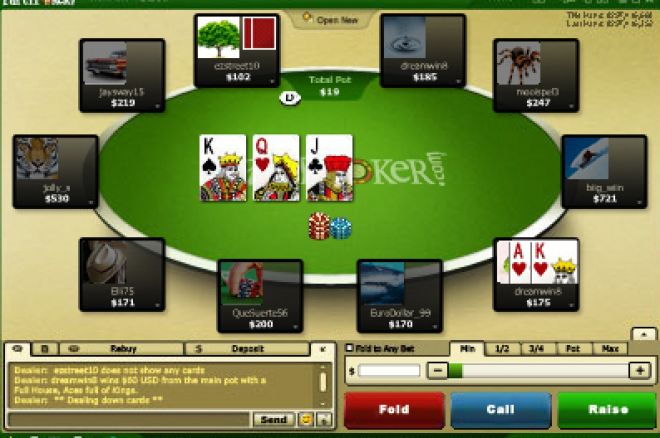 PartyPoker Makeover their Tables
PartyPoker have a habit of getting in the news every other day at the moment and thankfully it's for fun reasons today. After an eternity of the classic avatars at the tables they have decided to go for a complete makeover with a snazzy new modern looking table with some improved features.
As you can see there are now a number of bet sizing buttons, min, ½ pot, ¾ pot and max. The bet slider is simpler and more responsive and the note taking facility has been improved. More new features are set to be revealed but it all looks like things are going in the right direction at PartyPoker.
Rake brings prize pool up to €100,000 at International Poker Open
More than 700 players have registered so far for the BoylePoker International Poker Open at the Regency Airport Hotel in Dublin, with over 1000 expected to turn up on the 17th of October. The €135+€15 event will boast at least a €100,000 prize pool as BoylePoker has already added €20,000 and will be adding 20% of the rake generated online by the event.
Paul Spillane, head of poker at the online site, said, "The excitement is palpable now. Hundreds of overseas players have booked flights and accommodation and dozens from the UK, Ireland, and Europe are signing up every day so we expect this to sell out over the next couple of weeks. Players can see the value — full dealer dealt, professional structure, money-added — for a fraction of the usual cost. It's going to be a fantastic event."
Credit Crunch? Let's play Poker instead
Despite a catastrophic few weeks for the Global economy, online poker doesn't seem to have taken a hit and is positively booming this month. Pokerstars.net appear to be up 34% traffic wise and Full Tilt likewise at 28%. Obviously the recent $25,000 heads up events at both poker rooms and the WCOOP in general has attracted a mass of players and railbirds alike this month.
Up and coming poker room Duplicate Poker is also up 25% since the Lehman Brothers' collapsed on the 12th of September. They also celebrated their 250,000th player registering in this time at the poker room which applies the dealing and scoring protocols from Duplicate Bridge to Texas Hold'Em.
High Stakes Poker?
It's not very often as a poker writer I get to embark upon a journalistic pun but the one above felt great. In the wake of the WSOPE, this week the first ever aerial poker tournament was held in London in the same place David Blaine hung from a Perspex box. The celebrity dealer was John Tabatabai.
The players were strapped in and their legs were dangling out of the bottom of the container. When a player bust out they didn't have the usual indignity of having to do the walk of shame from the table, they were just literally tipped out of the container into the Thames instead. It was all a publicity stunt from the folks at Betfair but we wouldn't be surprised to see a few of the visiting Laak's and the Esfandiari's working it into some sort of prop bet in the next few weeks.
Full Tilt up their Guarantees
Two of Full Tilt Poker's flagship Sunday tournaments have just gotten a lot bigger. The Knockout Bounty tournament 'The Sunday Brawl' has increased from $250k to $350k and the 'Sunday Mulligan' has jumped up from $150k to $250k. The $750,000 guaranteed main event remains the same but don't forgot this weekend it is the monthly $1 million guaranteed instead.
Vivek "So Sick" Rajkumar Wins the 2008 Borgata Poker Open
We love his nickname and he will be loving the $1.4 million prize he got for besting 516 other players in the last major WPT before the poker world fixates on London. Pro Mark Seif also made the final table second in chips, but the event was all but over when Rajkumar and Seif tangled in a big pot and Rajkumar's pocket tens spiked a set against the aces of Seif early into the final table.
Final Table Payouts:
1. Vivek Rajkumar — $1,424,500
2. Sang Kim — $750,000
3. Dan Heimiller — $387,500
4. Jason Strochak — $337,500
5. Mark Seif — $287,500
6. Andrew Knee — $237,500
Chilipoker first operator to go live with UkashOut
ChilliPoker have teamed up with Ukash to launch UkashOut - a MasterCard-endorsed prepaid card which makes the process of paying out to online players easier. UkashOut will allow winning players a quick and easy way of accessing their funds regardless of how they were originally deposited. The cash then should be available for withdrawal almost immediately at ATMs or use anywhere a Mastercard is accepted in the world.
ChilliPoker will initially issue it to its VIP customers free of charge and they expect to attract and retain a lot more high rolling customers as a direct result. The UkashOut operation cuts down on resources and time which makes for a much simpler and reliable service.
Alexandre Dreyfus CEO of Chilipoker said: "It is in our nature to offer our players the best possible online gaming experience, that is why we have partnered with UkashOut and now offer this new value added service to our premium members"
Mark Chirnside, CEO of Ukash commented: "As the company which introduced online cash payments in Europe, we are pleased to bring UkashOut to the market and to see it so eagerly adopted by one of the strongest online gaming providers. Chilipoker, like many other operators, is realising the value of finding methods to pay out securely, easily and quickly and UkashOut offers the whole package."