A Hard Day's Night For Liverpool's Newest Poker Champion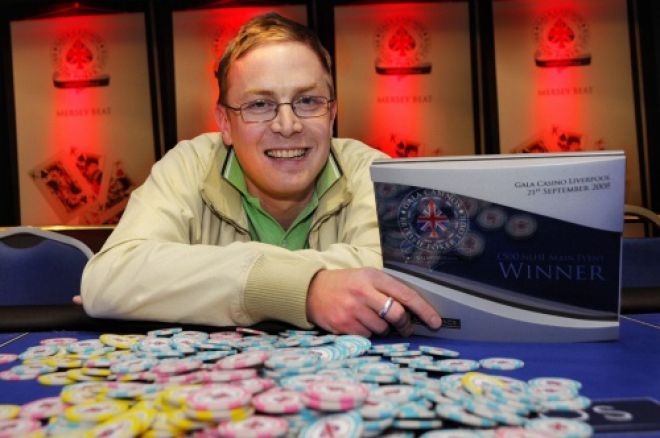 A banker from Manchester has beaten amateur and professional poker players alike to win the Liverpool leg of the Gala Casinos British Poker Tour (GCBPT) and landed the title of Liverpool GCBPT champion. Zack Ford beat a field of 229 runners to scoop the £26,000 prize following a final table deal in another sell-out GCBPT main event.
Zack, a 34-year-old bank compliance adviser for the Co-Operative bank in Manchester, won on his first appearance at the GCBPT. He will now go forward to the UK final which will see the tour return to Gala's flagship Harbourside Casino in Bristol from 1st to 7th December, where he will compete against regional winners from across the country for the coveted GCBPT championship title.
With 230 runners and a 20-strong reserve list, the GCBPT has continued its over-subscribed form and with a massive Main Event prize fund of £120,000 there was much to play for at the Gala Leo Casino in Liverpool.
Zack said: "I had been up and down throughout the tournament and nearly went out on the first day when I went down to 1,300 chips. It's been a really nail-biting run but I'm delighted to have won at a great event in a great city."
Gala Casinos Liverpool manager, Garry Fenton, said: "This really is the People's Poker Tour. The sportsmanship displayed by the players reflected the overall friendly atmosphere of the event, where amateurs and professionals play alongside one another for the chance to win."
The total prize money for the week was £158,850; full details of all the events plus hand-by-hand reporting of the Main Event can be found at the GCB Poker Tour Website
This is the second year of the GCBPT, which was created in response to poker's ever increasing popularity across the UK. As well as a massive cash prize pool in excess of £1 million, poker professionals, amateur players and poker novices alike will compete for the ultimate accolade of GCBPT Champion 2008.
GALA CASINOS BRITISH POKER TOUR Festival upcoming dates and locations:
Date Location
22 - 26 Oct Gala Casino Stockton-on-Tees
1 - 7 Dec Grand Final, Gala Harbourside Casino, Bristol
Full details can be found at www.gcbpokertour.com
Liverpool GCBPT Winners
Buy In Winner Prize
£500+£50 - Zachary Ford £26,000
£200+£20 - Costas Kkola £5,260
£100+£10 - Gary Bowden £3,800
£50+£5 - Anthony Sneddon £1,875