Spencer Lawrence on his way to HORSE Final, ASA ban Pokerstars Advert and more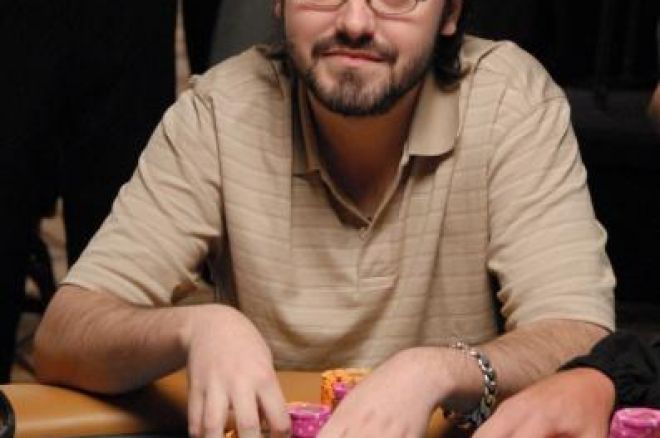 HORSE Final Table (Almost)
As someone who covered the HORSE tournament for Pokernews last year, I can assure you that they are not crash-bang-wallop affairs with bustouts every two minutes. Yesterday's event was no different and the play ended with 11 players remaining, who will play down to the final table and then to a winner today.
Its looks like Mike Matusow was right when he said that Phil Hellmuth would not have his chip lead at the end of day two, as the 11 time bracelet winner was the last to bust last night in 12th (By which point Matusow was long gone) and Daniel Negreanu was another late casualty. Naturally a Phil Hellmuth bustout didn't go unnoticed, and Phil found himself once again at the end of a warning from the tournament director after apparently making a dealer cry after a 14 hour shift. We hear she didn't wait around for an autograph after the event.
It has set up a star studded and very intriguing final 11, with Phil Ivey in the mix with chip leader Howard Lederer. If I were a betting man (which I am) I'd say that Yuval Bronshtein is the man to watch in this event, 3rd in chips and having made this final last year, he also recently became the first player to take down back to back FTOPS events this year, which included a HORSE event.
But our UK biased eyes will be on none other than Spencer Lawrence from Wimbledon, who in 6th place is poised to make his 3rd WSOP final table of the year. Lawrence could be the best kept secret in the UK, he has had an amazing year and has already proved himself to be one of the most versatile players in the UK, having made a limit hold'em and an Omaha hi/lo final as well this year.
The final 11 look like this:
Howard Lederer 208,500
Sherkhan Farnood 141,500
Yuval Bronshtein 133,500
Phil Ivey 114,000
Jeff Duvall 112,100
Spencer Lawrence 88,500
Jeff Lisandro 84,000
Mark Gregorich 82,500
Ivo Donev 79,500
Kristian Eriksson 43,000
Raul Paez 17,500
But if you prefer your poker in the aforementioned crash-bang-wallop style, look no further than the £5000 PLO event which starts today. This really is an event that Europe will be looking to win on home ground and expect to see plenty of massive names at the top of the chip counts by the end of the day. You can catch the action from both events in our exclusive Live Updates section.
ASA Ban another Poker Advert
The Advertising Standards Agency have banned another poker advert in the UK after banning a PKR advert a few weeks ago. This time they have dropped the Pokerstars.net ad which features Daniel Negreanu where he claims that poker was a game of 'courage, conviction and confidence' – a claim the ASA suggests would make gambling sound attractive and appealing to young men.
The ASA said: "Courage, conviction and confidence were attributes that demonstrated mental toughness or resilience and would be seen as admirable qualities by the target audience of 21 to 44-year-old men. We also considered that the claim implied not only that those qualities were needed in order to play poker, but also that success at poker would enhance those qualities."
However, in an unlikely twist, the ASA were not opposed to a recurring theme in the series of adverts that poker could be considered a sport. They said ""the definition of sport' as a game, pastime or recreational activity was a definition that could be applied to poker", but added: "Because of the reference to courage, conviction and confidence, we concluded the ad breached the code. It must not appear again in its current form."
Online Gambling Under Attack in the USA (Again)
More bad news for our friends in the land of the free this week, as the Governor of Kentucky might be seizing the domain names of 141 online gambling sites to 'protect it's citizens from harm'. Gov. Steve Beshear announced they will be going after a number of domains including Full Tilt Poker, Doyles Room, PokerStars, BodogLife, Ultimate Bet, Absolute Poker and Cake Poker (as well as a lot of sportsbooks and casinos) and blocking them from Kentucky PCs.
It's a very familiar story here, where the powers that be are claiming that online gambling operators are unscrupulously preying on weak minded individuals, but the real interest is surely in the highly lucrative and legal Horse Racing Industry in the States, which is particularly prevalent in Kentucky. The online gambling operators will be arguing that the Governor of Kentucky has no jurisdiction over overseas operators like Full Tilt. We'll bring you more news on this story as soon as we get it.
PartyPoker Launch New Software
We showed you a sneak preview of the all new Party Poker software and now we've had a chance to play with it. It was relaunched yesterday and it has a whole host of new features to make the poker experience even more comfortable and enjoyable.
Besides the obvious new look, you can upload your own personalised avatar from your photo collection. There are also a number of 'bet pot' buttons available for ease of use (Which are a gold mine by the way, as it makes the fishes betting patterns so much easier to read) and improved multi-tabling options – including notifying you when you have a 'big hand' on one table and when a particularly aggressive betting action is coming your way (so you don't accidently call a 5-bet all-in).
The lobby is much easier to navigate and personalise, allowing you to specify your preferred tables and get to them quicker. All in all the software is a lot quicker and crisper and we expect a lot of new fish to turn up very soon to try out the new bet ¾ pot buttons.