PokerNews Interview with Kara Scott!!!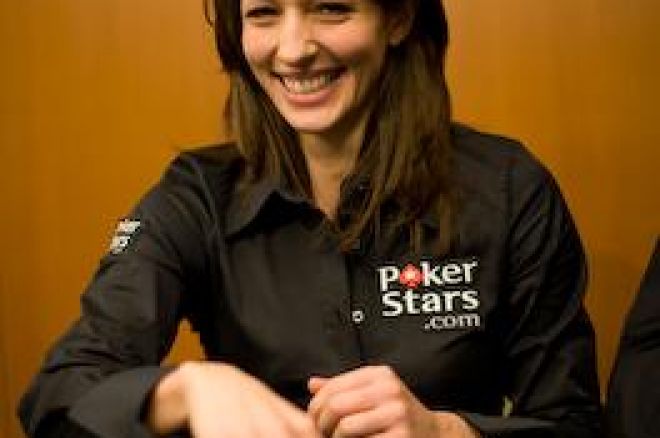 Kara Scott is the host of the Pokerstars European Poker Tour. As her deep run at this year's WSOP Main Event showed, she's also a mean poker player. She joined us to chat about her poker career, both on camera and on the felt.
Hi Kara – thanks for talking to us today. First things first, how did you get into the game?
I used to be a sports presenter, and I was asked to present the World Series of Backgammon. There's such a massive crossover between poker and backgammon that the show got picked up on the poker channel, Poker Zone. Poker Zone saw it and asked me to start presenting Poker Night Live, which is sort of a cult show. That was where I met Nick Wealthall, who taught me how to play. I was about a year into that before I started taking poker really seriously in terms of playing. I wanted to learn about the game so I could ask the right questions, but I wasn't obsessed with it like I am now!
After that year it did become a bit of an obsession and I wanted to play, and I wanted to play better. I worked on my game, I read all the books, I spoke to people as much as possible about it and Nick pushed me massively through different stages of learning and so that's really how I got into it. So I guess I've only been playing seriously for a couple of years.
And of course, this year, super deep in the Main Event. I heard the piece you did on your podcast about it – it just must have been unbelievably exciting...
I honestly think that going that deep in the Main Event of the World Series of Poker is one of the best things I have ever done. It was one of the best feelings, very exciting – not just in terms of poker, but in terms of everything. I've never worked that hard. The physical toll that it took to concentrate for that long... It was incredible.
I don't want to make it sound bigger than it was, but it almost felt like running a mental marathon to me. Because I just wasn't used to it – having to concentrate that hard, for that long, that many days in a row. It was the most exhilarating thing ever.
You finished 104th, which is so deep in that field...
I got knocked out late on day 5, which was in the top 2%.
Were there some key decisions that the run turned on, or was it just a gradual chipping up process?
It's funny. Every single day had a different feel to it. On day one I had this amazing day where every time I needed a hand, I had a hand. I didn't have hands every time I was playing, and people did generally think that I was playing like a rock and I always had it, but whenever I needed to show down a hand I always had it. Really the deck just hit me right in the face.
I had an amazing hand where I doubled up early against Justin Bonomo, who is a world class, amazing player. It could have gone either way at that point we were all in on the flop, I had a set, he had the nut flush draw. With two cards left to come, my heart is in my throat – my tournament was balancing on a knife edge and it went my way. It could very easily not have gone my way and it would have been a very different story. That's poker for you, but thankfully it did go my way! Thank God.
And the Main Event was your first $10,000 tournament, has it given you the bug?
Oh God yeah. I desperately want to play another! I wish I could play in the WSOP-E, I'll tell you that! I'm going to play again in the main event next year. Pokerstars obviously sponsored me into this year's and they are very kindly going to be sponsoring me in 2009, so I get to play again. I don't know if I'll do another five day run, but I'm going to try!
In terms of your TV poker career, you're now the host of the Pokerstars.com European Poker Tour. How has the experience been – do you get a lot out of it in terms of talking to players?
It's amazing spending that much time around poker. Being at the tournament from beginning to end, watching the process and speaking to the players about their hands is amazing for my own game. During the breaks or when the players have been knocked out and they're waiting for the next event to start or a cash game to start we sit around and we generally talk a lot of poker. For me, being a massive poker geek, I could just do that for hours and hours and hours and never get my job done!
I can imagine! "Shall I go and shoot a link, or shall I chat about hands with Gus Hansen for half an hour?"
Exactly! It's dangerous for me...
I heard some of your commentary on EPT Live from Monte Carlo. It was you and Nick Wealthall together and it was very entertaining! Is it something you enjoy doing?
Definitely. I always love working with Nick. Every single chance we get, we work together and we always have. We did so on lots of different T.V. shows, and on our podcast and we plan to continue. This year, thankfully, I'll be able to work with him on EPT Live again. It's just so much fun. He is incredibly knowledgeable about poker, but he's also the funniest man I know, so he makes it very easy for me to play the sidekick and ask all the right questions. And I learn a lot as well, while I'm doing it. It is a great deal of fun. And I love EPT Live. I think it's a brilliant idea.
As a final question then, what's your favourite stop on the EPT? Did you have a favourite even last season?
My favourite stop was Warsaw. Because I got to play it! It was my first ever large buy in deep stacked event. Pokerstars sponsored me into it. I didn't go very deep, but it was the most incredible experience for me. I got to spend the whole week out covering it for video blogs and being a player. That was what really gave me the bug. I just spent the whole week out there talking to players, being a player, hanging out with the players, and thinking "yeah. This is exactly what I want to do." I mean, I love my job, don't get me wrong, I love presenting. But, God, being a player is a lot of fun.
Excellent, thank you very much indeed for talking to us today
No worries!

Kara Scott is the host of the Pokerstars European Poker Tour.
She also co-hosts the On The Rail Podcast at www.totalgambler.com/pokerlife /pokerplayerpodcast/podcast with Nick Wealthall.
[I] Our forum members have devoted a special thread to images of Kara, visit the forums via here [I]