John Phan Potrait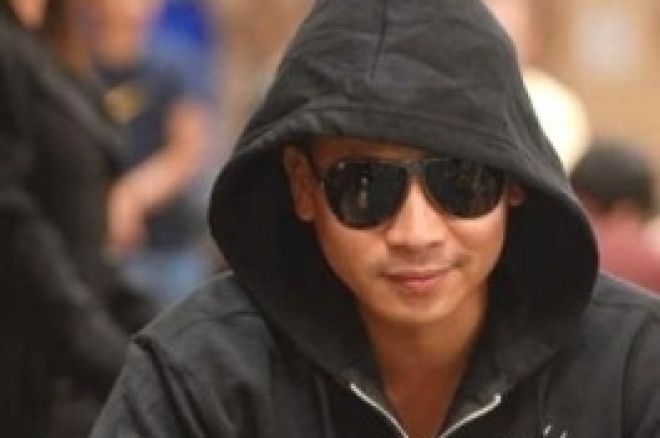 His friends call him the "Razor" – and not only because of his tendency to raise every pot he's in or his fondness for the Motorola Mobile with the same name. The true reason is his unmistakable Instinct to detect weakness from his opponents. To people who don't know him, John Phan might seem like a complete lunatic at the poker table. He raises with rags, is constantly chatting with his opponents and, every now and then, likes to drink a couple of glasses of red wine at the table. An image that he has been working very hard and one he built up very intentionally.
In the course of his career, John Phan has won over $4 Million in poker tournaments, but at the same time, never forgot where he came from, helping out his family and his country where ever he can.
John Phan was born in Vietnam in 1974. He left Vietnam together with his family and moved to the U.S.A when he was still a young boy. When Phan was 8, his family settled in a town called Stockton in California. Phan's family owned a grocery store, in which Phan spent most of his youth working (the only "real" job he's ever had). When Phan was 16 he played low-limit poker games in a local Poker Room (which was operated by one of Phan's friends). After graduating from high-school Phan attended the local university of applied science, although he wasn't really studying much. At that time he was already focusing on his poker career and rather spent his time playing $2-$4 and $3-$6 limit holdem games. He finally dared to visit the Casinos in the nearby city Sacramento where he started playing higher limits. After realizing how much money he could potentially win at these tables, he quit university, and at the age of 21 he became a professional poker player. In the beginning he was making a living playing middle-limit holdem games in various Casinos in California. During the initial years of his poker career Phan kept his profession a secret from his family. When he finally did decide to tell his parents, the reaction was very negative, as they believed he chose the wrong profession. However, once they realized how successful he was, they slowly but surely changed their mind about Phan's career choice
After spending a couple of years as a cash-game pro, Phan began playing tournaments. His first tourney win was in L.A's Bicycle Casino in 1998, where he won a $200 Seven Card Stud Event. Only a couple of weeks later, he won his second tournament. This time it was a $200 limit holdem tourney, for which he received $10,000. Phan was thrilled – his aggressive, unconventional playing style seemed to be perfect for tournament poker. In the following 3 years he played dozens of tournaments (mostly in southern California) and made it to 19 final tables in various poker variations (seven card stud, omaha hi/lo, pot limit holdem and limit holdem).
In 2004 John Phan had his breakthrough. He won his first 6-figure prizemoney during the Binion World Poker Open in January, where he won the $500 limit holdem event, bagging $160,000 for his first place. Only four days later he won another WPO event, the $500 pot limit holdem tournament (prizemoney = $85,000). His success continued in Tunica where he made 2 final tables during the L.A Poker Classics and one final table during the Bay 101 Shooting Star event. That summer he won 2 more big tournaments – for his first place in the $3000 NLHE Bellagio Festa al Lago Event he received $189,000, and he won an additional $76,000 after winning a preliminary event at the Bicycle Casino's Legends of Poker. After this, he decided to stop playing low buy-in tournaments and started focusing on tourneys with buy-ins around the $10,000 mark.
In 2005, Phan made it to the final table of the WPT World Championship for the first time. The final table of this $25K buy-in Event was recorded for TV. His opponents at the table included Phil Ivey, Rob Hollink, Hasan Habib (who won in the end) and Tuan Le. Phan finished 4th and received $518,000, by far his biggest prizemoney to that day. During the WSOP 2005 he came 4th in the $5000 Seven Card Stud Event. In the course of 2005 he reached one final table after another and was in a top spot in every 'Player of the Year' ranking – all he need now was a WSOP Bracelet.
He came very close to his first Bracelet in 2006 when he came 2nd in the $1,000 NLHE w/Rebuys Event (winner was Jon Friedberg). In the following year he came 2nd again, this time in the $2,500 NLHE Event (winner was Francois Saffieddine). His name was to be found on every list of great players that had yet to win a WSOP Bracelet. But that was going to change in the summer of 2008.
In one of the wildest heads-up matches in WSOP history, Phan secured his first WSOP Bracelet on June 17th 2008 after taking down the $3000 NLHE (Prizemoney = $435,000). Only one week later Phan managed to win his second Bracelet in the $2,500 Deuce-to-Seven Triple Draw Lowball Event (Prizemoney = $151,000). As a result, Phan now belongs to the elite group of players who have managed to win 2 or more Bracelets in one year. Other players in this group include Phil Ivey, Ted Forrest, Layne Flack, Jeff Madsen, Tom Schneider and Mark Seif.
Although Phan's timetable is completely booked out, he always takes the time to do something for his home country, together with his good friend, poker pro Liz Lieu. He donates a certain percentage of his winnings to help his family and regularly travels to Vietnam together with Liz where they give out food and other necessities to the villages of their relatives. They also pay regular visits to orphanages and nurseries. He hopes to one day set up his own charity organization for kids in Vietnam.
When Phan isn't in the process of traveling or playing tournaments, he likes to relax in his house in Long Beach/California.
WSOPE 2008: