PokerStars.com Wcoop Main Event Rolling and Full Tilt pays out over a Million!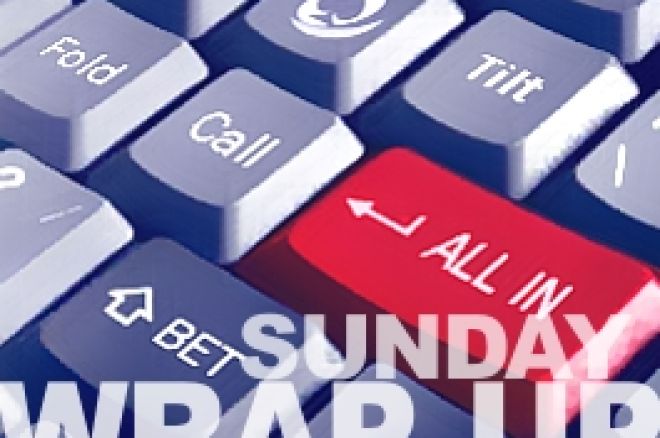 Started work yet? Thought not! I knew you couldn't get down to the grind without checking this Sundays big online tourney results with us. This is one of the most historic Sundays ever as it marks the first ever $1.7M first place prize event. All the poker players in the world kicked back at the computer and got down in something this weekend.
PokerStars wasn't the only action around... Lots of action this week also took place over at Full Tilt they were running a $1million tournament, at a reasonable $500 to enter. For those with bigger aspirations there was of course the $10m guaranteed WCOOP main event at PokerStars, buy in of $5000. A few hardcore players as you might expect were playing in both games.
WCOOP NL Hold'em Main Event - PokerStars
This two day event is still running as this is being written and the action is intense. Players are battling it out to win a share of the $10 MILLION GUARANTEE which has in fact been surpassed by the 2185 entrants paying $5000 each, generating a total prize pool of $10,925,000.00. First place is $1.7M dollars, which will invoke a lot of fist pumping by whowever takes that down. Notable names of the 60 going into day two include the likes of PokerStars Pro Bertrand "Elky" Gospellier (no shocker here), Dustin "neverwin" Wolfe, "cpfactor" and London player "liberace" are all looking good.
It is amazing that online tournament poker has turned out the way it has. Several people will likely become millionaires. Online poker is growing boys! Maybe it is time to start trying to satellite into some of these bigger events because the payouts are incredible.
$1 Million Guarantee - Full Tilt
The usual $750k Sunday tournament was upped this week to a sexy $1million, Full Tilt had no problem meeting this guarantee as 2,239 entrants made the prize pool exceed even that making it $1,119,500!
When final table time arrived the action didn't disappoint. The first two players were gone in under two minutes both finding themselves all in preflop against the pocket rockets of DMill90.
This was then followed by thick and fast poker leaving just 4 players remaining after 20 minutes.
The final 4 battled for what seemed like a lifetime compared to the
previous run of play that was until both DMill90 and spazsoldier went out within 3 hands of each other.
All Golfer had his opponent well covered at the start of heads up with 7,640,792 in chips to OneEyedWilly_1's 3,554,208.
The HU match was intense with OneEyedWilly_1 slowly but surely taking the edge and the chips. A build up to what was to be an interesting final hand.
After a small preflop button raise by All Golfer the flop fell



, only to go check-check. There'd be no checking on the turn though when it fell

. The pirate opened with a bet just under pot which caused a raising battle until All Golfer was all in. When the cards flipped OneEyedWilly_1 was in front after slow playing his top two pair showing


to All Golfers


, a smaller 2 pair! The river card

sealed the tournament for OneEyedWilly_1.
This is how the final hand went down
Final table results:
1: OneEyedWilly_1 - $205,372.28
2: All Golfer - $126,055.70
3: spazsoldier - $82,507.15
4: DMill90 - $65,826.60
5: bobeads - $49,817.75
6: JOHNCL - $35,824
7: Pjer - $26,308.25
8: fyrtuk - $20,598.80
9: LIAMWAIN - $15,673
WCOOP Sunday Warm Up - PokerStars
This NL Hold'em tournament was a 'warm up' to the WCOOP main event which was to start some 4hr15 later. The game saw 2286 entrants battle it out for nearly nine hours to win a share of the prize pool which stood at $457,200.00.
DHUSTLER15 was knocked out of the game in 4th place when his


didn't hold up against natseets


with community cards





, DHUSTLER15's bullets were beaten by natseet rivering a diamond flush that must've hurt.
MacChuck met his fate when he ended up all in preflop with


against natseets


; no luck for MacChuck sent him packing in 3rd place, leaving natseet and Ghoost 1Heads-Up.
Starting Heads-Up chip counts:
natseet 14,001,486
Ghoost1 8,518,514
Ghoost1 asks to discuss a deal but natseet was not keen, Ghoost1 says "sit out and we can look" but natseet doesn't and before a deal could be made it was all over.
Ghoost1 won a big pot with


vs. natseets


, Ghoost1 ending up with two pair kings and Queens beating natseet who was playing the board with a pair of sevens.
Chip stacks are pretty even going into the final hand, natseet raises, Ghoost1 reraises, natseet reraises all in and Ghoost1 calls. natseet shows Ac3h while Ghoost1 shows pocket kings


, the flop falls



, turn

, river

no help for natseet knocking him out in 2nd place probably wishing he had made a deal. Ghoost1 takes 1st place for $74066.40, no doubt glad that no deal was reached.
Final table results:
1: Ghoost1 - $74066.40
2: natseet - $53721.00
3: MacChuck - $37947.60
4: DHUSTLER15 - $25603.20
5: GIGI LUCA - $21031.20
6: domingo32 - $16459.20
7: Ubsolute - $11887.20
8: fridhem - $8229.60
9: Normalforce - $4983.48
See you all next week!