World Record Attempt Underway, Biggest online pot record gets broken (again) and more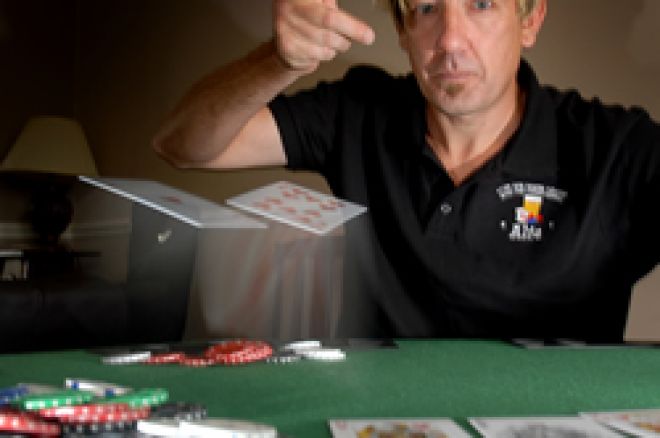 Dave Cain going strong
It's now day number three of UK player Dave Cain's attempt to break the world poker endurance record at Lincoln University. Cain is attempting to play 100 hours of continuous heads up poker and raise a lot of money for charity in the process. Yesterday I went along to play against Cain and still got owned by a player that had been awake for 36 hours.
He still needs all the help he can get if he is going to break the 72 hour world record and set his own goal of 100 hours. You can find out more about helping, participating and donating at www.pokerplayingmarathon.com as well as watching the live feed of the attempt as it happens.
The pots get bigger and bigger at Rail Heaven
It took more than two years for the biggest online pot record to be smashed, and then gets broken about 4 times in a week. Last weekend saw the new biggest ever online pot when Guy Laliberte won a $609,730 pot with a measly pair of twos against Hac 'trex313' Dang. Both men got all their money in the middle of a table with a flush draw, and Laliberte's queen high draw paired its deuce beating the unpaired jack high draw of trex313.
Later that day, high stakes legends Patrik Antonius and David Benyamine locked horns and created a slightly smaller but still monstrous $604,247 pot when a cruel set over set encounter saw Antonius lose with a set of sixes to the set of aces of Benyamine. Despite losing the biggest online pot ever, Trex313 is still up a cool million so far in September as is Benyamine. None other than Phil Ivey is the biggest winner thus far this month, a meaty $1.8 million better off at Full Tilt Poker.
PaddyPower 'Back That Ace Up' for $38,000
More free money from those loonies at Paddy Power Poker this month with a cheeky rake race promotion. Starting on the 18th of September over $38,000 is up for grabs over the next eight weeks in a weekly raked hands promo called 'Back that Ace Up'. The prizes will be awarded on a weekly basis in three table stakes categories; $0.01/$0.02 - $0.50/$1, $1/2 - $2/$4 and $3/$6 and higher.
You can get up to an additional $600 a week from finishing in the top spots, on top of all the extra cash injections you will be due from the C*A*S*H VIP scheme. Not only that but satellite tickets to the upcoming Irish Winter Festival are also on offer.
"We think all poker players, both male and female, can appreciate a great rear, so we've combined our twin loves of giving away money and ogling a fine booty in Back That Ace Up", said Paddy Power, Communications Manager for paddypowerpoker.com. "We've got over $38,000 up for grabs, so combined with our new & improved VIP programme, it's definitely a good time for players to play on Paddy Power Poker!"
Watch Team GB Tonight on Channel 4
It's a great time to support anyone with the world GB in their title, after a fantastic showing in both the Olympics and Paralympics this year. Now you can get behind our poker athletes starting tonight on Channel 4, as Team GB take on the rest of the world in the Party Poker Poker Nations Cup.
Led by Roland De Wolfe, the team consists of Joe Beevers, Ian Frazer, Surinder Sunar, Neil Channing and online qualifier Francis Durbin. It's on for the next 8 weeks and we don't want to ruin it for you but our boys do very well indeed. It starts tonight at 1.15am.
Pokerstars ban accounts linked to 'JJProdigy'
Josh 'JJProdigy' Field was one of the first culprits in the ever present 'multi-accounting' scandals within online poker, and he is back in the news for that this week. Pokerstars banned him for life for not only multi-accounting in tournaments but also for being underage two years ago, aged 16.
Now the security conscious poker room has banned the accounts of "gbmantis", "aperfectgent", "hitur2outer" and "sooners". All of which have been linked to aiding and abetting Field's to play on Pokerstars, presumably on their accounts.