Betfair WSOPE Ramblings from the Catman, Europe's Leading Poker Agent!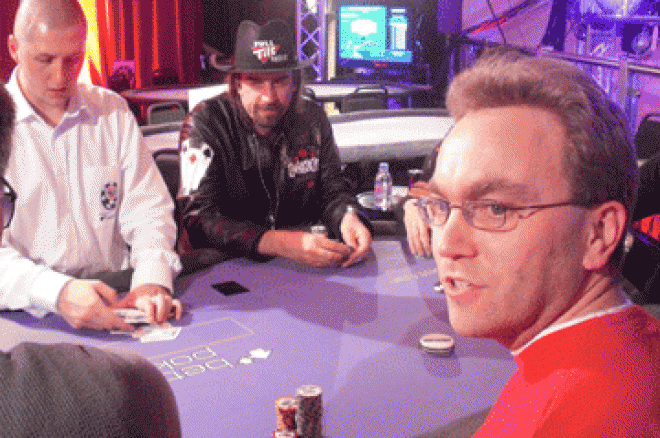 Finally one of the poker Gods has spoken, firstly my Lord and Super Hero Doyle 'Dolly' Brunson said on his blog that he thought foreigners didn't really like the Americans. Thank god he did not let it stop him from making another long plane trip to attend WSOP Europe presented by Betfair. My immediate response was to rush down to The Empire and let him know, that at least two people loved him, myself and the learned Poker Rookie Catgirl. After a mad panic purchasing my new digital voice recorder (so I could pretend I was a 'Pukka,' journalist) and stealing my god daughter's 70 quid digital camera for Catgirl to take some snaps, I made it to the Empire.
I rushed upstairs to the Press Room and found one cake left from the twenty cakes Betfair had kindly brought Annette for her 20th Birthday. After searching for a bottle of Don P in the fridge, I settled for a diet coke and went off in my role as diplomat and journalist. At this time I noticed a large sleeping carcass, crashed out in the pressroom, it was mighty Phil catching a Catnap, he awoke and we gave him our greetings,
So yes, I was still sick that I wasn't playing, but screw it. My day will come and even so, I am still sickly in love with this festival of poker that lights up a small area of Leicester Square. I haven't missed a WSOPE yet (lol) and the reason it is simple. WSOPE is the Mecca of European Poker and I don't' give a monkeys as to the politics.
I just love the stink of talent in that room. I even made a rare post on a well known poker forum at my joy at seeing my great mate and master of Dealers Choice 'Jeff Duval,' winging it to the final table of the HORSE. Jeff is literally a master of cash games and someone I learnt many lessons from, playing him every night at Stakis Casino in 1999. What a man to learn from! I suggested he thrash the Yanks and some charming chap called 'The Detective,' decided to ask the question: ' Who is the biggest C***, Hellmuth or Catman. Oh Lord, this was the greatest compliment whatever the *** stood for, to even be compared to that legend Phil H, I have achieved a little fame at last. Thrash the Yanks was of course a little friendly banter, but dear Phil had better watch out, or he may well damage his good name. For the word is out on those very forums that Phil made a dealer cry with a little tempestuous behaviour in the HORSE. But heck, I still love him, but I don't think any such behaviour should go unpunished no matter how big the star is.
I still don't understand why the game is not a bigger live spectator sport, with a great balcony at The Empire it is a great place to heckle and railbird the players. I took a quick break from heckling and wandered into the cordoned off playing area with Catgirl holding the 'two bob' camera, naturally without a press pass, but hey I was now famous. So there we were and I caught my first live glimpse of the one and only 'Phil Ivey,' sitting next to the ever so less famous 'David Williams,' who I have read a heck of kiss n tell stories about. 'Ivey was stacking the chips whilst playing on two mobile phones, with Williams literally whispering into his ear on occasions. I kid you not... And Phil was perched on the opposite side of the table!
Enough of that it was time to wander. The WSOP tournament directors knew my face, but I have never chatted to them. One in particular is Charlie Cirese, and like many of our American Brothers is built like a 'Brick S***House.' I love the Yanks, if they do a job they do it with charm and politeness that is rarely found here in London. American's are also the most generous tippers and spenders. They like to make other people happy and share the wealth.
So now we fly forward a little in time and The Omaha is underway, I spot Doyle and go look for the Catgirl, who has had the pleasure of taking lessons from the great man. I swiftly return to find Doyle had moved and notice a table with a bright trademarked sweatshirt of another UK legend, Neil 'Bad Beat' Channing. Neil had a roaring 4th in the £1500 No Limit Hold 'em event a couple of days prior, and is a man who has put more hours in search of a WSOP bracelet than most have spent working on a thesis. "Catman I am sorry, I never replied to your mail," said Bad Beat. 'Neil, Catgirl and I were saying yesterday we still love you, and love him we do. Jesus H Christ, where else can you meet everyone who is someone in Poker's history books.
I ask Neil if I can take his picture, he says yes of course and I let him know I am only taking it because Chris 'Jesus' Ferguson is in the background. After a bout of laughter and Neil telling me he won't tell me his Bad Beat and telling me it, I wander round the table to talk to Chris. All I know about Jesus is he has been around since the beginning of time, does lots and doesn't say much. I introduce myself and he tells me he knows the name 'Catman,' get out of here, this is rigged. Chris is playing on his phone IPod style thing and I ask him the question, after all it was only a $10,000 buy in, nothing serious. 'Chris, Doyle thinks that the English don't like the Yanks, what do you say: " Catman, I can tell you I think the English are great, I adore London, I love the lines of people outside your pubs, no I don't think that at all." The conversation goes on, but as I have no battery for my recorder all I can tell you is that the electronic game he was playing was some kind of logic game.
Chris was totally hypnotic, I am not a poker groupie, I just want to be inspired by the legends of the game, show respect and totally enjoy this once a year opportunity. Unlike The Detective I don't want to hate and become a jealous loser. I can't wait to get back to the Empire and chat with Chris, Doyle, the Phils and the lot of em.
Next day the headline message on my Facebook wall read 'Neil Channing: 'Catman that was the most I have ever heard Chris Ferguson ever speak at a poker table.'
WSOP Europe presented by Betfair, the story has only just begun, Friday 26th was launch night and there are 6 models attending, taught to by poker stars. Jesus H Christ.
Peace and Love from Catman 'Europe's Leading Poker Agent.'