Viva Las Vision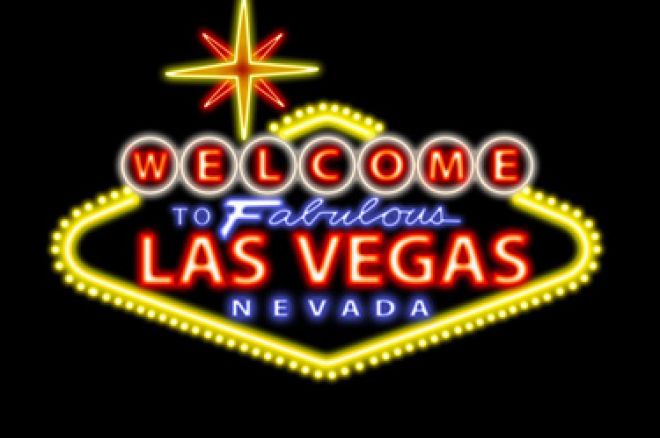 I have a tendency to make my life more complicated than it needs to be. Having finally committed to heading out for the WSOP (despite a distinct lack of work to justify the time and expense) I then went about making things as difficult as possible.
First up I invited a friend along - which in itself wasn't a massive problem - but I then also decided to up the ante somewhat by organising to have eye laser surgery during the trip. That's right; voluntarily paying American doctors to slice open my eyes, fire lasers into them, and then send me wobbling off into the Vegas desert…
Things don't start well, as my friend and I discover that we can't sit together on the plane. What was to be an incredible plane-based poker and beer festival now looks more like eleven hours watching awful rom/com movies and episodes of The Simpsons from back before Homer got his own voice right. Grrrr ......
Then… as I plod through the gate… just as eleven hours of misery stretches before me… I hear "come back please, sir". Oh great… What now? And then the lovely gate lady utters those beautiful words that all travellers dream of: "You've been upgraded" BINGO! Premium Economy ahoy!
Then I catch my friend's face. Oops!
I patted him on the back, commenting: "Good job we weren't sitting together or that would have been a real tough decision for me". Needless to say, no way would it have been tough! I would have been off up those stairs before you could cough the words 'complimentary pretzels' into a free glass of champagne.
I try to play down the generous leg room and free fruit as I visit the hobos down in economy a few hours later (I think my friend was pleased to see the complementary banana I brought him, but perhaps asking him to "dance for it like a monkey" was a step too far.)
Anyway, with a couple of hours eaten up by crap films, I put on some protective footwear and venture back to the post-apocalyptic wastelands of economy to check that no feral dogs have eaten my friend. I ask what he ate for dinner. "Some over cooked chicken " is his reply and I decide it's best not to mention the banquet my stunning hostess presented me with earlier (although I can't resist showing him a video I took of my glorious metal cutlery). He tries to hide his plastic fork under a napkin but it's too late, I've already seen it. The poor beggar.
With a tight schedule and plenty to do, I'm off to the eye clinic as soon as we land. Everything seems fine, right until they bring me a wad of disclaimers to sign.
The likes of: "I understand then I might end up blind" was top of the sheet, followed by such gems as: "I understand that I could spend the rest of my life trying to tell the difference between men and women using only the power of smell".
It was, however, too late - my mind was made up. The next day I went back, had a man cut off the tops of my eyes, fire lasers into them and then put the tops of my eyes back on. 'Weird' doesn't quite cover the sensation. It was like being abducted by aliens with an eye fetish rather than the more standard propensity to stick things up your bum while mutilating cattle (which on reflection is probably a good thing).
Later that day I stood at the top of the Rio's Voo Doo lounge looking in wonder and awe as the Las Vegas sun went down over the mountains and the lights came on along The Strip. It would be wrong of me not to thank Ladbrokes for inviting me to that particular party as it was a hell of a way to test out my new eyes. The invite did come at a cost though, as I had to bear witness to a bunch of teenage cheerleaders attempting to get us all to chant "We love Ladbrokes" (pronounced Lad-Brokes rather than Lad-Brooks). Needless to say the predominantly British crowd stood with their arms folded and their lips clamped shut. It was painful (but not as painful as having your eyes sliced open, so I coped).
I made good use of my new bionic eyes during the next few days, watching some amazing poker and bumping (quite literally in some cases) into the best players on the planet.
Sadly, I didn't get upgraded on the way back, but I did steal a fork and looked through their underwear with my magic eyes, so effectively I had the last laugh.
See you next time (without my glasses on).
Matt Broughton presents Sky Poker's nightly show, The Club, on ch.865. Follow his adventures at eatmystack.co.uk/matt