PokerNews Exclusive Interview With Annie Duke!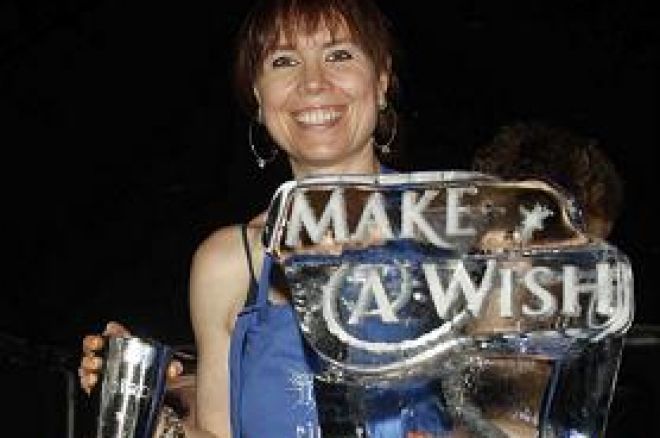 How do you get time to do everything?
I am not sure I do have time to do everything! I have been cutting back on my sleep, mainly!
The truth is that I think that you make time for what you need to make time for. You make time for what you want to make time for. All of the stuff I do, the kids, the charity work work I do, the coaching, it all fulfills me in different ways that I find that I need. So I just find the time. I don't watch much TV anymore. I only get to movies when I am taking my kids to them, and that is okay with me because I get so much enjoyment and fulfillment out of the things I do focus on.
You've recently wrote your own biography which you co-wrote called How I Raised, Folded, Bluffed, Flirted, Cursed, and Won Millions at the World Series of Poker did it take a long time to write? And how is the book doing?
That book took about a year to write. The new book is done and I am just now in the editing process. I think it will be finished in terms of final edit by September. I am really excited about this new book because it is a straight strategy book that is heavily based on the decision making theory. I am really proud of it and can't wait for the reaction from the poker community to it!
One of your protégés Liv Boeree who you helped train on the Poker show here in the UK understudied by yourself, Devilfish and Phil Hellmuth Jnr recently won the Ladbrokes European Ladies Championship. How does it feel to have contributed to her success?
I actually recently coached Liv with full on private lessons. We did a week of work together. During that week she won a tournament at Caesars in Las Vegas and then, of course, went on to win the Ladies Championship. I couldn't be prouder of her. She is a tremendously talented, young player and has great potential. I love working with her and am continuing to coach her. My goal for her is that she becomes the best female player in Europe and I think she has the potential to do so!
What is your stance about playing Ladies only tournaments?
I don't play in them myself. That being said, it is an individual's choice whether or not the issues that are important to me in terms of my not playing are important to them. I would never, ever criticize someone for playing a Ladies only tournament. I criticise the casinos for holding them.
My issue is that when women and men are segregated in competitions it means that whatever that competition is measuring must be significantly different in women than in men. For example, it makes complete sense that there is a Women's tennis tour. Men are 20% bigger and stronger, on average, than women so, since tennis measures physical strength and speed, clearly women need to play women and men need to play men.
Poker, on the other hand, measures mental ability. It does not measure physical ability. So to separate men from women in poker means that you are saying there is a significant difference in women's mental ability compared to men's. That is insulting, Period! It speaks very loudly that women are not as mentally agile as men are. What I say to people is, "What would you say if there was a black's only tournament?" The response is always that that would be discriminatory and degrading and no one would stand for it. When I ask them why, they say that a black's only tournament would show prejudice towards blacks in saying they are not as smart as whites in poker. I then look at them and ask why a ladies only tournament is any different and I think they get it then. It isn't. And Ladies events are discriminatory.
I have heard some people say that my stance is anti-women and that I don't support women in poker because I don't support ladies events. But it is quite the opposite. I believe that women are just as smart as men. I believe that women are just as good at the game. I won't stand for women to be segregated because women can compete on a completely equal footing with men in this game and I think that is as feminist as it gets.
I often read your journal updates and breaking your pelvis in 3 places must hurt like hell. Is it healing now?
I am actually going to the doctor tomorrow to find out. I can't believe I am such a maniac that not only did I fracture my pelvis running but I continued to run on it for two months afterwards, making it much worse. I am on the mend but I can still feel the injury. We will see what the doctor says tomorrow but I think running is going to be out for the summer.
When did you develop an interest in poker?
I got interested in poker when I lived in New York and use to go to the card clubs to watch my brother, Howard Lederer, play. He was a young and talented up and comer and I was just the little sister tagging along. But I love hanging out and watching the action. I didn't actually start playing till a few years after that. But I caught the bug in my late teens.
What do you do in your spare time (if you get any)?
Hmmm…spare time? I am a devotee of Bikram Yoga so I try to make sure I do that every single day if I can. I even found a great place in Vegas this year so I wouldn't have to miss out while I was playing the WSOP for the month. I also try to hike with my kids every day. Other than that, my boyfriend loves good restaurants and we do try to take a vacation every year with the kids. This year it is Hawaii at the beginning of August! I can't wait!
In your opinion what has been the tournament that you can say changed your life?
Definitely the Tournament of Champions in 2004. No question. To best that table of players was one of the most amazing experiences of my life. I picked an excellent day to get lucky!
How many events did you play at the 2008 WSOP?
I played only about 10 events this year. First, I missed the first week because of obligations with my children. When it comes to
a choice between the kids and poker there is never much of a contest. So I got there around event 14 or so and then was teaching at the WSOP Academy for the first weekend I was there. I debuted at the $10K Stud championship and got very deep in that. Because I was mostly playing 5pm events I was often down to day two which reduces the number of events you can play. Then at the end of it I had another Academy to teach. I did make money though with my good show in the Stud 8 or better Championship.
One of your articles "Stop Moaning and Start Thinking" really made me put things into prospective. How do you control your emotions at the table? Do you find listening to music helps?
I find it pretty easy to control my emotions at the table because I am good at focusing on the decisions rather than the outcomes. What I mean by that is that if I get my money in with AA vs 55 I am mentally done with the hand. I know I made a great decision so that even if a 5 were to hit I don't get upset because I really get that that is totally out of my control. I try to focus only on the things I have control over…which really in the end is everything having to do with the play of the hand.
I used to listen to music to help me get through the long hours. But I have found that since I have been doing so much yoga I don't need that anymore. I can sustain my mental focus without help now.
Will you be playing the WSOP-Europe this year? (If so we'll grab a beer or a coffee)
I am not sure yet whether I will be going. The main event conflicts with the Aruba Classic this year so I know I can't play the ME. But I may be showing up for some of the preliminaries. I had so much fun last year I really don't want to miss it!
Any advice you could give to our PokerNews UK & Ireland readers?
Stay Classy!
We thank you so much for your time and all the best for the future.
Mel Lofthouse