Victoria Coren Interview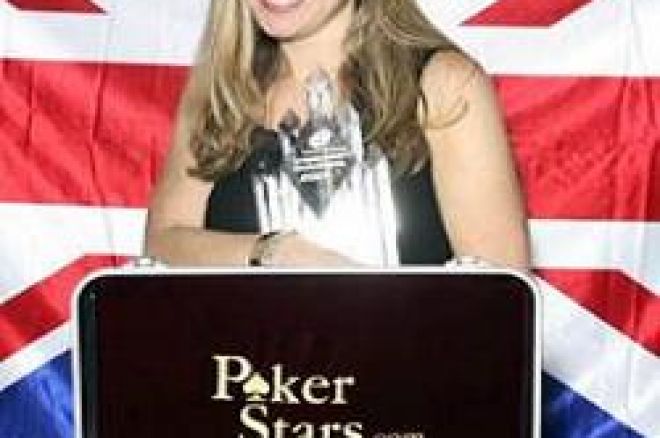 Victoria Coren, better known in the poker world as Vicky is a television and radio presenter, author, and poker commentator. She's also a pretty mean poker player, having won £500,000 for taking down the 2006 London EPT at the Vic, her home casino and namesake. During this two part interview we discuss her poker history, her role as a Team PokerStars pro, her thinking behind a memorable hand with Barney Boatman during her EPT run and why when you write for a national newspaper and talk about a lay down that Phil Hellmuth should have made but didn't it might come back to haunt you.
[*]Hi Vicky - thanks for talking to us today! I read during my research last night that you started playing poker as a teenager, is that right?
Yeah - we were a very cards oriented family. My father came from a family of rather enthusiastic gamblers, although that was mainly horses and dogs and stuff, but my grandfather used to play blackjack with us when we were kids and my parents played bridge. And then when my brother was about 18 he got into poker, much in the way that people used to back then, pre-internet. None of your tracksuits and bottled water, it was all whisky and cigars and cowboy hats and sitting round a table. Basically I thought "How exciting. Lots of teenage boys in fancy dress getting drunk. I want to hang out with them". And I got very hooked on the game.
[*]Were you playing home game variation type poker at the time?
Well, my brother's friend Matt had been to Las Vegas, so he knew the rules of Texas Hold 'Em which he said was very much the professional thing to play because it was really fast and there were lots of betting rounds, so we did play that, but we did also play Omaha and Seven Card Stud. When I started playing in the Vic a few years later, I pretty much played all Seven Card Stud. That was the game I started on really. In fact, my first ever visit to the Vic, I came second in their Monday Seven Card Stud tournament.
[*]Nice!
And I went to Vegas with a fake ID and played Seven Card Stud there. I didn't really get into Hold 'Em until quite a bit later.
[*]Were you aware that there were people playing poker as a career?
I wasn't really aware of it, but then, there weren't really! On the first series of Late Night Poker - which was some time later at the end of the 1990s - in those days, people like Devilfish and Simon Trumper, and those characters who appeared on those early series, if you look back, they're described as jewellers, or businessmen. They give a job, and they also play a lot of poker.
Nowadays, it's very respectable, very acceptable, and to some people, quite cool to describe yourself as a professional poker player. It wasn't then - there was quite a small group of British players, and they were very dedicated players, but they wouldn't have quite called themselves professional. I don't think I'd heard the phrase "professional poker player" until I met Joe Beevers in 1999.
[*]Was that after you'd started going to casinos to play Seven Card Stud?
Oh yeah. When I first went, I was a bit nervous of the Vic. I would go in and see this card room full of men, and they were all smoking and swearing and I was a bit scared of it. In fact, I developed quite a roulette problem for a while - I'd go into the casino and be too nervous to play poker, so I'd play roulette.
In those days, because the American influence hadn't really happened yet, it was etiquette not to talk too much about things away from the table. You wouldn't have had conversations back then about "What do you do for a living? How do you make your money? Are you married?" You just didn't talk about that kind of thing. You would sit and chat with the people and get to know them in the sense of laughing about things, talking to them about poker, talking to them about travelling to play, but you wouldn't get their full personal CV. That's something that only happens now because everything has been quite Americanised and personalised and a lot of the stigma has gone away.
[*]Were you drawn to tournament poker quite early on?
No. I really wasn't. I didn't consider myself a tournament player for a really long time. I still think of myself as predominantly a cash player, I'm just a lot better at tournaments than I used to be. I was invited to play on the early series of Late Night Poker because there were so few women. It was television - they needed some women and there weren't any. They asked me because I was a known Vic player, but I barely understood what a hold 'em tournament was. The first couple of times I played, I just got blinded away, I just didn't understand about tournaments and how you have to put your money in with no hand and the clock's ticking. I just played them like cash games. Really, I think cash poker was my natural game and I had to work on tournaments...
[*]It seems to me that there's almost a personality difference between people who are drawn to tournaments and people who are drawn to cash games, because the world of tournament poker is so much more luck intensive in the short run. Do you think that's a reasonable assessment?
It's certainly the case that if I go to play a tournament I hope to win money and if I go to play a cash game I expect to win money. I'd be surprised if I didn't make a profit on an evening of cash poker because the vast majority of the time I do. For years, the role that tournaments had in my life was that I would use profits from the cash games to fund what I considered the luxury of tournaments. So if there was a Vic festival on, if I was winning £2000 in the cash game, I would treat myself to a £500 tournament.
The other big difference today, though, is that you can win your way into tournaments cheaply. Online poker totally transforms that. It used to be that you couldn't make a living playing tournaments, you just couldn't. The amount you'd have to play and the expenses involved would cripple you unless you had the most freakish run of luck. But you can play on PokerStars every day and make a hundred attempts to win your way into a significantly sized tournament and it's only cost you $100 or $200. Or you can sit down and play a tournament for $5 but because it's PokerStars which has unlimited space, there might be 5000 people in this tournament so you can win a huge amount for a small investment.
At the risk of sounding really old, I grew up at a time when you couldn't win your way into tournaments cheaply on the internet, you had to travel to the place to play a live satellite, and you couldn't play for $5 or $10 and win thousands because there simply weren't enough seats in the room. So it is very different.
[*]By the time you won the London EPT had you played a lot of EPT events? Were you doing the circuit by that point?
No, I've never exactly done the circuit because, you know, I have another job. I can't be playing poker full time. I'd played a few EPT events, I'd probably played four EPT tournaments before then. Something like that...
[*]That's pretty good, isn't it, to take one down at the fourth shot!
Everybody looks at everyone's results now and sometimes I feel a bit hard done by when people say "where are your other results?" I've got a few other final tables, but when people say "what else have you won?" And I think "well, I don't play that many." You get some players who are literally playing two or three tournaments a week somewhere in the world and I play, these days, maybe ten a year, possibly more. I've never played that many.
[*]There's a saying in Hindu astrology, "Even the names match" which is meant to indicate a sympathy between similarly named things. You won a massive tournament at your home casino...
I certainly have jokes about the casino being named after me. And I can joke back that I lost so much money playing roulette in the early days that they really had to as a tribute. I like the fact that it says "VC" on the chips, I can't deny it. Of course, that's an incredibly special thing that I'll have with me forever. Not the name of the casino, but the fact that I won the tournament on home turf and I was able to celebrate afterwards with dozens of regular poker friends. Of course, that made it very special.
But don't get me wrong, I'd happily win the EPT in Deauville this year, or in Barcelona. I won't complain that jst because I don't live there I don't want the money.
[*]If you happened to win the main event, that would be ok?
That would be fine, do you know, I wouldn't turn it down.
Vicky Coren is a Team PokerStars Pro. She'd like you to check out her website at www.victoriacoren.com
Stay tuned Thursday for the conclusion of the interview. She will talk about Phil Hellmuth, funny poker slang and dissect some interesting hands for our readers.