Interview with Neil Channing – Part Three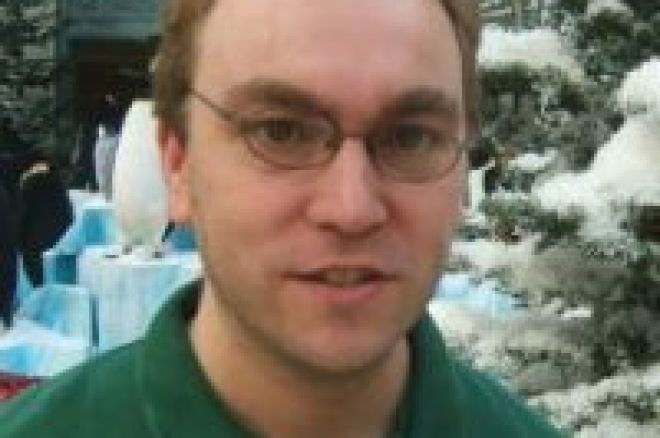 Can you tell us about your involvement with Poker Verdict?
Well, some friends of mine are involved in a company called "Easy Odds" which is an odds comparison site. The managing director of Easy Odds is somebody that is one of my best friends in poker, Warren Wooldridge. He plays on the Grosvenor Poker Tour, he was second in Luton last year and won quite a few quid there – he's a pretty good tournament player, and the guy that founded Easy Odds is a guy called David Gross who I first played poker with about 15 years ago, so I've known them both for a while.
Easy odds were sort of running itself really and they decided that they could do a sort of Easy Odds with poker, and have a poker comparison site. So they came up with the idea of having a poker search engine, whereby – say for example you come in from work and think "Oh, I'll play a tournament tonight, but I have an account with Pokerstars, I have an account with Party Poker, I have an account with Full Tilt..." and you think "Well, I just want to play a $50 no limit hold 'em tournament, but I just want to play the next one that starts, but I don't really want to log in to all seven of my different accounts to find out which ones going to start next..." So you just go to the search engine and type in "No limit hold 'em, $50, 7pm or something, and it just tells you what's coming up...so depending on which criteria, you can look for the price of the buy in or the type of the tournament or whatever and it acts like a TV Guide for poker...and they have editorial content and stuff. They're also hoping to make into more of a community of online poker, a bit more like pocket fives sort of thing.
I helped them out when they first started, they came to me for some ideas of things they were working on and I got them some meetings with different people. I gave them suggestions and they were very pleased and wanted to pay me. I said "well, I don't really want to be paid because I just did it because you're my mates." "But," I said, "if you're desperate to give money away, why don't you sponsor me in a few tournaments – I'm thinking of playing a few tournaments this year – I don't mind playing a few tournaments and helping to promote you." They said "yeah, fine!"
So, I started playing the Grosvenor Poker Tour for them, which was the first year the tour started, 2007, and its one tournament a month. I wasn't looking to play that many tournaments anyway. Outside of the World Series of Poker I generally only play about eight tournaments a year anyway, so I just thought "I'm going to play those, seeing as there are twelve of those and they are one a month. They're a bit of a break, and you get to go to different places, see some different styles and meet different people, so I started doing that.
I followed the whole tour last year, I played every event in the tour until number three of this year which I think made me up until March, the only person who had played every single leg of the tour. Since Ireland I got a bit lazy and decided not to go to Manchester or Newcastle. I'd already decided I wasn't going to play the whole tour this year. I mean, I can't really be bothered to play every single provincial tournament. I've always been quite selective over tournaments. I just go to ones where I think the cash games are going to be quite good or there's going to be some people there I like to hang out with or it's in a nice place that I haven't really seen before. It also needs to be somewhere where I know is going to be well organised and the dealers are going to be good otherwise I'm not really going to be interested in going.
I'm not a total tournament junkie. I was having a conversation with Dave Colclough a couple of years ago and he told me he played about 300 live tournaments a year. At the World Series this year I played twenty four events and four other tournaments at the Bellagio. So I played twenty eight tournaments. The rest of the year, it would be a surprise to me if I played more than a dozen. I'll probably play six of the Vic festival tournaments at different times, including the GUKPT. I'll play the EPT in the Vic, the World Series of Poker Europe – the main event, and probably the £1500 one as well. I might play a couple of £500 tournaments in the Vic if I'm a bit bored and that'll be it. Oh no, I'll play the Gala Casinos British Poker Tour in Bristol – they had the final last year...I played two legs of that last year – I played in Edinburgh because I'd never been there before and the organisers gave me a free entry which was nice. I went there with the flu and felt crap and didn't really do too good. I went to Bristol and made the final and I quite liked it.
I've never been a total tournament junkie. We are on EPT season four now, and this was the first year I'd ever been to Monte Carlo and I only played one other leg which was London. I've played London every year and I think one year I played three legs. I went to Dublin and Baden. I went to Deauville and London one year...most years I've done two legs and last year I did three, so I don't go to many, and the WPT - I don't play those too often. I've probably played maybe five of those in my life...I don't know, I think I do alright in tournaments for somebody that doesn't really play that many.
I'd say for somebody that doesn't play that many you do spectacularly well in tournaments!
Well you can spend a lot of time in them, and primarily, you know, I live near the casino and I play cash games every day.
I'd like to get to how the series went for you in a minute, but before I do, there's a specific question I'd like to ask – Phil Ivey was offering 1.8 to 1...
Backing himself at 1.8 to 1 to win a bracelet, yeah. Bill Gazes laid him $100,000 at 1.8 to 1, and I think Bill's quite shrewd. My immediate reaction was "wow, that was short, I'd have liked to lay him that..." but they'd already played ten events before I heard it. I don't know whether I'd have thought that if – I mean, obviously they'd already played ten, so it's like commentating on a hand when you've seen the cards.
If you think about it, given that he's had all those bets he's going to play lots of events. I think he ended up playing 38 events. Now, if the average number of runners in the events that Ivey played, bearing in mind he played all the ten thousands and he generally played the five pm events which were the bigger buy in and specialist game events where there are far fewer runners. He's playing thirty five events where the average number of players is around 300. And given that in most events he is at least three times better than an average player, I would say that in most events, say he's 100-1, and that's the true price, it doesn't involve any margin for the bookmaker. Say he does win one in a hundred of the 300 runner events he plays, which makes him three times better than the field, which I think is fair, and he plays thirty five of them, then the correct price is 1.8 to 1, because that's about a 35% chance.
I think the price was probably quite fair. I mean, if you felt like he was going to get fed up and maybe not play so many events and maybe make a lot of day twos and maybe not have a chance to play so many events because he's busy playing days twos and stuff – but then you know if he has had all the bets he's going to run around and play as many as possible, and he might play day ones even though he's into day two and play two at once and stuff...
And be prepared to spend a fortune on...
Obviously in the rebuy ones he's going to have a big edge, like you say. I mean, the $5000 Omaha with rebuys, I can't remember how many players there were but something like 250 – you know, he's prepared to spend $200,000. There are not many people who are...first of all, he's one of the best players anyway – out of the 250 he's like a 50-1 chance because there are so few people who can really play that game to a high level. And he's prepared to have three times as many rebuys as the other people who are good, so in that tournament he's only like a 16-1 chance. I think to someone that's not experienced in odds who just looks at it casually who says "blimey, these are 2700 runner no limit hold 'em tournaments, how the hell is he going to win one of those, 1.8-1 he must be mad." But when you actually think about it, that's not really what he's betting on. I mean, to win a $10,000 hi-lo tournament when there's only 400 players or something is nowhere near as difficult, and, you know, he's only been playing at the World Series for about five or six years and he's won five bracelets already, which is one a year. I wouldn't really want to lay 3-1! If you think about it, to roughly break level on that bet he only has to win one bracelet in the next three years, and he'll probably do that, don't you think?
I think it's the right price...
Anybody that's quite naive will think "that sounds too short." Most of the people that said to me "that sounds too short" I know they didn't really do the maths or think about it. Having said that, you know, Billy's a pretty smart guy and maybe it was a little bit short. I wouldn't really have wanted to lay 2-1 though.
So, how did the series go for you?
It was really hard work. I played twenty four events and I had seven cashes, the previous high from a UK player was six, so I was kind of proud of that, but my total cashes doesn't come to my total buy ins. I was in three $10,000 tournaments – the heads-up tournament I lasted twenty minutes. The main event, I had some problems in the middle of it, I was a bit distracted on day two and I didn't really play too good. I pushed near the end of the day to try and come back with chips, and I played a hand I didn't really have to play because I was not really with it and I was a bit annoyed about that really.
I didn't really catch many breaks when it got to the business end. I was quite proud of making seven cashes, I had 43rd out of 2700 in one, I had 125th out of 2700 in another and I had 123rd out of 2700 in one and one of those, either the 123rd or 125th, I can't remember which, I had a bit of a bad beat and I sort of felt that it was a real chance to do something. I had a 16th which is my best ever result in a World Series event - I'd had two 17ths before - but I didn't make a final table.
I guess if you told me I was going to play twenty four tournaments I would tell you that I'm suppose to cash four or five times on average and I'm supposed to be about 2-1 to make a final table. So I guess the fact that I didn't make a final table and I cashed seven times means I still performed slightly above average, but only slightly and it was hard work.
I made quite a lot of money staking people but I laid out quite a lot of money and had quite a lot of risk and had a lot of hassle with phone calls and people coming to collect money and paying me money. I'm still collecting it and I'm still paying people out and that'll probably drag on for another two weeks with people calling me and having to mess around, so that was really hard work. But I did very well out of it! I had 50% of James Akenhead in event number two and he got $520,000 and I had 22% of Marty Smyth in the PLO where he got $800,000 odd. So that was quite good! I had, obviously, bits and pieces of other people. Three guys that I had shares in came 10th, which was a bit frustrating and two of them were pretty unlucky as well and should have made the final really.
It was alright – it was a long trip and I was pretty tired by the end of it – I should really have had a break after it, I don't know why I've come back to playing really!
Did you play cash while you were out there?
I didn't really have time – I was there seven weeks and with the twenty four tournaments and the five day twos and the four tournaments at the Bellagio, two of which I made the second day of...
I didn't really need to ask that question did I?
I didn't really have time to play. I played five sessions and I had two winning sessions and three losing sessions. I don't tend to play very big in the cash when I play over there. I just find that a lot of the advantages I've got at home of knowing all the players I don't have over there, so I'd rather play slightly smaller. Only slightly...I did play quite big I suppose. I did lose a $90,000 pot at one stage, but apart from that I generally played quite small.
It was evident in the interview you did with Poker Verdict that really your great love in poker is sitting in The Vic with a big stack of chips in front of you taking on whoever will come and play you. Is that where your heart is as a poker player?
Yeah, I suppose, I mean I quite like the Vic. It's just a friendly place. I know everybody there and I've been going for years. I still find the game quite challenging. People tell me that Omaha is complicated and fun, but I don't think it is all that complicated. I think it's quite boring actually – I played Omaha every day for a couple of years at different times and I don't find it that stimulating, whereas I still find hold 'em an interesting game. It has a lot of puzzles in it, it keeps you sharp.
I don't know, I just wake up in the morning, and I've got to do something with my day and if I haven't got much to do I'll wander off to the Vic and play. The games are really good; they are playing bigger than ever at the moment – you can win a lot of money. I don't massively need it, I suppose, but you can never have too much. I quite like playing, it's good fun. It's a clubby atmosphere; I know a lot of the people there. If my fridge is empty and I can't be bothered to go to the shop I can go there and eat something and play poker. It's near my house; it's one of the biggest games in Europe at the moment. I find it a bit weird if I haven't been in there for a couple of weeks. I go in there and I have to catch up with all the gossip and stuff. I mean, I went this afternoon and I hadn't been in the afternoon for ages and it was a slightly different crowd and I saw some people I hadn't seen in a while and it was fun. I enjoyed it. It's glamorous going to all these overseas places, but I don't find Vegas half as glamorous as I used to. I sort of think the way to survive a long trip like that is to turn it into work, and treat it like I treat the Vic and go do my hours, go back to my room and sleep and do my hours and whatever...Bit boring really!
You can stay in London for that, right?
Yeah, exactly!
Time for some random questions. The first one is, have you got a good joke?
Yeah! Guy goes to a doctor, and he says "I don't know what it is, one minute" he says "I feel like a big top. And then the next minute I feel a bit more like a bivouac." And the doctor says "You're two tents..."
Ok, that's brilliant, that's a brilliant joke. Ok, of course, the most important question you can ask any poker player, what's your favourite colour?
Favourite colour? Oh, well, it's obviously red. Everyone says red anyway!
Thank you so much for taking the time to speak to us Neil. It's been great!