John Duthie - Legends of Poker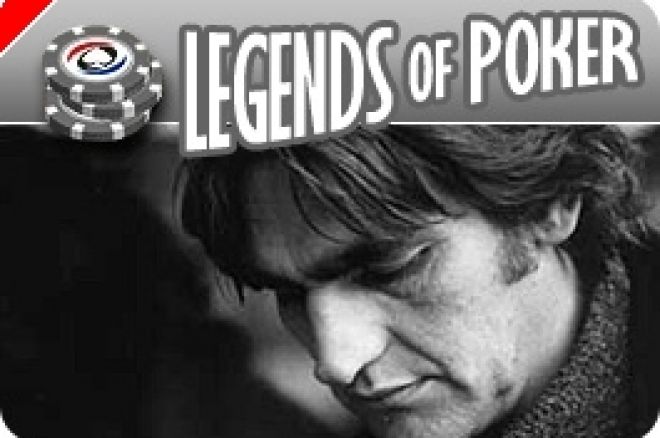 There are a couple of factors that played a role in boosting the development of poker on TV. One of these factors is the TV channel ESPN. This channel brought the World Series of Poker 2003 into peoples homes. Another factor is Chris Moneymaker, who, in that same year, showed that an amateur can become world champion and a millionaire with an investment of merely $39. But it was John Duthie and his program Late Night Poker who became directly responsible for changing the way we watch poker on TV today. His creation of the hole cam allowed viewers to see the players' hole cards while they were still in the hand.
Late Night Poker
The year 1999 saw the launch of this TV program in England, and it became an immediate success, despite the late airtime. Players like Dave "Devilfish" Ulliot paved their road to fame and became household names in England. The idea of the show was simple, and even today we still see shows on TV working with that same idea (Poker After Dark). Gather a couple of players around a table, make them all pay a buy-in, and film the sit & go. The winner gets the money, and that's it. Simple, down to the point, and very popular.
Director
John Duthie was the assistant director of series like "The Indiana Jones Chronicles" and "Kavanagh QC", and went on to direct shows like "Hollyoaks", "Silent Witness", "Clocking Off" and "As If".
Poker
John Duthie had always been a passionate poker player, and he managed to turn his hobby into his profession. Firstly, by bringing poker onto the TV screen, but also by regularly playing (high-stakes) cash games himself.
In 2000 he had his breakthrough as a poker player. He won the Pokermillion, the first live poker program that awarded £1 million to the winner, the largest prizemoney ever awarded in England at that time. Duthie bested a field of 155 players.
Before then he had been a regular player in "The Vic", and his favourite game to this day is Pot Limit Omaha. One of his trademarks back then in the 250-game: bet the pot blind pre-flop, bet the pot again on the flop and only then he took a look at his cards.
Gambling
John Duthie was a gambler, and he often 'donated' his poker winnings to the roulette tables. He thought he could beat the game by using the Biarritz system. He soon realised it wasn't going to work and decided to stay clear of roulette tables.
In 2001 Duthie had lost a fair amount of money in the Bellagio playing poker. No problem, he thought, a losing session is part poker. He walked past a room called "High Limit Bellagio Slots". He looked into the room and saw that it was pretty much completely empty, filled with nothing but fruit machines. Duthie was intrigued by what he saw, and it didn't take long for him to realize why the room was empty: the bets for these machines were a minimum of $50 and a maximum of $1000, per spin!
Duthie threw his last $200 into a $50 machine and had 4 spins. On spin number 3, a lamp on the machine suddenly lit up and the machine stopped working. Duthie was about to go complain, until someone next to him said "Congratulations!" He had just won $25,000. One year later he paid another visit to that room, but after losing $10,000, I don't think we'll be seeing him back there anytime soon.
European Poker Tour
In 2004 Duthie had a luminous idea. He looked at the American World Poker Tour and decided that there should be a European market for a poker tour as well. He contacted PokerStars and managed to win them as a sponsor. The European Poker Tour was born, and on September 18th 2004, the first EPT event was held in Barcelona. 229 players paid a buy-in of €1000 and Alexander Stevic made history by becoming the first winner of an EPT event, taking home a first prize worth €80,000. The first British EPT winner followed a couple of weeks later after John Shipley took down the 2004 EPT London Event, winning €291,276
Sponsorship
John Duthie is currently a member of Team PokerStars. He regularly plays the big tournaments on the site and can also be seen playing the 25-50 NL and the 25-50 PLO tables. His online poker tourney results are, however, not really worth mentioning, and also the online cash game players see him more as a fish.
Future
With the creation of the European Poker Tour, Duthie hit the jackpot! The tour has become huge over the past 4 years, with lots and lots of money going around every season. In terms of the number of players and the buy-ins, you could almost say that the EPT has caught up to the WPT. More and more American pro's prefer playing EPT events to WPT events, and it's not looking like the popularity of the EPT will fade anytime soon. By now, Duthie has stopped working on other TV shows and is focussing all his attention on the EPT. He has also acted as an advisor for other poker events, and even worked with Daniel Craig on the set of Casino Royal to bring more poker –realism to the movie.
Legend
John Duthie is surely no big poker legend, but when talking about the development of poker on TV he has definitely earned his "legend" status. And his story of success is not over yet.