Moorman Tops Online Rankings, Phelps Invited to WSOPE and More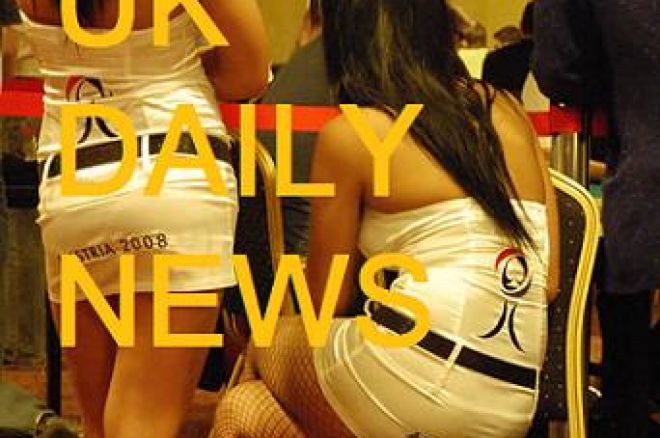 Moorman Number One
We said he was running hot and now he is the man to beat. Chris Moorman1 Moorman has finally jumped to the top spot of the overall online MTT rankings on Pocketfives after maintaining second spot for most of the year. Last year he won the UK rankings race with ease but we fancied that the overall MTT race would be one hell of a challenge, because all the biggest tournaments take place at US friendly times that don't favour UK players. With Nik Persaud at the top of the European live rankings, this is a very good week for UK players.
Poker in the World Firefighter Games
Everyone is really upbeat in Britian at the moment after the medal haul in Beijing, so we really hope plenty of people get behind this event. The World Firefighter Games takes place in Liverpool this week and next and Firefighters from all over the world will be taking place in a huge mix of games including Arm Wrestling, Boxing, Snooker, Rugby, Cycling and Paintballing.
Starting next week is one event that those who like to argue that poker is a sport, as the firefighters will be shuffling up and dealing in a poker event. Our representative is called Alan Metcalfe who will be showing his skills at the Leo Casino in Liverpool.
Betfair invite Phelps to London
Betfair Poker appear to have jumped onto to the 'let's try and fleece Michael Phelps at the poker tables' bandwagon by inviting the greatest Olympian of all time to the WSOPE. They have even offered to buy him into the £10,000 main event, just like the organizers of the APT did last week. I don't know about you, but I'd much sooner see Usain Bolt at the poker tables if only to witness his victory dances whenever we won a pot.
Townsend admits Multi-Accounting
There is no doubt one of the most common topics of 'scandal' in online poker is that of shared and multi-accounting, with some of the biggest names in the games caught up in it. Brian 'Sbrugby' Townsend has recently admitted that he has been playing on 2nd accounts on Pokerstars and Full Tilt.
The Sbrugby account on Tilt and the aba20 account on Stars had been noticeably absent from the biggest games online in recent months, and Townsend has admitted that he has been playing under the name Stellarnebula on Full Tilt and makersmark66 on Pokerstars. The reason he has given is that he has been on a bit of a downswing lately and wanted to play lower than his usual high stakes games. He has said he was a bit embarrassed about having to move down so created the new accounts to avoid ridicule and enjoy anonymity at the tables.
He has had his status of 'red pro' at Full Tilt revoked for 6 months and is yet to be disciplined by Pokerstars. Townsend said he won't be 'hiding under a rock' on this subject and will answer any questions people have on 2+2 and the Cardrunners forum. He has also stated he will donate $25,000 to charity to 'compensate' for any harm he may have done.
APT to host largest cash game in Asia
The APT in Macau is now well under way and we have been informed that the largest ever cash game seen in Asia is set to take place tomorrow. The HK$1 million buy in event ($130,000 US) will have blinds of HK$3000/$6000 with the option to straddle. With well over HK$15 million on the table there could well be an amount won that is bigger than the entire APT prize pool. Names that are poised to enter this nose bleed stakes game include Doyle Brunson, Todd Brunson, Johnny Chan, Nam Le, JC Tran, Kenny Tran, John Juanda, Steve Sung, Yevgeniy Timoshenko, Waki, Yamazaki, Gary Benson and Bruce Parker.