Exclusive: Abi Titmuss Talks Poker to UK PokerNews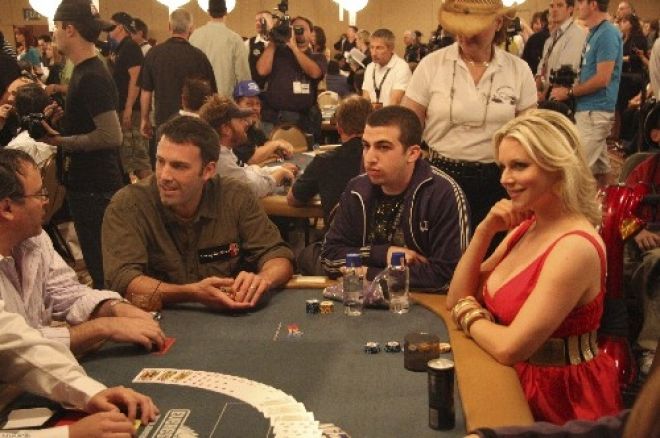 These days you are much more likely to see a Big Brother contestant endorsing the logo of a poker room at the tables than a WSOP bracelet winner. A few years ago I would have been bragging to my poker mates about sharing a chat with Phil Hellmuth or playing a hand with Doyle, but this week most of the male friends on my mobile phone, poker player or not, got this text message:
"I'm in a limousine with Abi Titmuss!!"
Hanging around with a well known glamour model is something most of the guys I went to school with would have given their right arm for, but poker is such a big and constantly evolving market that an average Joe Bloggs like me can feel like Hugh Heffner, if only for a few days. Abi is here representing Ladbrokes Poker and, while I think I am with her for an interview, she thinks I've come along to give her some tips before she plays in the Ante Up For Africa tournament, held at the Rio.
Some circuit pros might turn their noses up at the idea of a celebrity having to get a few last minute tips from a grinder like myself, arguing that the sponsorship should have gone to someone else. However, the few days I have spent with Abi have opened up my eyes about celebrity poker sponsorship. She hasn't had a minute to herself, she was up very early this morning to do a number of radio interviews with Steve Davis (Another Ladbrokes Poker player) and pretty much every UK tabloid has scheduled an interview with her (And the Lincolnshire Echo) – she may not have won a WSOP bracelet, but the exposure she is giving Ladbrokes Poker goes way beyond what the Phil Hellmuth's of this world can give and she is putting in plenty of graft along the way.
Unlike a lot of celeb players, Abi has been playing poker for a long time:
"I got into it seven years ago after playing a home game with some friends and managed to win my first game. I thought 'this is easy' and have since learnt that nothing could be further from the truth. After that I played online quite a lot until recently when Ladbrokes came along and I've been playing more live"
Table image is something all players have to make adjustments for in their game, but not many of us have to deal with being automatically recognised at the table:
"Online is a lot easier for me because no one can see you and I pretend to be a man so nobody picks on me. I played at the Ladbrokes European Ladies Championship and it was quite nervous that everyone would be wondering what I was doing there, but luckily everyone was really nice."
Abi was doing her bit for Ante Up For Africa, alongside stars such as Matt Damon, Ray Romano, Don Cheadle and Annie Duke. Are red carpet poker tournaments different to the ones you and I play in?
"Ante Up for Africa was like any other tournament…..except I had Eric Seidel, Andy Bloch, Dan Shak and Ben Affleck at my table. I went out with a bang, I played really aggressively. I learnt a lot from watching Annette Obrestad at the ELC and although I would never even attempt to compare myself to her, she did show me how important it was to be aggressive…..I busted very early"
Spending the last few days with Abi has refined my own attitudes towards celebrity poker players, although they may not have got their sponsorship deals directly as their merits as players, I have little doubt that they are bringing something to the game that we all benefit from:
"Some players don't realise how much work we are doing to help the game, we promote it to audiences that don't play poker and its bringing a lot more money into the game which helps everybody, in particular we are helping lots of women pick up the game which is really important to me. I work really hard doing interviews round the clock while we are out here and try to promote the game as much as I can."
So my words of wisdom did very little to get Miss Titmuss a seat at the final table, but she can be thankful I didn't resort to a 'Top Pair' pun.