WSOP 2008 TV Coverage Begins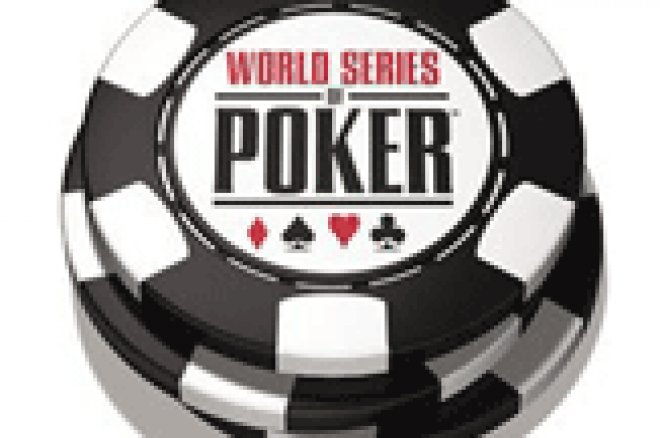 Once again broadcast on US sports television giant ESPN this year's WSOP coverage began (fittingly) with event number 1 of the 2008 series, the $10k World Championship of Pot Limit Hold 'Em. This incredibly stacked final table featured Full Tilt sponsored pros; Andy Bloch, Nenad Medic, Chris Bell and Patrick Antonius. They were joined by Pokerstars endorser Kathy Liebert and Party Poker ambassador and all round poker legend Mike Sexton. Young internet hotshots Mike "Sowerss" Sowers and Amit "amak316" Makhija took their seats along side the established names, and, for the first five minutes at least, the table-antics-ometer was sent through the roof by the presence of the inimitable Phil Laak. The stands were as pro-packed as the table, with Michael Mizrachi, David Williams, Eugene ToddBro, Theo Tran, Erick Lindgren, Gavin Smith, Tom McEvoy and Allen "The Chainsaw" Kessler all present, sweating their friends and calling for cards, celebrating and commiserating with the players.
There really is nothing else in televised poker like the World Series coverage. As a poker purist, there is much to take against – a nine handed final table is played out in "two hours." What this actually means is one and a half hours, once commercials are taken into consideration. Much of this time is taken up with ancillary material – interviews with players, "The Nuts" segments, and even when they are showing poker, the time limitations mean that what gets shown are mostly hands where all the money gets in before the flop. When compared to other US poker shows High Stakes Poker, Poker After Dark, or even the World Poker Tour, there is very little actual poker on display.
Somehow though, it still makes fantastic television. Norman Chad is a genuinely funny man. He is humble about his own poker abilities and knows his limitations. I laughed out loud at least three times in the first ten minutes of this episode, and didn't have to wait too long for the greatest hits to be rolled out. "Squadoosh," "whamboozled" and "he's a kid with a dream, Lon" all made an appearance within the first few segments. He complimented or criticised a couple of shirts. He said of Andy Bloch "He's an engineer and a lawyer Lon. That's two professions which are out of my league." As the camera panned to Mike Sexton, Norm continued. "He's a poker player and an announcer. Frankly that's a stretch too."
Familiarity is the key to the enjoyment of the World Series. Most serious poker fans probably already know who won the events we are watching. We already know we won't be seeing many intricate pieces of poker wizardry. Thanks to the PokerNews coverage, we already know a lot of the hands.
But we also know we will see some of the best in the game compete for the prize of a WSOP bracelet and huge sums of money, and see how they react to winning and losing. We know that we will be told interesting and entertaining stories about the players through interviews and commentary. We know we will hear a man relate a poker situation to his marital problems. And I, for one, wouldn't have it any other way.
Previous years of the WSOP have been broadcast in the UK on Challenge TV, and hopefully the 08 coverage will get a UK home later this year.