WSOP 2008 Main Event Day 7: We have our "November Nine"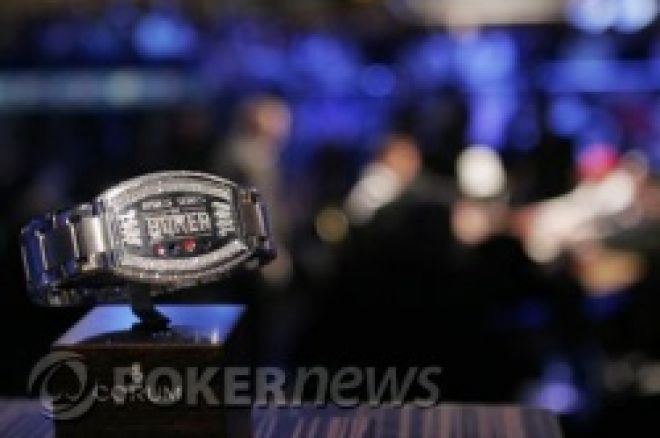 We have finally reached our destination! After 11 days of world class poker, bad beats, suckouts, tears and cheers, the final table of the WSOP 2008 Main Event has been decided. It might not be a star-studded table like some of the ones we've seen throughout this World Series, but I think outlasting 6,835 of the best poker players in the world is proof enough that these 9 players know what they're doing.
Day 7 started with 27 players returning to the Amazon Room, of which 18 had to go before the Day could end. Michael Carroll, who started the day as the shortstack with just over 1 million in chips, was the first one to go after just 15 minutes when he went all-in on a



flop holding


. Unfortunately, he was called by Gert Andersen holding


for a set, and after the turn and river blanked, Carroll was eliminated in 27th place, taking home $247,334. Still a pretty good worst case scenario if you ask me.
Only 15 minutes later, the second shortstack of the day, Phi Nguyen, moved all-in holding


, but could not improve his hand against Paul Snead's


. Shortstack #3, Niklas Flisberg followed suit after he got all his chips in with


against Joe Bishop's


. An Ace appeared on the flop, but no more help came for Flisberg, who was eliminated in 25th place.
The bad run of the shortstacks continued with the elimination of Aaron Gordon, who had started the day 4th lowest in chips. He moved the rest of his chips all-in preflop with


, but was unable to improve against Darus Suharto's pocket J's. Just to keep thing in order, the player with the 5th lowest stack at the start of the day, Tim Loecke, was eliminated in 23rd place. He pushed all-in preflop with pocket 6's and was called Ylon Schwartz holding pocket 3's. Although this was the first time today a shortstack was actually ahead when pushing all-in, the

on the turn quickly 'rectified' the situation and Loecke hit the rail.
This 'predictable' series of eliminations finally came to end when Judet Toni, who had started the day with an average stack of 5 million in chips, was eliminated in 22nd place after his pocket J's couldn't improve against Darus Suharto's pocket K's.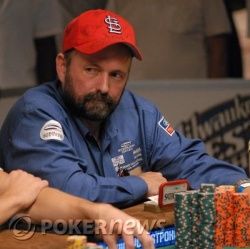 In the mean time, Day 6 chipleader Dennis Phillips continued where he left off the day before, increasing his stack from 12 million to 15 million within the first hour of play. Scott Montgomery couldn't really complain either. After going all-in with


on a



flop, he was called by Paul Snead with


. The turn even showed the

, giving Snead an additional flush draw, but Montgomery spiked his miracle

on the river and took down the massive pot of over 11 million chips.
It only took a few more hands for Snead to move in with his remaining 400K holding


. Craig Marquis immediately called, tabling a dominating


. The board blanked and Snead was eliminated in 21st place.
Brandon Cantu took a pretty nasty beat that saw him hit the rail only a few minutes later. Following a preflop raise to 300K from Peter Eastgate, Cantu moved all-in for 2.3 million with


. Eastgate called showing


, and the board ran out





to give Eastgate the nut flush and eliminate Cantu in 20th place.
Albert Kim was next to go, after a hand very similar to the previous elimination. The only difference was that this time, Kim was holding the overcards with


against Chris Klodnicki's pocket 9's. The

was the first card out, eliminating Kim in 19th place.
After 1 hour without a single player hitting the rail, it was Jason Riesenberg's time to go. On a flop showing



, Riesenberg bet 350K and Dean Hamrick called. The turn brought the

, Riesenberg bet out 675K and Hamrick called again. The river shows a

, Riesenberg checked, Hamrick moved all-in and Riesenberg called. Riesenberg showed


for flopped trips, but Hamrick flipped over


for a turned full house, eliminating Riesenberg in 18th place.
Tiffany Michelle followed 40 minutes later after seeing a flop



. Dennis Phillips bet 1 million, Peter Eastgate called and Michelle moved all-in for 3.8 million. Phillips folded but Eastgate insta-called, tabling


for the nuts. Michelle needed a lot of help with her


, but the board ran out

and

, ending Michelle's Main Event in 17th place.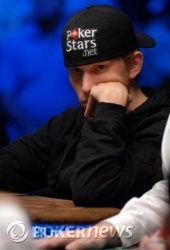 Peter Eastgate seemed to be on a bit of a roll, as he picked up a couple of nice pots before eliminating the next player. Eastgate raised to 335K before the flop and Anthony Scherer went all-in with


. Eastgate called showing


, no help came for Scherer, who busted in 16th place.
Now it was Ivan Demidov's turn to take out his first player of the day. Owen Crowe had pushed all of his remaining chips into the middle holding


, and again we had a coinflip situation after Demidov called with


. A Queen appeared on the turn and Demidov had found his first victim of the day.
Gert Andersen was the next to leave after moving all-in with


against Ylon Schartz's


. No help came for Andersen who finished in 14th place. Then it was time for Dennis Phillips to get back into action. On a flop showing



, Nicholas Sliwinski bet out 500K and Phillips called. The turn was the

, again Sliwinski bet, this time 1.2 million, and again Phillips made the call. The river was the

, Sliwinski moved all-in and Phillips called immediately. Phillips showed


for a flopped K-high flush, and Sliwinski merely showed


for a pair of sixes.
With only 3 eliminations left before the final table was reached, play again started to slow down considerably. 1 hour after Sliwinski had busted, it was now Chris Klodnicki who had to burry his dreams of his second WSOP final table (after coming second in Event #26 this year). On a flop showing



, Klodnicki moved all-in and Scott Montgomery called. Klodnicki tabled


and need help against Montgomery's


. The turn cam

, and left Klodnicki with one last out, the

. A diamond did come on the river, unfortunately for Klodnicki though, it was the

, and Klodnicki was eliminated in 12th place.
Another two hours later, David 'Chino' Rheem had found his first victim of the day. Joe Bishop had just doubled up two opponents in a row and was all-in again for his last 2.4 million, holding


. He was called by David Rheem with


, and things were looking good for Bishop when the flop came down



. Things looked even better when the turn blanked with

, but the river brought the

, giving Rheem his straight and eliminating Bishop in 11th place.
The remaining 10 players were now all seated at the ESPN featured table, with one more elimination to go before the 9 finalists were decided.
There were a number of hands during which it seemed like the day was coming to and end, but it was going to take more than 3 hours to find the final table bubble boy. This unfortunate title ended up going to Dean Hamrick, after he pushed his remaining chips in before the flop holding


and was called by Craig Marquis with pocket Q's. The board ran out





, and the "November Nine" were decided.
Here are the chipcounts with which the 9 finalists will return to the final table on November 9th: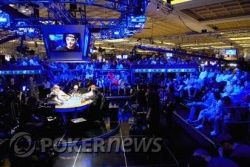 Seat 1: Dennis Phillips - 26,295,000
Seat 2: Craig Marquis - 10,210,000
Seat 3: Ylon Schwartz - 12,525,000
Seat 4: Scott Montgomery - 19,690,000
Seat 5: Darus Suharto - 12,520,000
Seat 6: David 'Chino' Rheem - 10,230,000
Seat 7: Ivan Demidov - 24,400,000
Seat 8: Kelly Kim - 2,620,000
Seat 9: Peter Eastgate - 18,375,000
This marks the end of this year's WSOP (apart from the final table in November obviously) and I think I can speak for all when I say it's been a thrilling 6 weeks. We've seen 54 Bracelets being awarded and more then $180 million in cash being paid out, we've seen lifelong dreams come true and numerous records broken. I hope you all enjoyed reading the tourney reports and following all the action, and I'm sure we'll 'meet' again in November.