WSOP Main Event 2008 Day 5: Mark Ketteringham leading the last 79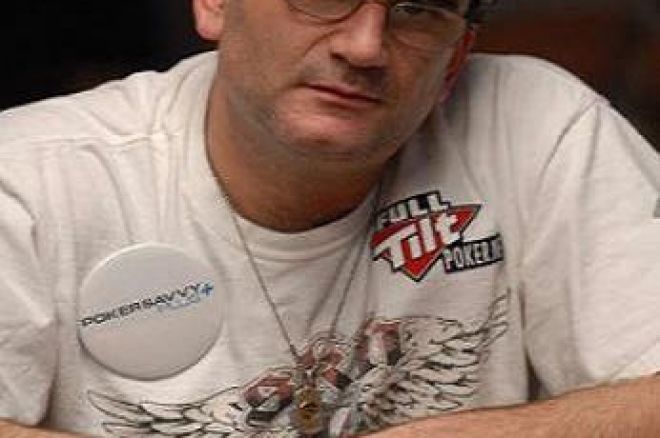 Day 5 of the WSOP 2008 Main Event started with a field of 189 players, with Jeremy Joseph leading the pack with 2,187,000 in chips. By the end of the day, 110 of them had been eliminated, many of whom fell victim to some cold decks at the tables.
The first player to go was Peter Traply in the very first hand of the game, after he had gone all-in before the flop with pocket Q's and was called by Darren Grant holding pocket K's. The board blanked and Traply was eliminated. Only a couple of minutes later, Diren Yildiz and Judet Cristian went all-in on a



flop. Yildiz looked confident as he turned over


for a flopped set, but his confidence was shattered after Cristian showed


for a higher set. No help came for Yildiz, who hit the rail after just 15 minutes.
But even after 30 minutes into the day, the decks refused to warm up. Jeremiah Smith dropped to 700K in chips after he had flopped bottom set with


on a



, only to see his opponent turn over


. This streak would have continued, if it wasn't for a great laydown by Alexander Kostritsyn. After a limp from UTG, Allen Carter raised it to 35K, before Reagan Silber re-raised to 105K. Kostritsyn then made it 285K from the small blind, but after Carter and Silber moved all-in (Silber having Kostritsyn covered), Kostritsyn folded pocket K's face up. This proved to be a fantastic fold as Carter showed


and Silber tabled


. The board blanked and Carter was out.
Only a couple of minutes later, Phil Hellmuth also made a big laydown, although we will never know whether it was a good one or not. On a flop showing



, Leventhal went all-in for 399.000,and after a couple of minutes of the usual Hellmuth bantering, he folded


face up.
He made a similar laydown later in the day when he and Alfonso Fernandez saw a



flop. Fernandez immediately shoved for over 1 million in chips, which was roughly what Hellmuth still had in front of him. Hellmuth thought for a while before folding pocket Q's, only to see Fernandez turn over……pocket Q's.
One of the first big names to get busted on Day 5 was Hoyt Corkins after a hand against Ivan Demidov. On a flop showing



, Corkins moved all-in for his last 275K with


and was immediately called by Demidov, who flipped over


. The turn brought a

and after the

fell on the river, Corkins was eliminated from the Main Event.
Only shortly after, he was joined by 'The Great Dane' Gus Hansen. On a board showing



, Hansen and Jeremy Joseph got all of their chips in the middle, Joseph showing


for Ace-high and Hansen had


for an OESD. No help came for Hansen, who was crippled after this hand. He went all-in the following hand on a



flop and was called by Chris Crilly. Hansen was ahead with


for top pair against Crilly's


. But the river brought the

, giving Crilly his gut shot straight and eliminating Gus Hansen from the Main Event.
Jeremiah Smith's Main Event also ended on Day 5 after he went all-in with


against Geert Jans holding


. The board ended up





, giving Smith a straight but Jans a full house. Niklas Flisberg hit a miracle river after he had gone all-in holding KK against Andrew Teng holding AK. An Ace appeared on the flop, but Flisberg hit the case King on the river to take down the pot and end the day for Andrew Teng.
Allen Cunningham was another big name to bust on Day 5. He got the last of his chips in with


, but ran into pocket A's. The board blanked and Cunningham exited on place 114. Mike Matusow came close to joining him after going all-in preflop with


with his last 545K and being called by an opponent holding


. Matusow seemed pretty confident going into the hand, and this was rewarded when the

appeared on the flop. Matusow managed to dodge an Ace or a King and doubled up to 1.1 million in chips.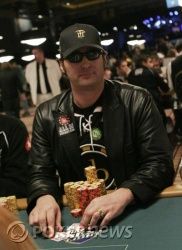 In one of the last hands of the day, Phil Hellmuth got himself into some trouble with the tourney officials after having a massive rant against one of his opponents. Cristian Dragomir had raised to 80K before the flop and Hellmuth re-raised to to 255K. Dragomir called and bet out 300K on a



flop. Hellmuth mucked his


face up, before Dragomir turned over his hand…


. Hellmuth couldn't believe his opponent had called his preflop raise with 10-high and got into such a rage that he has now received a 1-orbit penalty at the start of Day 6.
A couple of minutes later, Day 5 ended with 79 players remaining after Mark Vos became the last elimination of the day. Mark Ketteringham has taken over the chiplead with 5,800,000, followed by Nikolay Losev (4,058,000) and Albert Kim (3,734,000). Phil Hellmuth, Mike Matusow, Victor Ramdin and Tiffany Michelle are amongst the survivors of the day, while Jeff Madsen, Kara Scott and Shawn Sheikhan are amongst those that have been eliminated.
Seat Assignments for Day 6
(Table 1)
Seat 1: Bob Whalen – 1,382,000
Seat 2: Paul Snead – 1,572,000
Seat 3: Christopher Zapf – 297,000
Seat 4: Brian Tatum – 780,000
Seat 5: Aaron Gordon – 3,369,000
Seat 6: Jason Glass – 629,000
Seat 7: David Rheem – 2,586,000
Seat 8: Thomas Keller – 245,000
Seat 9: Garrett Beckman – 1,860,000
(Table 2)
Seat 1: Chris Klodnicki – 2,496,000
Seat 2: Kido Pham – 1,600,000
Seat 3: Aaron Keay – 990,000
Seat 4: Anthony Scherer – 2,245,000
Seat 5: Alfredo Fernandez – 3,053,000
Seat 6: Peter Eastgate – 2,629,000
Seat 7: Judet Christian – 3,031,000
Seat 8: Scott Montgomery – 1,669,000
Seat 9: Mauro Lupo – 2,261,000
(Table 3)
Seat 1: Greg Byard – 1,189,000
Seat 2: Jonathan Plens – 1,870,000
Seat 3: Nhan Le – 2,190,000
Seat 4: Justin Sadauskas – 2,000,000
Seat 5: Keith Hawkins – 636,000
Seat 6: Eric Bamer – 479,000
Seat 7: Cristian Dragomir – 2,372,000
Seat 8: Dean Hamrick – 1,905,000
Seat 9: Joe Bishop – 1,570,000
(Table 4)
Seat 1: Geert Jans – 1,633,000
Seat 2: Justin Scott – 1,971,000
Seat 3: Alan Gould – 1,838,000
Seat 4: Daniel Buzgon – 876,000
Seat 5: Alex Outhred – 699,000
Seat 6: Albert Kim – 3,734,000
Seat 7: David Saab – 1,705,000
Seat 8: Nikolay Losev – 4,058,000
Seat 9: Matt Matros – 766,000
(Table 5)
Seat 1: Jeremy Joseph – 3,100,000
Seat 2: Mark Ketteringham – 5,800,000
Seat 3: Gert Andersen – 1,447,000
Seat 4: Brandon Cantu – 2,288,000
Seat 5: David Benefield – 2,490,000
Seat 6: Dennis Phillips – 3,436,000
Seat 7: Sean Davis – 861,000
Seat 8: Michael Carroll – 957,000
Seat 9: Mark Owens – 595,000
(Table 6)
Seat 1: Rafael Caiaffa – 1,338,000
Seat 2: Steve Lade – 3,225,000
Seat 3: Ivan Demidov – 2,185,000
Seat 4: Phi Nguyen – 1,540,000
Seat 5: Adam Levy – 767,000
Seat 6: Nicholas Sliwinski – 2,236,000
Seat 7: Suresh Prabhu – 1,175,000
Seat 8: Ylon Schwartz – 816,000
Seat 9: Victor Ramdin – 795,000
(Table 7)
Seat 1: James McManus – 2,434,000
Seat 2: Tim Loecke – 996,000
Seat 3: Phil Hellmuth – 721,000
Seat 4: Allen Kennedy – 1,153,000
Seat 5: Kelly Kim – 2,425,000
Seat 6: Larry Wright – 1,502,000
Seat 7: Jason Riesenberg – 2,217,000
Seat 8: Andrew Rosskamm – 1,593,000
Seat 9: Clint Schafer – 1,123,000
(Table 8)
Seat 1: Chris Crilly – 1,183,000
Seat 2: Craig Marquis – 1,748,000
Seat 3: Felix Osterland – 786,000
Seat 4: Jamal Sawaqdeh – 888,000
Seat 5: Jamal Kunbuz – 3,327,000
Seat 7: Mike Matusow – 1,169,000
Seat 8: Tiffany Michelle – 3,438,000
Seat 9: Jeremy Gaubert – 578,000
(Table 9)
Seat 1: Craig Stein – 440,000
Seat 2: Niklas Flisberg – 1,264,000
Seat 3: Mark Wilds – 485,000
Seat 4: Andrew Brokos – Did Not Report (approx. 4,080,000)
Seat 6: Lisa Parsons – 581,000
Seat 7: Peter Neff – 1,275,000
Seat 8: Darus Suharto – 1,057,000
Seat 9: Owen Crowe – 1,050,000