WSOP 2008 Main Event Day 3: We're in the Money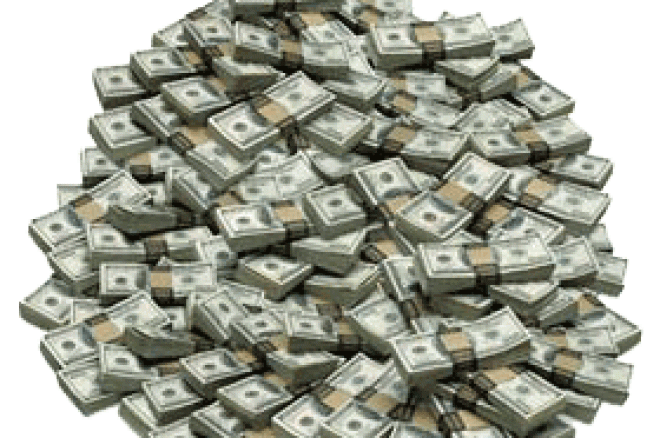 Day 3 of the WSOP 2008 Main Event saw all surviving players from the four Day 1's and the two Day2's merge together into one field for the first time. 1,307 players started the day, all of which had the obvious goal to make it into the top 666 and cash. Brian Schaedlich started the day with the best chances of accomplishing this goal, leading the field with a massive chipstack of 801K.
But of course, where there's a big stack, there's always a shortstack as well, many of which didn't even make it past the 30 minute mark. Patrick Antonius busted early when he moved all-in preflop with just under 30K in chips holding


. One opponent called holding


. The flop



looked good for Antonius, but the turn

and the river

gave his opponent a runner runner flush and Patrick Antonius was one of the first players to get eliminated on Day 3.
He was soon joined by Noah Boeken, who had a rather unfortunate exit. He raised it up to 4,200 before the flop, finding one caller in Raul Paez. The flop showed



, and both players checked. The turn brought the

, Paez check-raised up to 17K after Boeken had bet 7,000. Boeken moved all-in for a total of 51K and Paez called. Boeken turned over


, only to see Paez turn over the nuts with


for a full house. The river blanked and Boeken hit the rail after less than 20 minutes.
Next one out was former Main Event Champion Chris Moneymaker. He went all-in preflop holding


and was called by Dragoslav Timarac holding


. Timarac hit a

on the flo0p and Moneymaker failed to improve his hand, ending his Main Event early on Day 3. Jennifer Harman also busted in the course of Day 3 when she failed to improve with


against her opponents


. Liv Boeree's exit was especially painful, as she got it in with the best of it, holding


, but had to watch how her opponent flopped a set of tens holding


.
A couple of hours into the day, we witnessed what was probably the start of Brian Schaedlich downfall. On a flop showing



, Schaedlich checked and his opponent, Jeff Kimber, bet out 6,000. Schaedlich then raised to 15,000, only to see Kimber re-raise to 50,000. Schaedlich then went all-in and was immediately called by Kimber. Schaedlich showed


, but need a lot of help against Kimber's


. The help didn't come and Schaedlich lost a massive pot totalling 681K. Schaedlich was down to 387K in chips and would end the day with merely 22K in chips in front of him.
As we approached the money bubble, Nenad Medic, winner of Event #1 at this year's WSOP, suffered an incredible bad beat that saw him get eliminated just short of the money. On a flop showing 9-J-A, Medic and his opponent Sigurd Eskeland got all of their chips in the middle, Medic showing A-K to Eskeland's A-Q. The turn blanked, but the river brought a Q to give Eskeland his 3-outer two pair and denying Nenad Medic his 3rd cash at this year's WSOP.
After just over 11 hours of play on Day 3, the money bubble burst and 666 players could celebrate the win of at least $21,230. One player who won't be very happy about this is bubble boy Steve Chung. Chung had gone all-in holding


but ran into


. His hand couldn't improve and Steve Chung's Main Event ended on the worst place ever, 667, one place short of the money. He didn't leave completely empty handed though, as thanks to Milwakee's Best Light, he already has his seat for next year's Main Event secured.
After the bubble bursts, players just started flying out. Vanessa Rousso took two bad beats in a row as she first went all-in with


against


, but the board





gave her opponent a straight. A couple of hands later she was eliminated when she went all-in with


, again being ahead of her opponents


, but a Q showed up on the turn to eliminate Rousso.
Men "The Master" Nguyen suffered a disastrous beat shortly before the end of the night when he went all-in with


and was called by one opponent holding


(???). The board ended up





, and Nguyen lost to his opponent's trip 3's. As Nguyen stood up to leave the table, he said to his opponent "I'm not even going to shake your hand", shaking his head while on his way to the payout desk.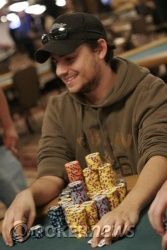 When the day ended at about 2:15 a.m. PDT, 474 players were left in the field, with Jeremy Joseph as their leader with roughly 1,470,000 in chips, followed by Jeremiah Smith with 1,300,000. Two former Main Event Champions, Phil Hellmuth (490,000) and Johnny Chan (365,000) are still amongst the contenders for pokers most coveted prize, as are Hoyt Corkins, Mike Matusow, Allen Cunningham, as well as online pro's Thayer "THAY3R" Rasmussen and Jon "PearlJammer" Turner.