WSOP 2008 Main Event Day 2b: The King is Dead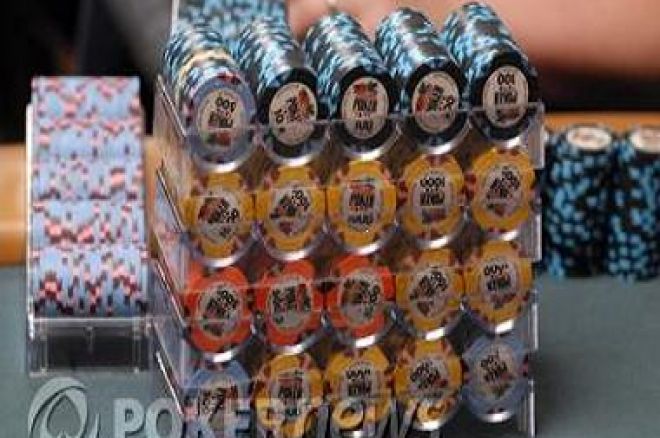 Day 2b saw 2,379 players return to the Amazon Room yesterday to complete the field going into Day 3 of the WSOP 2008 Main Event. From the numbers we have at this moment, it seems like 842 players survived Day 2b, who will be joining the 466 players from Day 2a to create a field of 1,308 players battling for the payouts (top 666) on Day 3.
Before I say anything else, I would like to correct a mistake that was made a couple of days ago when I wrote that Phil Laak had busted on Day 1d (as that was the information I received). Seeing as he was still playing Day 2b yesterday, I assume that information was incorrect. However, he really DID get eliminated last night when his pocket Q's ran into pocket Aces and couldn't improve.
The first player to get eliminated on Day 2b was $50K H.O.R.S.E runner-up Michael DeMichele, after he tried to squeeze with


for his last 11,000 chips, but was called by


, who hit the nut flush on the turn. He was joined by John Juanda and Amnon Filippi, who also exited within the first 30 minutes of the day.
Cardrunners.com member and high stakes regular Brian "sbrugby" Townsend took a big hit that ended his tournament life when he flopped a set on a



flop holding


, but the

on the turn gave his opponent (


) the flush to take down the pot.
Last year's Main Event winner Jerry Yang will not be able to defend his title this year after busting roughly 2 hours into the day. First Yang went all-in holding


and was called by an opponent holding


. Yang got lucky on this one, as the board ended up





, giving both players 2-pair with an Ace kicker. Shortly after that hand, Yang went all-in again, this time dominating his opponent with


to his opponent's


. But the

appeared on the flop, the turn and river bricked and the world champion was eliminated.
Yang was later joined by another busted former Main Event champion when Joe Hachem failed to hit his flush on a



board holding


. His all-in was called by two players holding


and


, the

appeared on the turn and the river bricked with a

, ending the tournament for the 2005 world champion.
Shortly before Hachem's departure, Phil Hellmuth was going through a slight tilt-phase that almost saw him hit the rail. It all started with a hand between Hellmuth and Tony Clark. The flop showed



, a player UTG made it 5,200, Hellmuth called and Tony Clark raised it up to 16,000. UTG folded and Hellmuth called. The turn was the

and Clark moved all-in for 29,000. Hellmuth took a long time to think about the hand, long enough for a player at the table to call for a clock. Hellmuth finally made the call, showing


, and he was drawing dead to Clark's


. Hellmuth was visibly fuming and started playing every hand that followed. After Matt Vengrin raised it to 3,000 preflop, Hellmuth moved all-in with


and Vengrin called with


. However, the poker Gods seemed to have been on Hellmuth's side that day, as the board ran out





, thus sending Vengrin to the rail. Only two minutes later Hellmuth was involved in another pot with Ryan Hughes, and took down the 60K pot with


on a board showing





. He also won the hand straight after that when he showed


for an overpair on the river. Hellmuth ended the day on roughly 200K in chips.
Chipleader at the end of the day was Alex Outhred with 486.800, followed by Peter Biebel and Raja Kattamuri. Victor Ramdin ended the day 5th in chips with 360K. Other survivors of the day include Johnny Chan, Brandon Schaefer, Betrand 'Elky' Grospellier, Phil Gordon, Allen Cunningham and Gus Hansen. Amongst those who didn't make it into Day 3 were David Singer, David Oppenheim, Carlos Mortensen, David Sklansky and Antonio Esfandiari.
And finally, for those of you who like numbers: The WSOP 2008 is now officially the largest and richest world series in history, with a total of 58,720 entrants (increase of 8% compared to last year) and prizepools totalling $180,676,248 (an increase of more than $20 million from last year)
Here is a breakdown of the final table payouts:
1 $ 9,119,517
2 $ 5,790,024
3 $ 4,503,352
4 $ 3,763,515
5 $ 3,088,012
6 $ 2,412,510
7 $ 1,769,174
8 $ 1,286,672
9 $ 900,670
Ed Note:Be sure to check out Betfair Poker for the Upcoming WSOPE!