WSOP 2008 Main Event Day 1d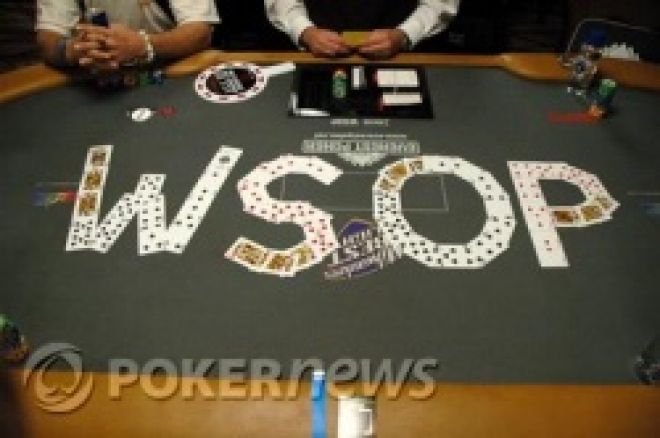 The final Day 1 of the WSOP 2008 Main Event has come to an end, and we finally have some numbers to present to you. In total, 6844 players registered for this year's Main Event, making it the second largest Main Event in WSOP history. The players created a prizepool of $64,333,600, which will be distributed amongst the top 666 finishers (yes, the release of that number did bring some boo's from the crowd), with $21,320 being awarded to the 666th place finisher and the winner receiving $9,119.517.
Although we have no official number for the field on Day 1d, my high level math skills (comprised of the ability to add and subtract) have led me to believe that 2461 players signed up for Day 1d, of which 1362 advanced to Day 2b (which is more than the total number of players that advanced to Day 2a). As had been expected, many of pokers big names waited until the last minute to get in on the Main Event action. The arrival of Phil Hellmuth was, of course, a whole event in its self. Dressed as an army general, he arrived in a convoy of camouflaged army trucks filled with 11 UB army girls, one for each of his WSOP Bracelets. Despite arriving 2 ½ hours late, Hellmuth finished the day with a healthy stack of 76,000 in chips.
One player who seemed to be missing all day was Phil Laak, but as we later found out, he had put a lot of effort into disguising himself using a latex mask, make-up and a false moustache. It worked in the sense that no one at the table recognised him, unfortunately for Laak though, it did not keep him from getting busted. But he wasn't alone. David Williams, Annie Duke, Andy Bloch, Phil Ivey, Chris Ferguson, John Pham, Todd Brunson and Michael Mizrachi were just some of the top ranked pro's not to survive the day. Dario Minieri was also eliminated late in the day after he had gone all-in with


on a board showing




. His opponent called with

, and hit the miracle

on the river to keep him alive and send Minieri home.
But it's not like none of the stars made it through the day. David Oppenheim, Victor Ramdin, Carlos Mortensen and Gus Hansen all delivered strong performances throughout the day and ended with 110K + in chips. Brandon Schaefer, Antonio Esfandiari and Hevad Khan ended the day in the top half of the field, and Doyle Brunson is hanging in there with just over 10K left in chips.
The players are all on a break today but will return to the Amazon Room on Tuesday when Day 2a commences.
Here are the top 10 in chips after the four Day 1's
1. Henning Grandstad 242,950
2. Mark Garner 194,900
3. Ben Sarnoff 177,500
4. Brandon Adams 176,450
5.Curt Kohlberg 173,050
6. David 'Bakes' Baker 163,450
7.Brian Schaedlich 160,725
8.Howard Berchowitz 160,075
9.Arnaud Mattern 157,650
10. Kellen Hunter 155,200