WSOP 2008 Main Event Day 1a and Day 1b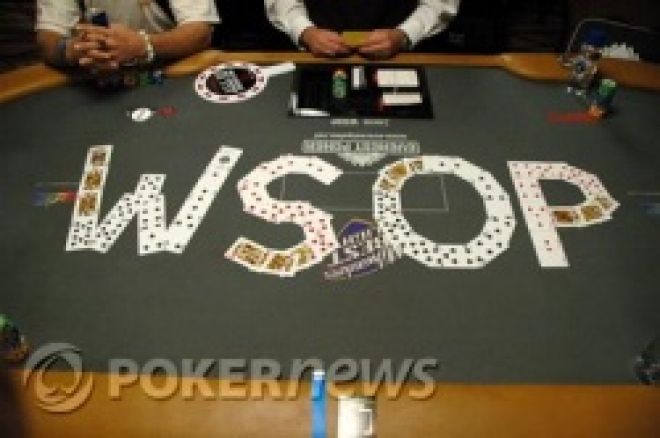 The most anticipated poker event of the year, the WSOP 2008 Main Event, finally kicked off on Thursday, drawing 1,297 players to the Amazon Room for Day 1a. Play started at noon with Wayne "Mr. Vegas" Newton instructing to "Shuffle up and deal!" and the UNLV marching band playing "Viva Las Vegas".
As could be expected, the field was filled with big names, including online pro's like Phil "OMGClayAiken" Galfond, Tom "durrrr" Dwan, Taylor 'Green Plastic' Caby and Jon 'Pearljammer' Turner, former WSOP Main Event Bracelet winners Scotty Nguyen, Bobby Baldwin and Dan Harrington, and even actors Ray Romano, Jason Alexander and Mekhi Phifer were present. Unfortunately, for many of them the 2008 Main Event ended only a few hours after they had seen their first hand.
It only took 20 minutes before Barry Clancy became the first victim of one of the many suckouts and bad beats that occurred over the course of the day when his pocket Aces were rivered by pocket Jacks. Tom "durrrr" Dwan suffered a similar setback early in the day when he lost half his stack with Aces to a player holding A-8. This was the key hand that finally resulted in Dwan's elimination 1 hour later.
Jason Alexander became another victim of his own pocket rockets when he called an all-in on the turn with the board reading




. His opponent flipped over


for a wheel and Alexander's Main Event was history.
However, the award for toughest beat of the day should definitely go to Motoyuki "Moto" Mabuchi. Holding


, Mabuchi will have been delighted to see the

appear on the river on a board showing





.He re-raised his opponent all-in on the river (as you would), only to see his opponent call and turn over the nuts of the nuts…


for a royal flush. Too bad WSOP Events don't have Bad Beat Jackpots.
At the end of Day 1a, Mark Garner (194,900 in chips) and Brandon Adams (176,450) were leading a field of 636 survivors who will meet again on Day 2a
Although many had expected Day 1a to see the smallest player field of all four Day 1's, they were quickly proven wrong when Day 1b 'only' attracted 1,158 contestants for arguably the most valuable title in poker.
The day started with a bang when, after not even 2 hours, Ted Forrest, Andy Black, German Bracelet winner Sebastian Ruthenberg and Daniel Negreanu were eliminated. Forrest flopped a set of deuces to lose to a flush on the river, Black flopped an overpair with JJ against his opponent's two pair, Ruthenberg lost a coinflip with Ah10h vs. pocket fives and Negreanu flopped a set of sixes while his opponent flopped a set of nines.
Erich Kollman also took an early exit when it became clear that the bad run of pocket Aces from Day 1a extended into Day 1b, after his AA ran into pocket tens and the board ended up





. Other prominent eliminations throughout the day included Heads-Up Champion Kenny Tran, Main Event winners Jamie Gold, Tom McEvoy and Greg Raymer, and PokerStars pro's Ram Vaswani and Humberto Brenes.
Nonetheless, there were still numerous big names left amongst the 615 players who survived their first day. Ben Sarnoff was leading the field with 177,500 in chips, followed by Brian Schaedlich (160,725) and Robert Mizrachi (142,400). Other players returning on Day 2a include Erick Lindgren, Markus Golser, Barny Boatman, Erik Seidel, Patrik Antonius, Alex Kravchenko, Tom Franklin, Greg Mueller and Shaun Deeb.