Poker After Dark is Back...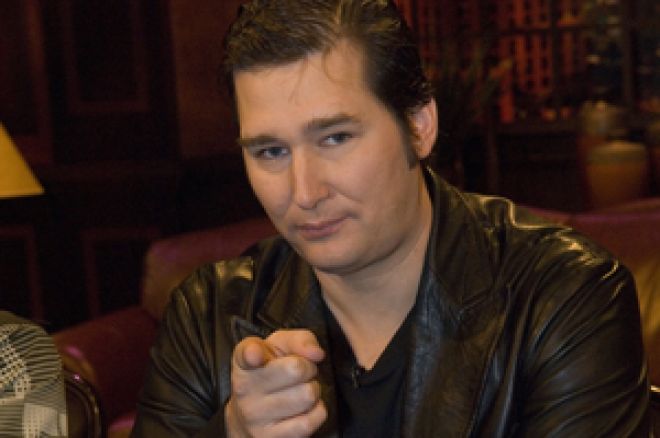 Rather than sticking with the tried and tested formula of six of the most well known players in poker sitting down to do battle in a $20,000 freezeout, this season has started with a week showing the inaugural Poker After Dark cash game. Borrowing from the popularity of the fantastic High Stakes Poker, poker fans can watch players battle in a six handed cash game with $200/$400 blinds, with a crucial pot building $100 ante. Players can buy in from $100,000 to $250,000.
The line up features online phenom Tom "durrr" Dwan, eleven time WSOP bracelet winner Phil Hellmuth, LA based hedge-fund manager and High Stakes Poker veteran Mike Baxter, Allen "it's Allen Cunningham" Cunningham, Cirque Du Soleil founder and all round philanthropic billionaire Guy Laliberté, and David "Viffer" Peat, a high stakes online and live cash game pro.
The first two days of coverage have been phenomenal, and not just because of Viffer's purple and yellow LA Lakers supporting hair-do. Without wanting to give anything away, there have been some fantastic hands so far. There was a huge pot featuring set over set, and although that hand pretty much played itself out as most people would expect, the cash game format means that the players are deep-stacked enough to play some very creative and interesting poker. Look out for a real "don't try this at home kids" move from Dwan with a 64o in a multi way pot.
What is most notable about this season is how much Poker After Dark is experimenting with the format. When it arrived on the televised poker scene, it already offered something quite different from the staple. The made-for-tv six handed sit and goes which we in the UK are so familiar with can be very entertaining, but what is commonly shown in an hour in the UK is given the space of five hour long shows on Poker After Dark, meaning the nuance of the game is much more evident, because we see so many more of the hands. As a wise man once said, there are only so many times watching AK race with JJ is entertaining. Seeing people steal blinds and antes to build a stack to be able to afford to take that race gives a much clearer understanding of what it really takes to be successful in tournament poker.
Poker After Dark is not resting on its laurels though. This season is promising to be the best yet. As well as another week of cash game poker, due for air in October, some fantastic six handed sit and goes are lined up. Next week will see "Nets vs Vets" with Brian "SBRugby" Townsend, Dwan and Andrew "Good2CU" Robl representing the online world and Doyle Brunson, Huck Seed and Johnny Chan representing the traditional poker world. The following week will see another break from the traditional format as the four winners of the NBC Heads Up Championships will take part in a $50,000 heads up tournament. Phil Hellmuth, Chris "Jesus" Ferguson, Ted Forrest and Paul Wasicka will be playing for the $200,000 winner take all prize money, and some serious Heads-Up bragging rights.
One thing this season is so far lacking is any British rooting interest. In Season 3 Roland De Wolfe took part in international week, but Europe is looking very under represented this time around. Patrick Antonius and Andy Black are due to appear in future weeks, but I think its time we started up a petition to get a British Invasion week on Poker After Dark! Post your suggestions for your dream British Invasion week over in our forums...