Marty Smyth wins another one for Europe, Hellmuth gets close to his 12th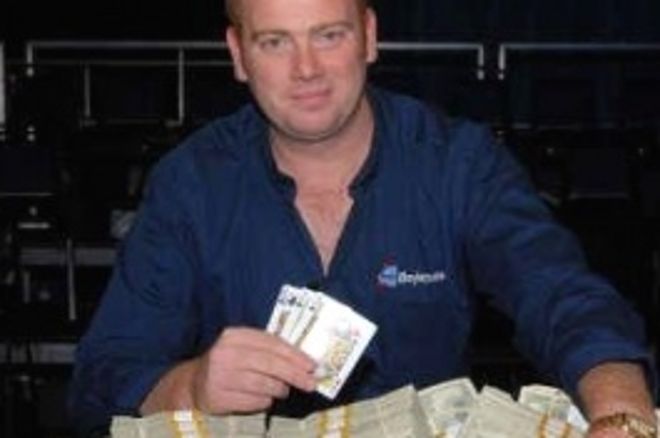 The European run for Bracelets at the WSOP 2008 continues after Marty Smyth from Belfast, Ireland left 380 players behind him to take down Event #50, the $10K Pot Limit Omaha World Championship, winning his first WSOP Bracelet and $859,549 in cash.
The final table started with Michael Mizrachi, probably the most experienced player at the table, holding the chiplead, and to many it looked like he was going to keep this Bracelet in the family after his brother Robert won this event last year. That dream was shattered, however, after Mizrachi went all-in on hand #103 holding A-K-5-3, only to get called by Peter Jetten's A-A-Q-8. Mizrachi paired the flop but couldn't improve further and was eliminated in 3rd place, taking home $331,279.
The following heads-up between Jetten and Smyth was a series of ups and downs, with both players holding the chiplead at some point, only to give it away again shortly after. It took 30 hands, and a flop that gave both players the nuts, to decide the event. After Jetten limped from the Button, Smyth, holding a slight chiplead at the start of the hand, bet the pot and Jetten called. The flop showed



. Smyth bet out pot, and while Jetten was still announcing "I raise pot" Smyth was already pushing all of his chips in. Jetten called and showed




, for the straight, only to see Smyth turn over




, for the same straight and a straight flush draw on top. The turn showed a blank

, but the

on the river gave Smyth his flush and brought a thrilling end to this final table.
After winning the hand, Smyth said "I didn't realize I had clubs. That's the God's honest truth."
Well I'm sure it was a pleasant surprise for him when he found out. Congratulations Marty for winning another European Bracelet!
Final Table Payouts:
1 Marty Smyth $859,549
2 Peter Jetten $528,256
3 Michael Mizrachi $331,279
4 Billy Argyros $268,605
5 Richard Harroch $214,884
6 Kido Pham $170,116
7 Tom Hanlon $134,302
8 Brandon Moran $107,442
9 Greg Hurst $80,581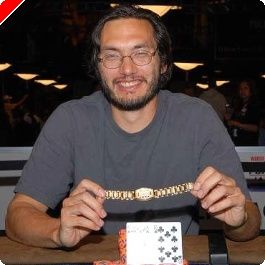 Event #51 was the $1,500 H.O.R.S.E event, and while the $50K event last week saw a very limited field of the best in the World, the lower buy-in attracted a couple more mixed game fans, 803 to be exact, creating a prizepool of just under $1.1 million.
With 20 players returning on Day 3, Phil Hellmuth was in a good position to claim his record breaking 12th Bracelet, starting the day second in chips behind Sam Silverman. By the time the final table was reached, Hellmuth was still in second place, only the chiplead had now been taken over by Tommy Hang.
Hellmuth survived 128 hands, but his second final table at this year's WSOP ended on hand #129 when Hellmuth went all-in preflop with




and was called by Tommy Hang with




. The board showed





, and Hellmuth had to give up his dream of Bracelet #12, at least for now.
Tommy Hang started the final heads-up against James Schaaf with a 2:1 chiplead but wasn't able to hold on to it for very long. With Schaaf in the lead, both players saw a stud hand all the way down to seventh street, during which Hang ended up all-in on sixth street. Hang showed







for trip 7's, only to see Schaaf reveal







for trip 8's.
With this win, James Schaaf wins his first Bracelet in his very first WSOP event ever, in addition to a $256,412 cash prize.
Final Table Payouts:
1 James Schaaf $256,412
2 Tommy Hang $158,933
3 Phil Hellmuth $93,168
4 Esther Rossi $68,505
5 Jason Dollinger $54,804
6 Sam Silverman $42,966
7 Victor Ramdin $32,992
8 Matt Grapenthien $27,511