UK Pokernews Exclusive - Interview with the Voice of Poker, Jesse May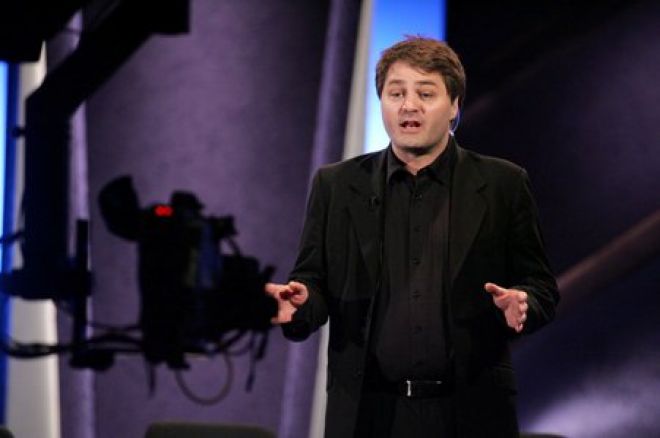 Most poker players have had that discussion of who would be at your 'dream table' – a conversation which involves naming players like Phil Ivey, Doyle Brunson and Daniel Negreanu to play with you. My fantasy table doesn't look much different from any other, but in this day and age of televised poker I would also have a fantasy commentary box remarking on the action. Joining Gabe Kaplan from High Stakes Poker would be my number one draft – Jesse May.
'The voice of poker' as he is known may hail from the United States but he has been a staple part of UK poker culture ever since the first episode of Late Night Poker. I caught up with Jesse in Vegas in the Ladbrokes Poker Player's Lounge where he was working as an MC and amongst other things, took me on a ride of Vegas at night in a helicopter. I asked him how he became an adoptive Brit on the European Circuit:
"The community feel in Ireland and the UK is amazing, we have smaller 'poker communities' here in the US, but nothing like this. I was taken under the wing of three Irish players when times were very hard for me and that's where I learnt just how strong the community feeling was in Europe. The atmosphere this year when Marty Smyth won the PLO bracelet was amazing; the Rio became Ireland for the night. He really deserved it too, he truly is one of the good guys in poker and he took down the bracelet all the pros want."
One of the reasons Jesse is so easy to listen to and perhaps the reason he gets just about every commentary job on UK poker screens is his relentless enthusiasm for the game. Whether it's a set all-in versus a flush draw or just a tiny pot in a blind war, Jesse comments on it as if it was the winning goal in the world cup final:
"I probably shouldn't say this but if I had too, I'd probably commentate for free, I love it so much, I just love watching poker. I genuinely would travel to watch some of the events so to get paid to do it is amazing. I don't really have any desire to play in these events; I did play on one of the first heats of Late Night Poker and shamed myself for ever in the process, so I'm happy to just commentate."
Poker on TV is in an unusual period of transition right now. Two of the highest rated shows, World Poker Tour and High Stakes Poker, appear to be all but extinct while at the same time poker shows in the UK like the Premier League, Poker Million and Sky Poker seem to be flourishing. How can televised poker be so differently received on different sides of the Atlantic?
"I think the reason that some poker shows are failing now is that the palette is much more sophisticated now, the audience knows so much more. A few years ago you could get away with just showing them all-ins, bust-outs, big names and coinflips because they didn't know anything about poker, now they want more. It's a shame though, because I loved High Stakes Poker; that was a great show."
"Now people want more and for me they want to see the best players. For a poker hand to be great it requires two great players, not one, to tell that story. I think events like the WSOP should follow more of a PGA Tour model where only the best players participate. You could still get amateurs qualifying by having the best players win their seats to the main event over months and months."
"That's why the Party Poker Premier League was so well received; it was some of the greatest minds in poker doing battle over a number of events. There we could see who the real players were because it wasn't just one bust-out for them and that was it. I also loved doing the Big Game Cash Den, which was a 24 hour cash game. That was really interesting, it was poker at its most raw, most real, most gritty. We are doing a 36 hour cash game for the next cash den which will be really interesting."
As we are out in Vegas, I have to ask Jesse what his thoughts are on the much talked about WSOP Final Table delay:
"I don't like the delaying of the main event, maybe it will work who knows? It will be interesting to see how it affects the players, for the guy on the short stack it will be great, no pressure, pick up your cheque, get a sponsor etc. But what about the guy who is second in chips who has to wait three months to play again? That's the sort of pressure that could destroy a person, it wouldn't suprise me to see the final table delay ruining a players life, but let's hope not."
You can see Jesse commentating in the Ladbrokes Poker Million VII from August.