JC Tran wins a WSOP Event, and Results for Event 48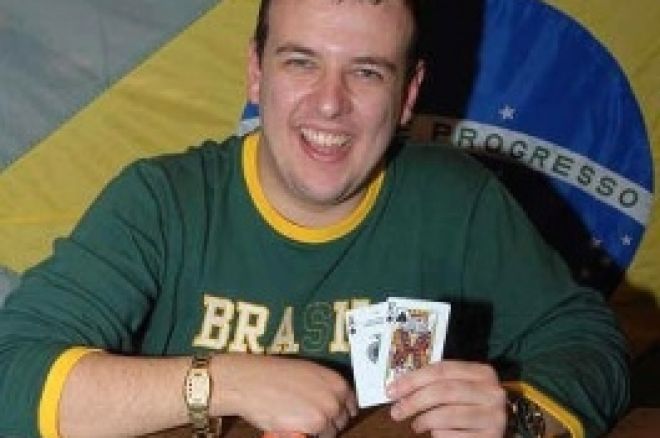 Event #48
Event #48 of the 2008 WSOP of Poker was a $2K buy-in No-Limit event. There were 2317 entrants, making this another huge field for a smaller buy-in. After 2 days and nine hours, Alexandre Gomes, from Brazil was presented his first WSOP bracelet and a massive $770K for first place. The celebrations were intense in the Rio as dozens of Brazilians had gathered and were singing and chanting and making loads of noise. It is great that poker can inspire this kind of fan support and celebration, and leave it to the Brazilians to show how to have a good time, especially in a hotel called The Rio.
Second place was Marco Johnson, who pocketed half a million for his work. He played a small pot chip away poker style in the heads-up with great success, and was unlucky in several spots. He must have gotten frustrated, and ended up all in preflop in the decisive pot, which is outlined below.
Gomes won the table by playing a solid aggressive game with a huge willingness to gamble, which paid off for him in many key pots. After some stellar heads-up play by both players, all the chips ended up in the middle preflop. Johnson had


vs the


of Gomes. The board ran out





, securing the victory for the Brazilian. After several minutes of fan bedlam, the bracelet was awarded!
Two notable Europeans started out on this final table, Kirill Gerasimov from Russia, and Sverre Sundbo from Norway. They finished in 6th and 7th respectively, but showed great skill to get through a couple thousand players. Sverre is well known for his EPT successes and it is great to see him making an impact in the WSOP.
To check out the amazing final table reports from our super reporting staff live on the floor in Vegas, check out this link for Mr. Hartness's comprehensive analysis of how this final table took place.
Here is how the final nine paid out:
1 $ 770,540 Alexandre Gomes
2 $ 491,273 Marco Johnson
3 $ 326,812 Ryan D'Angelo
4 $ 274,101 Robert Brewer
5 $ 223,497 Alan Cutler
6 $ 177,111 Kirill Gerasimov
7 $ 134,942 Sverre Sundbo
8 $ 103,315 Gabe Costner
9 $ 71,687 Dan Rome
Congratulations to all winners in this great event!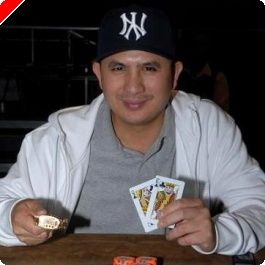 Event #49
One of the best tournament players on the planet has finally won his first WSOP bracelet. Congratulations to JC Tran for taking down WSOP 2008 event #49, a $1500 No-Limit Holdem affair. JC has come second in a WSOP event before, but has never won one. He also has a PokerStars WCOOP Main Event title, a WPT title, and numerous other final tables at the highest level under his belt. Now he has the coveted bracelet and a first place prize of $631K to add to his amazing tournament resume.
This event attracted over 2700 players, and many of them were from Europe. This final table was extremely Euro-Top heavy with 5 Europeans making up the final nine players. Second place finisher was Rasmus Nielsen from Sweden, who squandered a 6:1 chip lead at one point, but should still be pleased with his $389K pay day.
The final hand was a classic hand, wherein both players hit top pair on a



flop. JC held the


and Rasmus was dominated with


. The turn was the

, and all the chips went in. The river was the

, handing JC the win! Heads-up with JC Tran is no easy task, and he showed how great at poker he is as he grinded the young Swede down.
Here is a quick breakdown of the other Europeans that made this final table: Christoph Köhnen from Germany was the first to leave, having busted in 9th. He is a math student that won a satellite into this event, and should be pleased with the result. Another German, Robert Kalb, busted in 8th three hands later. Kalb is a European tournament pro who has won a fair amount of tournaments across Europe. The next European to go was Jesper Hoog, from Sweden. This was his 2nd WSOP cash, and first final table, even though it was a short one as he crashed out in 7th. John Conroy, from Ireland came in a strong 4th. His biggest finish to date was an EPT 3rd in Poland, and now Conroy has a WSOP final table to add to his list of tournament cashes. Overall this was a great final table for the Europeans, who have shown over the course of the WSOP that Europe based players are to be reckoned with. The amount of European in-the-money finishers has been staggering! (and most be creating a nightmare for US taxes!)
To read the full report from the super live reporting team click here, and see how every hand went down!
This is how the final table finished:
1 $ 631,170 JC Tran
2 $ 389,557 Rasmus Nielsen
3 $ 278,255 John Conroy
4 $ 233,734 Peter Nguyen
5 $ 191,068 Joe Pelton
6 $ 150,257 Chad Siu
7 $ 113,157 Jesper Hoog
8 $ 85,331 Robert Kalb
9 $ 58,248 Christoph Kohnen
Congratulations to all the winners in this event of the WSOP 2008!
Just a day to go till the Main Event! Tune into the PokerNews Live Reporting Link to catch all the action as it happens. We have the exclusive rights to report so don't bother looking anywhere else!