Double Trouble on the Bubble - Column Noah Boeken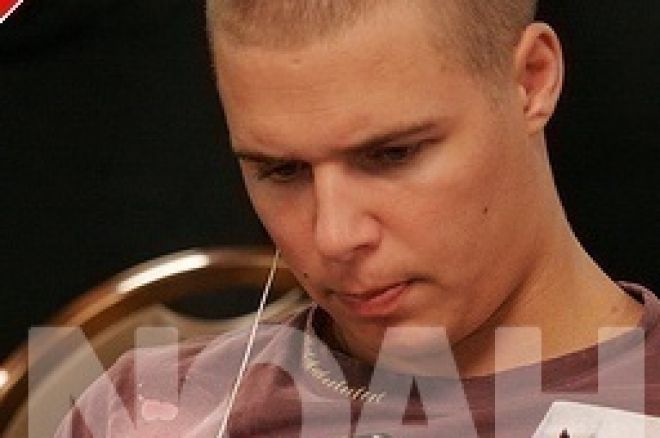 My fourth week at the World Series of Poker in Las Vegas wasn't really one worth talking about, but I'm going to do it anyway. The week started for me with a $1500 pot limit Omaha tournament with rebuys. A tournament that can definitely end up pretty pricy, since Omaha is a game where players gamble a lot and where the hand values don't differ as much as in Holdem. Therefore it can easily cost you a couple of $1500 rebuys if you're not that lucky.
I was running pretty good and 'only' had to rebuy 5 times, + 1 double add-on. After the rebuy period I was sitting on a stack of 20,000 chips, but had spent $12,000 to get that far. Then again, if you reach the payout (top 36) you are already guaranteed $16,000. After the break I started off with losing a couple of pots before I was re-seated to another table, sitting next to fresh Bracelet winner Rob Hollink. The day before the event, as many of you might have read, Rob had just won the first Dutch WSOP Bracelet. This was news that was covered by almost every Dutch newspaper, and Dutch TV didn't ignore it either, as RTL interviewed Rob Hollink later that week.
My stay at Rob's table wouldn't be a very long one though. After a couple of hands some player went all-in with AQQT against my AA94. A hand that my opponent, strangely enough, didn't put me on after my limp/reraise, which is kind of strange as any experienced Omaha player should know that he is probably dealing with Aces here, and that his own Ace isn't worth much anymore. The flop was still good with TJJ, but the turn brought a King and my opponent hit his straight. I didn't improve on the river and, once again, had an early exit from a tournament.
A couple of days later I was playing the $2,000 pot limit Holdem event, which started off very well for me. I managed to build my initial stack of 4,000 up to 20,000 pretty fast, also thanks to my Asian neighbour, who I had caught out on a bluff a number of times. A couple of hours later my stack was just about average with 70 players left, of which 63 would make the payouts, before I lost almost all of my chips in a monster pot.
I'm sitting in the big blind when calling a raise with


. The flop shows



and I decide to check and then raise my opponents 6,000 bet to 20,000, hoping he has a lower pocket pair or a hand like AK AJ, in which case it will be hard for him to continue with his hand. Unfortunately I wasn't that lucky and he was holding pocket J's and decides to go all-in. I obviously call as I'm still almost even money here. Unfortunately again, the board pairs on the turn and I lose the hand. After that I managed to double up again from 9,000 to 20,000, only to bust out shortly after that, 2 places before the payout. After a raise preflop and a nice flop showing 4 6 7, I was all-in with my pocket 5's against my opponents pocket 9's. None of my 10 outs appeared and my tournament was over.
Busting just before the payout is also called "around the bubble", and the player who ends on the bubble, the last person in the tournament who leaves without getting paid, is called the "bubble boy". I've finished numerous tournaments around the bubble in my life, and many people always ask me: "Why don't you just wait until you're in the money?" The answer is simple; in tournaments, the big money is always at the final table. That's reason enough for me to always play for the final table, instead of trying to reach the payout places. In addition to that, many other players really do want to make the money, which often leads them to tighten up a little around the bubble and play extra cautiously. That's even more reason for me to try and take advantage of that, as I know the chance is small that this player will play back at me.
This week turned into a bubble bath, but I'm going to go at it for the next week before the Main Event begins to try and deliver some good performances.
Wish me Luck!
{id:4647_centre}