Odds on the Final Table of the WSOP Courtesy of Bodog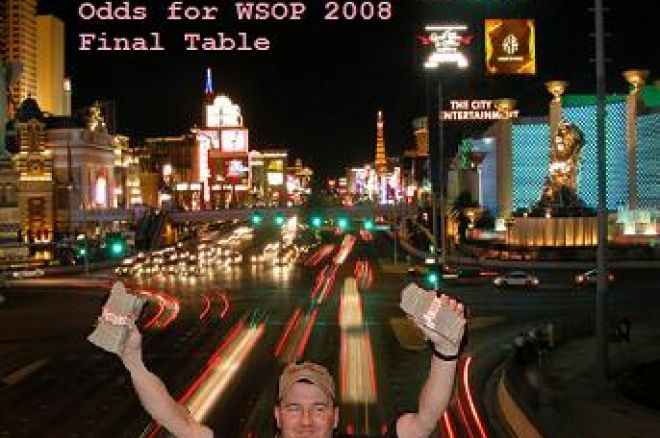 The 2008 World Series of Poker is currently on hold as the final table is to be played out in November. The final nine players have been set for a few weeks now, and now Bodog has set the odds. The odds are pretty much equal to chip counts, and hold no surprises. The blinds will be starting at 150,000-300,000 with a 40K ante.
The longest shot of the bunch is Kelly Kim at 25-1. Kim is the shortest stack with a mere 2.9 million in chips. 25-1 is still pretty good considering there are only nine players! After a few triple ups he could be in business, and as any one that has played a one table tournament knows that anything can happen. The second longest is more fitting as Craig Marquis who comes in at 10-1. Marquis has 6 million chips, and if he doubles up soon will be back in contention.
One of the surprises is that David 'Chino'Rheem is coming in at 9.5-1. It is true that with 10.8 million in chips – 30 big blinds essentially – someone with the good experience as David could easily make a spectacular finish. This could be the dark horse bet.
The next couple of players are tied in chips, but carrying different odds. Darus Suharto and Ylon Shwartz are both sitting on 13 million chips. Shwartz is coming in a bit ahead considering he has been playing for a long time grinding it out on the New York scene, likening him to Kinish from the Rounders movie. He is a known casher with several dozen cashes to his credit. He has actually cashed in 12 WSOP events and this is his first final table, so the lacking of this big money final table experience could play a factor. Suharto on the other hand is 8.5-1, since no one has heard of him until now on the poker circuits.
The next two players are also tied in chips, and also boasting different odds then one another. Peter Eastgate and Scott Montgomery each have $19.3 million chips. Montgomery is the favorite at 4-1 since he has a few cashes to his credit including a WPT final table and four cashes at the 2008 WSOP. Eastgate is close at 5.5-1.
The chip leader Dennis Phillips and the second place in chips Ivan Demidov are both tied as 3-1 favorites to win this tournament, and its $9.2M first prize. Phillips sits on top of the pack with 26.4 million while Demidov has a close 23.9 million in tournament chips.
It would have been intriguing to see what would have happened to the final table odds if a superstar had made it such as Mike Matusow or Phil Hellmuth whom both went deep, or someone like Ivey.
Here is a list of the odds:
Dennis Phillips - 3-1
Ivan Demidov - 3-1
Scott Montgomery – 4-1
Peter Eastgate – 5.5-1
Ylon Schwartz – 8-1
Darus Suharto – 8.5-1
David Rheem – 9.5-1
Craig Marquis - 10-1
Kelly Kim – 25-1