Daneshgar and Graham win last 2 Preliminary Bracelets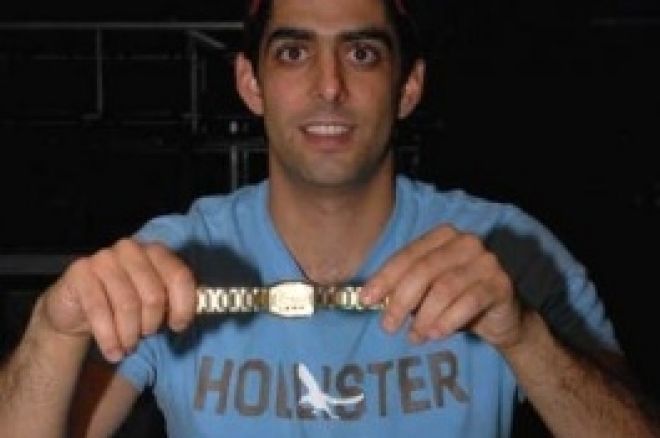 Event #52, $1,500 No Limit Hold'em, saw 2693 players register, creating a prizepool of over $3.6 million. In the end, it was David Daneshgar who outlasted this massive field to win his first Bracelet after reaching his first WSOP final table, complemented by $625,443 in cash.
Daneshgar had started the day 4th in chips, but took a big hit in hand #27 when he lost with


to dan Heimiller's


, making him the shortstack at the table. His situation improved 8 hands later when Zaichenko raised preflop with


and Daneshgar moved all-in with


. The

appeared on the turn and doubled up Daneshgar, who now held 360K in chips. Another 13 hands later Daneshgar put his tourney life on the line again when calling an all-in from Corwin Cole with


. Cole turned over


and his bluff attempt had obviously backfired. Daneshgar ended up hitting trip Aces and was back in the game.
When heads-up play started between Daneshgar and Scott Sitron, Sitron was in the lead with 4.8 million in chips to Daneshgar's 3.2 million. However, Daneshgar managed to take over the lead after 40 hands heads-up when he check-raised Sitron all-in on the turn and forced him to lay down his hand. After that, it only took 10 hands for Daneshgar to finish the job. Sitron went all-in holding


and was called by Daneshgar with


. No Ace appeared for Sitron and the last no limit event before the start of the WSOP Main Event was decided.
Final Table Payouts:
1 David Daneshgar $625,443
2 Scott Sitron $385,974
3 Dan Heimiller $275,695
4 Farzad Rouhani $231,584
5 Corwin Cole $189,311
6 Matt Matros $148,875
7 Andrey Zaichenko $112,116
8 Jeff Courtney $84,546
9 Voitto Rintala $57,712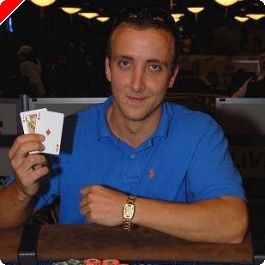 The last event before the WSOP 2008 Main Event kicking off was Event #53, $1,500 Limit Hold'em Shootout. With 823 players, it was going to be a mission to get the event over and done with within 2 days, so it didn't coincide with the start of the Main Event.
With 72 players returning on Day 2, it was destined to be a long day for whoever made it through to the end. After 7 hours of play, Matt Graham was the last player to secure a spot at the final table after, first, taking a huge pot off Duane Graff when his Q-4 hit top pair against Graff's AK, and then ending Graff's day when his AK hit top pair against Graff's J-5.
The final table turned into one of the most dramatic final tables we have seen so far at this WSOP, culminating in a 2 hour heads-up battle between Matt Graham and Jean-Robert Bellande. Bellande started heads-up play with more than a 2:1 chiplead, but lost a big pot with A-8 to Graham's 8-6 on a board showing





. Graham managed to take over the chiplead and carried on building up his stack, until Bellande finally found himself all-in with 9-7 against Graham's AJ. The board blanked and Ace-high was good enough for Graham to secure his first WSOP Bracelet and $278,180 in cash.
Final Table Payouts:
1 Matt Graham $278,180
2 Jean-Robert Bellande $173,564
3 Joe De Niro $107,845
4 Brandon Wong $69,088
5 Danny Wong $33,701
6 Spencer Lawrence $20,221
7 John Kranyak $13,480
8 Andrew Prock $10,335
9 Michael Kachan $7,526