WSOP Event 3 Updates, and The APT Manila is Over!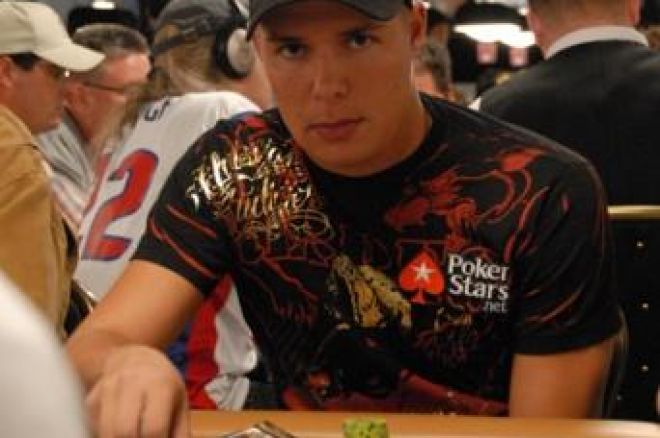 WSOP Event 3 $1500 PL Holdem Update
The event has wrapped up for the day with 9 players remaining. The bracelet will be given out tomorrow for this event to one of the lucky nine. This tournament should have ended for the day about an hour earlier, but the table decided for some bizarre reason to have dinner break with 10 left and several short-stacks. Upon resuming from the dinner break it took 2 hands for the tournament to end when all the chips got in on a QQT flop. Al Babieri and his AQ held up and Ryan Fair and his JJ were sent home in tenth place. These are the final nine in order of chips:
Joe Tehan - 458,000
Jacobo Fernandez - 428,000
Robert Lipkin - 305,000
Al "Sugar Bear" Barbieri - 271,000
Russell Harriman - 242,000
Greg Alston - 179,000
Zach King - 139,000
David Singer - 83,000
Glen Bean - 75,000
The leader of the pack Joe Tehan is a notable pro, who has won over a million playing poker tournaments professionally. He won the Mandalay Bay Poker Championship on the WPT back in 2006, so he certainly knows how to play. David Singer is also a very good player, but with so little chips he will need a quick double up to stay in contention.
The final payouts will be as follows as the remaining 9 chase the elusive WSOP bracelet for event #2. Tune in tomorrow at 2pm ET for live reporting of this final table.
1 $ 214,131
2 $ 136,643
3 $ 82,725
4 $ 67,640
5 $ 55,474
6 $ 43,796
7 $ 34,063
8 $ 26,764
9 $ 19,464
WSOP Event 4 $5k Mixed Holdem Update
This event brought out basically all of the best players in the world. The format is half limit holdem and half no-limit holdem, so it really will extract the best holdem abilities in the world. The final table of this event is packed with some of the most revered and feared players today. Leading the way is David Rheem with almost a million chips. David Williams, Justin Bonomo, Erick Lindgren, Howard Lederer, and Roland de Wolfe are the huge names on this final table. They will be competing for a first place prize of $374k.
The final table will be tomorrow, and there is no doubt there will be quite a buzz about it with so many stellar names. It is kind of ironic that all of the sponsored and well known players are all in the top spots. One could say the cream rises to the top in this example, although this is no slight on the last three. They have obviously held their own in a ridiculously tough field.
The payouts and chip counts are as follows:
1. David Rheem 921000
2. David Williams 678500
3. Justin Bonomo 517500
4. Erick Lindgren 345000
5. Howard Lederer 324500
6. Roland de Wolfe 194000
7. Andrew Robl 162000
8. Isaac Haxton 115500
9. Pat Pezzin 108500
1 $ 374,505
2 $ 230,159
3 $ 144,337
4 $ 117,030
5 $ 93,624
6 $ 74,119
7 $ 58,515
8 $ 46,812
9 $ 35,109
WSOP Event 5 $1k Rebuy Event Update
After a long day of poker, the day comes to an end with roughly 106 players left. Many notables are still involved in this tourney, including Phil Hellmuth, Daniel Negreanu, Phil Ivey, and even Billy Baxter. Phil Ivey is sitting pretty in the top ten with Negreanu right on his heels.
The prize-pool to this event is amazing thanks to all the rebuys, with first being $636k. The top 72 pay out, although I doubt Negreanu and likely many others would even break even with the $8100 for the lowest prize bracket.
Play will resume tomorrow through the bubble and down to the final nine. Check here for detailed chip counts.
The Asian Poker Tour Crowns a Winner in the Philippines
During all this WSOP some might be surprised that such a great event just went down in the Philippines. 316 players bought in and made for a large first place prize of $280k, which was claimed by David Saab. Second place went to Chris Roh, who took down $150k. Both men come from Korean backgrounds, and provided an entertaining heads-up match. Third place went to Satoru Ishii from Japan, and the highest finishing European was Michele Ferrari who came 5th for $55k.
This tour seems to be picking up steam, and is looked forward to by many at its next stop in August in Macau. This Aug 26-31st tournament is anticipating a record field in Asia of many hundreds of players.
Hopefully this doesn't get too overshadowed by the WSOP, as getting poker popular in Asia is an important thing right now, and this tournament really shows how the interest