UK PokerNews Interview: Steve Davis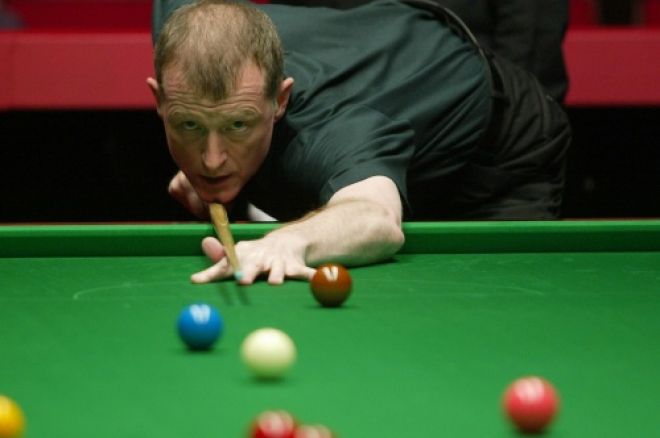 Snooker legend Steve Davis took an hour of his time to speak to Mel Lofthouse and Barry Carter before he goes to the World Series of Poker 2008 for the Main Event. Here's what we asked the legend:-
BC: Do you ever wager money on your own snooker matches with your opponent. Like you might in a poker game?
SD: I've never done it in tournament play but obviously we sometimes have a small bet in practice to sharpen the senses
BC : Are you still a big PLO fan? What is it about PLO you like?
SD: Yes I'm a big PLO fan - I'm not exactly sure what I like about it compared to NLH but I seem to feel more at home playing PLO and seem to have more idea where I am in a hand
BC: Who is the snooker player you wouldn't want to play heads up? And which one would you really want to sit with lots of money in front of them?
SD: Not: Matthew Stevens or Mark Williams
Would: Dennis Taylor or Ken Doherty - not really sure why except I think the first two are a bit sneakier
BC: Who is the best poker player you have sat with?
SD: My first live TV event had Devilfish, Bruno Fitoussi, and Roy Brindley - I also sat next to Nickolas (Little Nicky) Frangos who came 2nd $65k in 2007 $2k Seven Card Stud WSOP event. He apparently owns a pool hall and is a larger than life character. People kept coming up to him and asking him about the pool world. I just kept my head down! Fortunately he didn't have a clue who I was 
BC: Do you ever get any big games going during the World Snooker Championships in Sheffield?
SD: No - we don't really play anything other than affordable fun poker
BC: Does your snooker playing style resemble your poker game?
SD: Probably, I think my style at both is "student" but I think in any game you have to be able to adapt. So regardless of how I have ever been perceived as a snooker player I have always had more gears than the layman would give me credit for
BC: Would you rather win the WSOP main event or one last snooker world title?
SD: Considering the disparity in the prize money this question really answers itself. Obviously snooker is my life's work in progress and it would be great to win it again but seeing as the sum total of your life is the different experiences that you have encountered then I'm sure winning the WSOP would be a more "unbelievable" experience
BC: What do you think of the 'online pool' games that people play for money?
SD: Great idea and I'm involved with the Pool Stars site that Tony G has masterminded
BC: Do you remember signing an autograph for me in 1988? in a Pizza Hut in Sheffield during the world championships. You were with Barry Hearn and I was 8!
SD: Were you the one with the pepperami face?
Mel's turn:
ML: What games/tournaments are you playing in the WSOP?
SD: Just the main event but I might go to the Bellagio or Venetian for a warm up
ML: Are you sponsored?
SD: I'm not exactly sponsored but because of Barry Hearn's / Poker Million's close ties and friendship with Ladbrokes, since the early 2000's, Ladbrokes take pity on me and invite me out to the WSOP and make me team captain to massage my ego and try and cover up the fact that I'm rubbish! We have a great time and the Ladbrokes team really does push the boat out to make it a special trip for all the qualifiers.
ML: When did you develop an interest in poker?
SD: After qualifying through my heat as a novice celebrity (beating Devilfish, Fitoussi, Brindley without knowing what I was doing) and then waiting 2 months for the live final to be played on Sky and then going online to practice and learn a bit more about the game.
ML: What do you do in your spare time (if you get any)?
SD: Online poker and a little bit more of online poker. Occasionally, if I have a complete day off, I'll log on and play a little bit of poker. If I'm away from home I'll take my laptop and data card with me and I'll play some poker online. Other than that it's just the odd bit of poker when I can fit it in when I'm not playing some live poker in a casino. If I have a spare moment I like reading mainly poker books or poker magazines. (Ed Note: - Steve loves the PokerNews magazine, naturally!)
ML: Do you feel that snooker or poker requires more skill?
SD: This is an impossible question to answer or even to qualify. What parameters are you assigning to the word "Skill"? If you are talking about Dexterity then obviously snooker is more skilful, If you are talking about situation complexities then obviously it's poker. This argument always crops up between Snooker and Golf. Even with two very similar games it is impossible to determine which is the most skilful because what are you using as a yardstick of accomplishment? I find that most people assign a skill factor in direct disproportion to how bad they personally are at the game or in proportion to which game they favour!
ML: Do you feel that luck features heavily in both games?
SD: Yes, luck rears its ugly head in most games but the longer you play any game the less luck will play its part. The only lucky part about the luck factor is when you actually get the luck!! Are you a WSOP player or pub poker, suck out merchant or is it The Crucible or Club Handicap wobble along the top cushion and into the opposite pocket?
ML: What would you like to tell our readers of the magazine and viewers of our website... any interesting stories?
SD: You shouldn't play poker unless you can take a joke! I was in a TV event a couple of years ago. I woke up early to get down to the TV studios in Maidstone and about 1hr 15mins drive away. I chose my clothes tootled down with enough time to have a leisurely breakfast at the studios. A girl gave me a form to fill out (CV of poker related stuff) then it was down to make-up, then into studio for sound bites interview and the finally the big walk on through the never ending dry ice smoke into seat 4. 1st hand I stare at pocket cowboys. 1st to act in seat two (wearing a WSOP bracelet for 7 card stud) raises. I reraise, he moves all in, I call, he turns over the rockets, I don't improve and I jump back in my car, drove home and was tucked up in bed by 12 noon for a 2 hour sulk!
BC and ML: Thank you for your time and fingers crossed for the WSOP.