UK PokerNews Interview: Neil Blatchly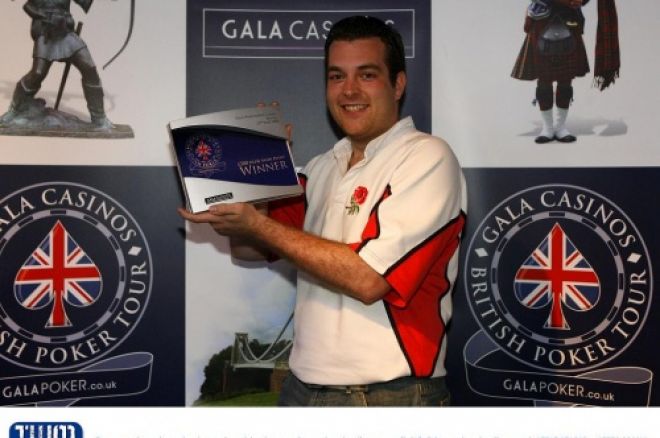 There is something in the water in Leicester, something that we all want a sip or two of. It was only a few weeks ago that we told you about a Leicester bank worker, Rupinder Bedi, taking down the 2nd leg of the Great British Poker Tour in Nottingham and we told you yesterday about a Leicester accountant capturing leg 3 of the same tour in Bristol. What makes the victory even spookier is that the new champion Neil Blatchly and Rupinder 'George' Bedi both come from the same home game that has been running for the last two years.
We caught up with Neil yesterday, who didn't pull a sicky from his office job despite his £35k score in Bristol.
PokerNews: You must be cream crackered right now?
Neil Blatchly: It is a bit tough at the moment; I got back to Leicester after dropping George off at 5 am, and was in the office for 8.30!! Not looking too good today
PN: You weren't tempted to ditch work today and announce you are now a professional poker player?
NB: As nice as the win is, leaving work isn't really an option (just yet). As much as I love my poker, I really enjoy the social and fun side of it too and I think relying on it for an income may take some of that a way.
PN: So what are you going to do with the new found wealth?
NB: I'm actually looking to buy my first house at the moment so this will help incredibly with that, however there will also now be a nice poker bank roll, a good shopping spree and one or two nights out with the boys to celebrate
PN: You're not tempted to book the next flight to Vegas and hit the WSOP?
NB: That's a rather ironic question about Vegas. I'm actually flying out tomorrow and had it all booked before this weekend. I'm playing the $2000 at the end of the month and may extend it slightly now There are three of us going out (all from the home game) so hopefully we can carry the roll going.
PN: So tell us about this home game, it must have been a good place to learn the game?
NB: Well the home game .... it seems to be getting quite famous There are about 15 or 16 of us in and around Leicester that have to draw for seats at this 10 seater game every Tuesday night. The standard has just got better and better over the 2 1/2 years we have been running it. What with myself now, George winning Nottingham , Satish Ry winning the £50 with 1 add on at Nottingham and Kevin Smith winning the £300 event in Sheffield just over a year ago we have had some great success. Everyone's game has improved no end and it helps to have some great players around all the time to bounce ideas off and to try new things with. It feels really good to have won it but even more so straight after George's win at Nottingham. The fact we will both be going back to Bristol for the grand final makes it even better. We just have to work out who from the home game will win in Liverpool .....
PN: With so many players at the WSOP right now, was the field tougher or easier than usual?
NB: I think the field was the biggest the tour has attracted to date and was still incredibly strong. There were numerous internet pro's, 3 previous Gala tour winners or more, Julian Thew, Jac Arama and numerous other top players.
PN: When did you say to yourself; 'I'm gonna win this?'
I think the real turning point for me was the very last hand of Day 1b. I had a really tough call to make on the flop for just over 3/4 of my stack. I took over 5 minutes to decide what to do and by this time the other tables had finished for the day and everyone has crowded round for the extra pressure. I decided to trust my read and made the correct call and thankfully my opponent missed his outs.
PN: Obviously with Rupinder's win, bragging rights were even more important than usual for you, which is most exciting, the trophy or the money?
NB: Obviously the money is fantastic and from around the bubble position I was constantly looking at the money but when we were down to 6 players I actually forgot all about the money and just wanted the win. The trophy, Grand Final entry and everything that comes with it actually means a lot more.