Leicester Accountant Wins the GBPT Bristol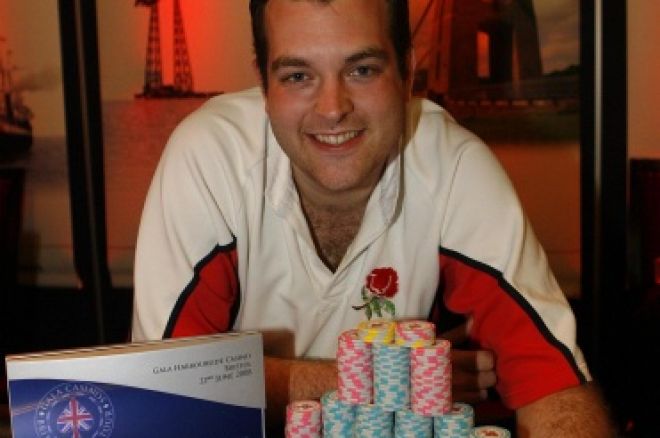 Most of the poker community might be in Vegas but that didn't stop over 600 players from the UK descending on Bristol for the third leg of the GalaCoral Great British Poker Tour. The event was won by Neil Blatchly of Leicester who took home £34, 750, a seat in the GBPT final and of course the trophy.
The final table started with popular UK player James 'Royalflush' Dempsey in pole position with the chip lead, but he would soon be overtaken by Blatchly who won a monster pot when his pocket jacks held up against the ace-queen of Dave Maudlin, who busted in 8th position. Another monster pot occurred when Marcus Farthing got all the money in the middle with pocket jacks against the pocket aces of Harpit Gurnam, the board brought two jacks giving Farthing Quads and Gurnham was out in 6th.
Farthing and Blatchly continued to boss the table and former chip leader Dempsey found himself pushing all in with ace-two and being looked up by Blatchly with ace-queen. No help for Dempsey and his exit in third place would leave Farthing and Blatchly heads up, after making a deal where they were both guaranteed £30,000, they played on for the remainder and the title.
The heads up match didn't last long as Farthing pushed all in on a board of T847 with king high and was called by Blatchly with 5-6 for the straight. This left Farthing crippled and he moved all in soon after with ace-ten to be called by the ace-seven of Blatchly. A seven on the river secured the victory for Blatchly.
Blatchly said: "A good structure meant there was lots of play and I was able to go to the final table needing only one good hand to take the title. I feel absolutely fantastic! For me, the prestige of winning the title and trophy is worth as much as the money. That said, I'll be using the cash to invest in a poker bankroll as I'm off to Las Vegas later this week to see if I can recreate my success across the pond."
This may be the first major title for Blatchly, but it is the second for his home game. Quite amazingly, Blatchly is good friends the Nottingham champion Rupinder Bedi and the two play in the same home game together in Leicester, making it two in a row for their weekly game at the GBPT.
Blatchly added: "My win shows that the Best Home Game in the East Midlands is a poker force to be reckoned with. All the boys are delighted for me and Rupinder and will be cheering us on at the Grand Final."
The tour returns to Liverpool in September after taking a hiatus during the summer. Stay tuned to UK Pokernews for our exclusive interview with GBPT Champion Neil Blatchly.