The 'Pirate' Brings Another Bracelet to Italy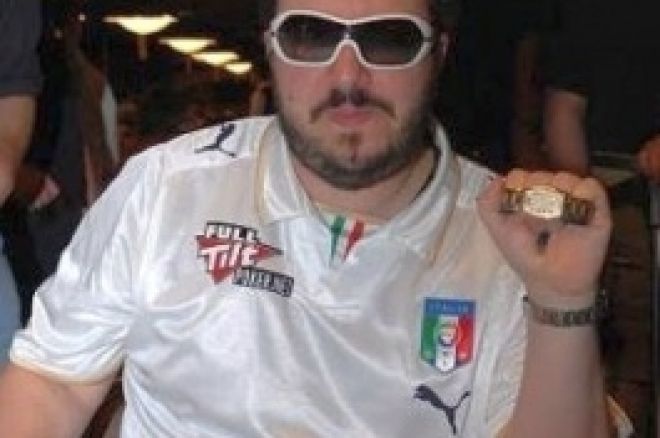 Event #24
Max 'The Italian Pirate" has won another bracelet! This win should give Italians something to be happy about as the nation is not so pleased with the football team that struggling in the European Cup. Event #24 was a great idea for an event, half Holdem and half Omaha.
Max outlasted 457 of the best players to take down the coveted bracelet, and $246k in prize money. This is his second bracelet in two years, showing he is one of the better European players around.
Congratulations to Max!
The Italian took out Kyle Kloeckner, who got $152k for his second place finish with a hand of Omaha, on a board of




, the two men got it all in like this:
Pescatori: Kx Jx 8x 7x
Kloeckner: Jx Tx Tx 3x
The river bricked out a

, which prompted Max to jump out of his chair and celebrate with his one good arm (his other arm was in a sling).
This WSOP started off slow for Europeans, but in recent days the Euros have been taking down a few bracelets, and showing up all over the final tables. Dutchman Lennart Holtkamp from Holland was another Euro that made this table. He was trying to be the first Dutch person to win a bracelet, but fell short in 7th.
The biggest name on this final was Allen Cunningham, who showed again his class with a 4th place finish.
This is how the final table paid out:
1 $ 246,471 Max Pescatori
2 $ 152,410 Kyle Kloeckner
3 $ 94,599 Greg Hurst
4 $ 76,205 Allen Cunningham
5 $ 62,015 Kyle Hegeman
6 $ 48,876 Jonathan Depa
7 $ 38,365 Lennart Holtkamp
8 $ 30,482 Minh Ly
9 $ 22,599 John-Paul Kelly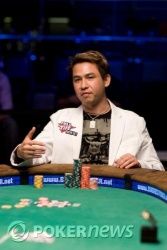 Event #25
This was a good old fashioned heads-up no-limit holdem match that featured a $10k buy-in. The winner of this tough event was Kenny Tran, who took down a large sum of $539k for his final win over 2nd place finisher Alec Torelli. Alec took down $336k for his efforts.
This is Tran's first bracelet, and the father of three will never forget a father's day again! His children gave him a great gift in support to his first bracelet win. Tran sealed the deal with a huge hand, which was the 80th hand of this match. On a flop of



both players got it all in. Tran had a nut flush draw and over card with


against the top pair of Torelli's


. The river spiked a club and it was all over.
After it was over Tran joked about retiring on top, but we will be sure to see him again soon after his dominating performance in this event. Tran said he went all in on the draw since this was a best of 3 series, and he was already up 1-0. His plan worked!
Vanessa Selbst, who won a bracelet earlier in the week in an epic final table almost made it to the final of this one, but fell short to Torelli in the round of 4.
256 people entered this tournament, which had an odd payout structure. Places 64-22 basically paid out money back, with all the big money being at the top. This was another tournament that featured an insane list of talented players in the money. The final
eight paid out like this:
1 $ 539,056 Kenny Tran
2 $ 336,896 Alec Torelli
3 $ 108,288 Vanessa Selbst
4 $ 108,288 Jonathan Jaffe
5 $ 54,144 Lyle Berman
6 $ 54,144 Brandon Adams
7 $ 54,144 Gavin Griffin
8 $ 54,144 Robert Mizrachi