Grant Hinkle Wins Marathon Tourney for a Bracelet!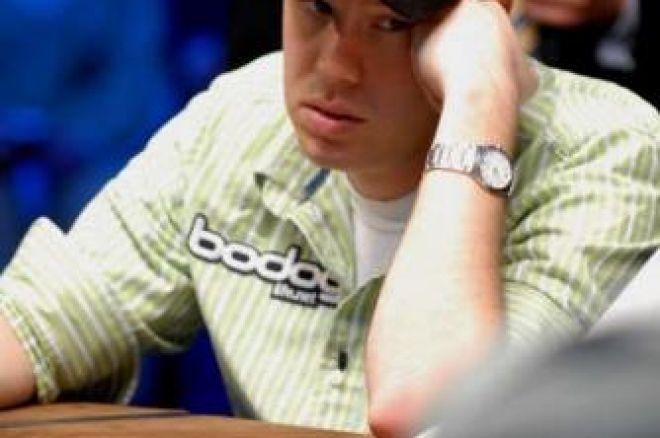 Bracelet Number #2 Has Been Won!
After an epic struggle in one of the biggest tournaments of all time, a winner has been crowned in the WSOP 2008 Event #2, $1500 No-Limit Holdem Tournament. This event attracted almost 4000 players and took what felt like an eternity to finish. The players played down until 5am in the morning when the victor emerged: Grant Hinkle.
Grant took down a huge $831k for his efforts after knocking out James Akenhead in 2nd for $520k. Chris Ferguson came third in this event for $388k. The crowd really wanted to see Chris win it, and he came back from the dead a few times, but ultimately ended up all in with KT against AT and failed to improve.
The heads-up play was exhausting, as the players have been playing poker for several days straight. They started with Hinkle having quite a chip lead, however Akenhead slowly was grinding him down. After several hours of heads-up it looks like Hinkle got tired of the constant grind down and went all in before the flop with the lowly Td 4d, only to get called by AK of his opponent. The crowd started waking up from their sleep to catch what would happen on this flop.
The flop came down TT4. The turn was a T also, giving the bluffer quads! What a way to end a tournament! Both young men played tremendously to make it so far without collapsing of exhaustion, and one can only feel bad for our second place finisher for showing the guts to make it to such a pot as a favorite. Luckily for Akenhead, there are about 100 more events to be played so he may yet have a chance at redemption.
We now have another champion in this year's WSOP!
When asked if Ten-Four suited was his new favorite hand, Hinkle replied that it was now quad tens! Obviously!
For all the plays and hands of this amazing tournament click on this link, and get a feel for the tournament. It was a crazy battle!
Congratulations to Grant Hinkle for winning WSOP Event 2!